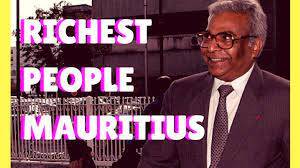 Who is the richest man in Mauritius?
In this article, we will be bringing to you the richest man in Mauritius 2023 and the list of the top richest people in Mauritius. Keep reading to find more about the wealthiest people in the African country.
Top Richest People in Mauritius
Raymond Ah-Chuen
Source: Diversified
Raymond Ah-Chuen is the chairman of ABC Group, a conglomerate founded in 1931 by his grandfather, Sir Jean Etienne Moilin Ah-Chuen. The ABC Group, which employs more than 1,300 people, is one of the leading business organizations in Mauritius with tentacles in five clusters with operations in foods distribution and manufacturing, automobile, banking, financial services and shipping & logistics. He is the richest man in Mauritius
Bashir Currimjee & Family
Source: Diversified
Read Richest Man in Z
Bashir Currimjee's grandfather, Currimjee Jeewanjee, emigrated from Gujurat, India, to Port Louis, Mauritius, in 1884. He started a small business in 1890 trading livestock feed, rice, oil and pulses. 127 years later, that business is the Curimjee Group, a Mauritian group that has interests in Telecoms, Media & It, Real Estate, Hospitality & Tourism, Commerce & Financial Services, Energy, Food & Beverages and Home & Personal Care. Curimjee owns Emtel, the second largest mobile telecom operator in Mauritius, as well as Mauritius' biggest digital pay TV firm MC Vision, among other ventures.
Arnaud Dalais
Source: Diversified
Arnaud Dalais is the chairman and major shareholder in CIEL Group, a century-old family-owned conglomerate with operations in Agro-Industry and Property, Textile, Hotels and Resorts, Financial services and Healthcare spread across Mauritius, Africa and Asia with 30,000 employees. It's textile division, CIEL Textile Limited, exports more than 33 million garments annually and has production units in Mauritius, Madagascar, India and Bangladesh. The group also owns the Four Seasons Resort Mauritius at Anahita. He is another richest man in Mauritius
Nundun Gopee
Source: Construction
Nundun Gopee, who started off as a mason more than 50 years ago, is the founder of his eponymous construction company, Nundun Gopee & Co Ltd. The Ebene, Mauritius-headquartered engineering and construction giant has handled some of the biggest construction contracts in Mauritius including the construction of the Sir Seewoosagur Ramgoolam International Airports The company is also involved in property development and real estate investment and owns a portfolio of luxury villas and apartments in Mauritius and Mozambique.
Michel De Spéville
Source: Diversified
The Eclosia Group, which Michel De Spéville founded 50 years ago, is now a $450 million (revenues) conglomerate that owns poultry company Avipro, the 5-star Labourdonnais Waterfront Hotel and the KFC franchise in Mauritius, among other interests.