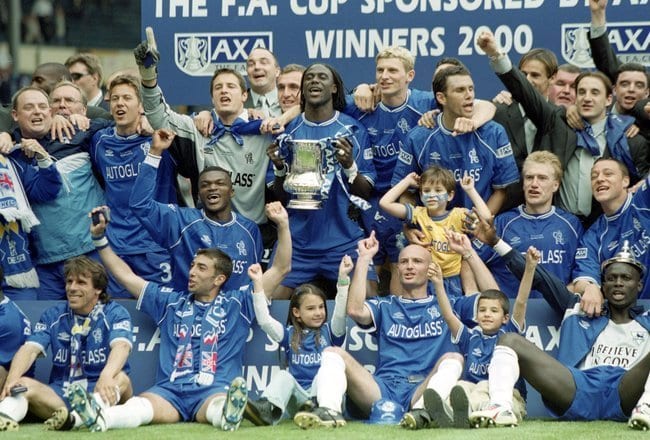 We bring to you the best Chelsea Players of all time. Who do you think will make it to the list and who is your best Chelsea player of all time? Leave your comments below the post.
Though they've been around since 1905, Chelsea only has risen to prominence since the dawn of the 21st century. When Roman Abramovich purchased the club in 2003, Chelsea experienced a rise unlike any other to that point, but ended up becoming the innovator in player acquisitions. Fueled by Abramovich's billions, Chelsea has bought some of the best players in the world since he's owned the club. That's not to discount the business the club did before the new owner rolled into West London. In 1998, John Terry made his debut after getting called up from the youth ranks and in 2001, Chelsea acquired its greatest player when it forked over 11 pounds to West Ham to acquire midfielder Frank Lampard. All he's done since moving across town is become the leading scorer in club history.
Best Chelsea Players of all time
20 ROBERTO DI MATTEO
Di Matteo scored the winner against Middlesbrough on his home debut for Chelsea. His passing ability and accurate long-distance shooting saw him become one of the driving forces of Chelsea's resurgence in the late 1990s. He contributed nine goals in his first season, including long-range efforts against both Tottenham Hotspur and Wimbledon. He helped the club finish sixth place in the league, their highest placing since 1989–90, and reach the 1997 FA Cup Final at Wembley. Within 42 seconds of the kick-off of the final against Middlesbrough, Di Matteo scored the opening goal from 30 yards and Chelsea won 2–0. Di Matteo's goal was the fastest in a Wembley FA Cup final until the record was broken by Louis Saha for Everton in 2009.
19 Arjen Robben
Robben proved to be a crucial player for the 2004–05 season; in November 2004, he was awarded the Premier League Player of the Month award. Robben ended the 2004–05 season with seven goals, his second highest professional total. He was shortlisted for the PFA Young Player of the Year, but was beaten by Manchester United's Wayne Rooney. Robben was badly injured in a Premier League match away to Blackburn Rovers and forced to sit out the 2005 Football League Cup Final, Chelsea's title run-in and progress to the semi-finals of the UEFA Champions League. Back to fitness for 2005–06, Robben was an integral part of the Chelsea left wing. In 28 matches, Robben contributed six goals as Chelsea won a second consecutive Premier League championship, the first back-to-back titles for the west London club.
18 RICARDO CARVALHO
At Stamford Bridge, Carvalho, who was considered one of the best centre-backs at Euro 2004, joined his former manager José Mourinho and former teammate Paulo Ferreira on a three-year contract. He signed for a fee of €30 million (£20 million at the time) and performed extremely well in his first season with Chelsea, helping them win the Premier League title, their first top-flight domestic title in 50 years, and the League Cup. He scored his first goal for Chelsea in a 3–1 victory over Norwich City. His partnership with captain John Terry in central defense was hailed as a major factor behind Chelsea's two Premier League titles in a row.
17PETER OSGOOD
Osgood was signed by Chelsea as a junior and made his debut as a 17-year-old in the League Cup, scoring both goals in a 2–0 win against Workington AFC on 16 December 1964. The buzz surrounding the tall, skilful teenager's goalscoring for the club's reserves – 30 goals in 20 games going into that month – was already immense, and he soon became a regular first-teamer.
In total, Osgood made 289 appearances for The Blues, scoring 105 goals. He was one of only nine players to score in every round of the FA Cup (and, to date, the last to do so), helping Chelsea to victory in a replayed final against Leeds United in 1970. He scored Chelsea's equaliser in the second game at Old Trafford with a diving header from Charlie Cooke's chipped pass twelve minutes from full-time; his side eventually won 2–1.
In 1971, Osgood was part of the Chelsea team which lifted the European Cup Winners' Cup, defeating Real Madrid 2–1 in a replay in Athens after the original tie had finished 1–1, with Osgood scoring Chelsea's goal in that game.
16Ruud Gullit
Gullit signed for Chelsea on a free transfer. Initially played as sweeper by manager Glenn Hoddle with limited success, Gullit was moved to his more familiar role in midfield, where he scored six goals. The signing of Gullit, alongside the likes of Mark Hughes and Dan Petrescu, propelled Chelsea to the semi-final of the FA Cup but their league form was disappointing.
15 Jimmy Floyd Hasselbaink
Hasselbaink returned to the Premier League in May 2000, when he was signed by Chelsea, for a club record fee of £15 million, which matched the then-transfer record for an English club; he signed a four-year contract. He scored on his "Blues" debut, helping them to win the 2000 FA Charity Shield with a 2–0 win over Manchester United at Wembley Stadium
n the 2003–04 season he scored 18 goals in all competitions which, despite the arrival of new strikers Adrian Mutu and Hernán Crespo, made him top-scorer at the club for the third time in four years. On 27 March, his 32nd birthday, Hasselbaink came on as a 60th-minute substitute for Geremi and scored a hat-trick as Chelsea came from behind to beat Wolverhampton Wanderers 5–2 at Stamford Bridge.
READ LIVERPOOL PLAYERS OF ALL TIME
14 Marcel Desailly
Nicknamed "The Rock", due to his consistency, strength, and hard-tackling playing style, Desailly is considered one of the most accomplished players of his generation, and one of the finest French defenders ever, who stood out for his charismatic leadership and ability to organise his team's back-line and break down opposition plays throughout his career. A quick, hard-working, tenacious, and powerful player, who excelled in the air and at anticipating his opponentts, he combined his aggression, stamina, and ability to read the game, as well as his physical, mental, and defensive skills, with a notable confidence and good technique on the ball, which also allowed him to play in the midfield throughout his career; indeed, after moving to Milan, although he initially started out playing as a centre-back or sweeper, and occasionally even as a full back, he was later deployed as a defensive midfielder, a position in which he also excelled, successfully filling the void left by the departure of Frank Rijkaard due his ball-winning abilities and capacity to start attacking plays after obtaining winning back possession. In addition to his defensive skills, he was also capable of contributing to his team's offensive plays with goals by making attacking runs into the box. In 2004, he was named by Pelé in the FIFA 100 as one of the world's greatest living players.
13 César Azpilicueta
Azpilicueta scored his first competitive goal for Chelsea on 29 October 2013, netting the first in a 2–0 victory at Arsenal in the fourth round of the League Cup. Following the arrival of new manager José Mourinho, he began appearing regularly as a left-back, taking the place of longtime incumbent Ashley Cole. Mourinho said of him: "Azpilicueta is the kind of player I like a lot. I think a team with 11 Azpilicuetas would probably win the competition (Champions League) because football is not just about pure talent". At the end of the season, he was voted the club's Player's Player of the Year.
12 Michael Essien
On 14 August 2005, Lyon and Chelsea agreed a £24.4 million fee for Essien, ending one of the longest-running transfer sagas. At the time, the fee made Essien Chelsea's most expensive signing of all-time, surpassing the £24 million Chelsea paid for Didier Drogba the previous summer. The transfer went through on 19 August
Essien was nominated for the 2006 FIFA World Player of the Year Award on 12 October 2006, where he placed 22nd. One week later, he was nominated for the 2006 Ballon d'Or. He was voted as the third Best African Footballer of the Year in 2006,a feat he also achieved in 2005. He won the 2006 BBC African footballer of the year award.
Essien was nominated for the prestigious 2007 FIFA World Player of the Year Award for the third consecutive year and on 21 October 2007, he was also nominated for the 2007 Ballon d'Or Award for the third consecutive year. He was voted 15th Best Player in the World at the 2007 FIFA World Player of the Year Awards. On 12 December 2007, he was nominated for the 2007 African Footballer of the Year, the third consecutive time he had been nominated. He was runner-up to that year's winner, Frédéric Kanouté.
11 Branislav Ivanović
Is he one of the club's [Chelsea] best signings? I think so. He came immediately after I left [after my first spell in charge] and after that he made a fantastic contribution for [sic] this club. He is a competitive animal with a big heart.

— Manager José Mourinho, on Ivanović, in 2015.
Ivanović is well known for his aerial ability, which when combined with his sheer strength, has seen him score numerous crucial goals during his career. As of August 2014, Ivanovic has been directly involved in 60 goals during his Chelsea career (31 goals and 29 assists). Uncharacteristically for a defender, he possesses an adept finishing ability, with former Chelsea manager José Mourinho often utilizing the Serbian as a striker when the team are in desperate need of a goal. His unforgiving style of defending has led him to become a feared opponent in the Premier League, with Manchester City attacker Raheem Sterling claiming, "The scariest player to play against was Branislav Ivanović. He wasn't dirty, the guy is just a tank! A big guy, big upper body, big lower body. A real tank."
Starting from the 2014–15 season, Ivanović has also pushed higher up the pitch from his customary right-back position, becoming an effective attacking threat on crosses and overlaps. He has stated that this shift in technique allows him to "pin back" opposing wingers into their own half, taking them out of position and turning their focus on defending rather than attacking.
10 Ashley Cole
Cole's game incorporates an attacking approach to his play, which supports his teams' forward play. As a youth, he "always liked scoring goals and attacking", but grew to love the role of defending, as being a left-back was the only opportunity of breaking into the seniors.
9 Claude Makélélé
Regarded as one of the best ever players in his position, Makélélé revolutionised the role of the defensive midfielder in the Premier League. A combative and hard-working player, although he was capable of getting forward and playing in more advanced positions, he usually played in front of his team's back-line, where he mainly served as a defensive foil for his more offensive teammates, due to his aggressive tackling, as well as his ability to read the game, break down plays, mark and anticipate opponents, and time his challenges. In this role, he was known in particular for his acceleration, positional sense, tactical discipline, intelligence, energy, and ball-winning ability; although he was not the fastest, most talented or technically skilled player on the ball, or particularly good in the air, he was also highly regarded throughout his career for being capable of functioning as a deep-lying playmaker for his team, due to his ability to dictate the tempo of his team's play in midfield with his short, efficient passing game, which allowed him to link up the defence with the attack effectively after winning back possession. His physical strength in spite of his small stature, combined with his low centre of gravity, also gave him excellent balance on the ball in limited spaces, which allowed him to retain possession against more physical opponents. In addition to his defensive skills, Makélélé was also known for his tenacity, awareness, consistency, and strong mentality.
8 N'Golo Kanté
After his first senior goal, French regional newspaper La Voix du Nord likened Kanté to Claude Makélélé in his early days at Nantes, due to their similar playing style and holding role in midfield. After asking the player if he considered Makélélé his role model, Kanté instead said that his was Lassana Diarra. Makélélé himself in February 2017 said that the one attribute Kanté needed to become an "exceptional player" would be leadership. A dynamic, diminutive, and hard-working player, known for his energy and excellent ball-winning abilities as a box-to-box midfielder, as well as his positional sense, athleticism, intelligence, versatility, and ability to read the game,Kanté made the most tackles in Europe's top leagues in both the 2014–15 and 2015–16 seasons
7 Michael Ballack
Ballack is considered to be one of the most complete and versatile midfielders of his generation; he played in several midfield positions during his career, and was noted for his powerful shot with both feet.
On a technical level, he was a commanding, physically strong and aggressive player, with excellent passing range, who moved the ball efficiently. The technicality and intelligence of his game was extremely high. He started his football career as a sweeper, but when he moved to Leverkusen in 1999, then-coach Christoph Daum moved him to midfield. He adapted to a deeper role during his spell at Chelsea.
In 2011, Ballack's international coach at the time, Joachim Löw, praised him, describing him as a player who "exudes authority and calm on the pitch"
6 Petr Čech
Since his emergence as a precocious talent in his youth, Čech has been considered to be one of the greatest, most consistent, and most respected goalkeepers both of his generation and of all time. A tall, athletic, agile, brave, physically strong, and well-rounded keeper, with a strong mentality, as well as good decision-making and leadership qualities, throughout his career he has stood out for his reflexes and shot-stopping abilities, as well as his positional sense, concentration, handling when coming off his line to claim crosses, and command of his area.Although he is not as adept with the ball at his feet as the newer generation of goalkeepers that emerged in his later career, he possesses a deep kick with either foot, despite being naturally left-footed
5 Gianfranco Zola
He was a key player in Chelsea's resurgence in the 1996–97 season, helping them win the FA Cup with a 2–0 win over Middlesbrough at Wembley Stadium having scored four goals en route to the final, including a 25-yard curling shot against Liverpool as Chelsea came from 0–2 behind to win 4–2, and a memorable goal of individual skill in the semi-final against Wimbledon, backheeling the ball and turning 180 degrees before slotting the ball into the net. At the end of the season he was voted FWA Player of the Year, the only player ever to win the accolade without playing a full season in the English league and the first Chelsea player to win it
4 Eden Hazard
Hazard won the PFA Young Player of the Year award and finished as the runner-up to Luis Suárez for the PFA Player of the Year award for his fine attacking performances under José Mourinho.
At Chelsea, Hazard matured into a world-class player and was primarily utilized as a left midfielder, a position which enables him to cut into the center and strike on goal with his stronger right foot. His development into one of the world's best players was highlighted in the 2014–15 Season; during this season he won multiple awards and received praise from pundits and managers alike. Manager Jose Mourinho praised Hazard, saying that "He is already a top player and his evolution has been fantastic. He is still very young and he can become the best player in the world." Hazard's former teammate and Lille captain Rio Mavuba described Hazard as "a great player, with an immense talent. He's actually not that big, but he's so fast. He's also very difficult to dispossess and his finishing is top-notch". Hazard's frequent goal celebration saw him sliding on his knees; since 2018 he has stayed on his feet. Although Hazard's favored role is as a left-winger, he is a versatile attacker, and has also been deployed as a second striker, as a lone striker, or even as a false-9 on occasion throughout his career. Beyond his speed, creativity, technical skills, and offensive qualities, he is also an accurate penalty and free-kick taker
3 John Terry
Terry began to establish himself in the Chelsea first team from the 2000–01 season, making 23 starts and was voted the club's Player of the Year. He continued his progress during 2001–02, becoming a regular in the defense alongside club captain and France international Marcel Desailly. On 5 December 2001, he captained Chelsea for the first time, in a League match against Charlton Athletic. Chelsea reached the FA Cup Final, following wins against London rivals West Ham United and Tottenham Hotspur in the fourth and sixth rounds respectively, and Fulham in the semi-final – where Terry scored the only goal in a 1–0 victory
2 Didier Drogba
He moved to Premier League club Chelsea for a club-record £24 million fee, making him the most expensive Ivorian player in history. In his debut season, he helped the club win their first league title in 50 years, and a year later he won another Premier League title. His displays saw him named in the FIFA World XI for 2007. In March 2012, he became the first African player to score 100 Premier League goals. Just two months later, he scored in Chelsea's 2012 FA Cup Final win over Liverpool to become the first (and as of 2017, the only) player to score in four separate FA Cup finals
e was noted for his physical strength, speed, ability in the air, powerful and accurate strikes, and his ability to retain possession of the ball. Richard Beech of the Daily Mirror says that his "powerful and intrusive approach made him the lone striker José Mourinho grew to admire, and made it nearly impossible for opposing teams to isolate him and freeze him out of the game.
1 Frank Lampard
He is widely considered to have been one of the greatest midfielders of his generation. Lampard is voted as best Chelsea player of all time. Lampard was a creative and technically gifted box-to-box midfielder
In his thirteen years with the team, Lampard established himself as a prolific scorer from midfield, becoming Chelsea's all-time leading goalscorer, with 211 goals scored in all competitions. He also won a number of trophies, including three Premier League titles, a UEFA Champions League title, four FA Cups, a UEFA Europa League title, and two Football League Cups. In 2005, he was named FWA Footballer of the Year and finished runner-up for both the Ballon d'Or and FIFA World Player of the Year awards. Lampard was released by Chelsea in 2014,