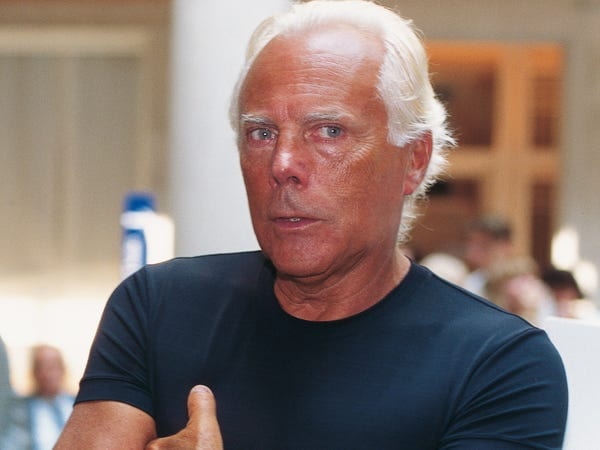 We bring to you Giorgio Armani net worth.
Giorgio Armani is an Italian fashion designer. He first came to notice, working for Cerruti and then for many others, including Allegri, Bagutta, and Hilton. He is the most successful designer of Italian origin. Giorgio Armani net worth is $7.3 billion.
Giorgio Armani Profile
Armani was born on 11th July 1934 in  Piacenza, the northern part of Italy. He had his secondary school at the Liceo Scientifico Respighi in Piacenza.
He enrolled in the Department of Medicine at the University of Milan, but after three years, in 1953, he left and joined the army.
Due to his medical background, he was assigned to the Military Hospital in Verona, where he would attend shows at the Arena. He eventually decided to look for a different career path.
Design career
After an unsuccessful career in the army, Armani decided to look for a new job.
Armani found a job as a window dresser at La Rinascente, a department store in Milan in 1957.
He went on to become a seller for the menswear department, in which capacity he gained valuable experience in the marketing aspect of the fashion industry. In the mid-1960s, Armani moved to the Nino Cerruti company, where he designed menswear.
His skills were in demand, and for the next decade, while continuing to work for Cerutti, Armani also freelanced, contributing designs to as many as ten manufacturers at a time.
In the late 1960s, Armani met Sergio Galeotti, an architectural draftsman, which marked the beginning of a personal and professional relationship that lasted for many years.
In 1973, Galeotti persuaded him to open a design office in Milan, at 37 Corso Venezia.
This led to a period of extensive collaboration, during which Armani worked as a freelance designer for a number of fashion houses, including Allegri, Bagutta, Hilton, Sicons, Gibò, Montedoro, and Tendresse. 
in 1975 he founded Giorgio Armani S.p.A. in Milan, with his friend Galeotti.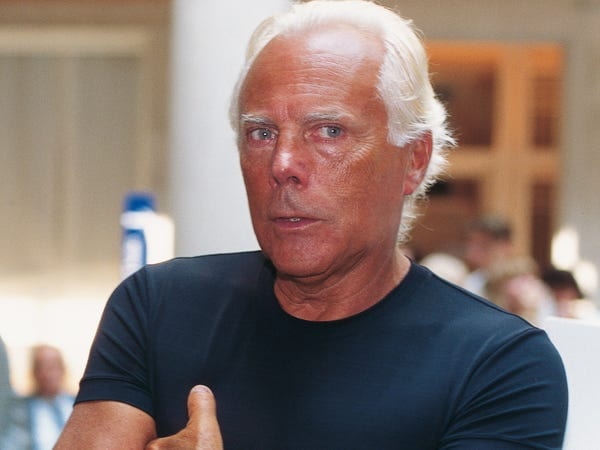 In October of that same year, he presented his first collection of men's ready-to-wear for Spring and Summer 1976 under his own name. He also produced a women's line for the same season.
Armani established an innovative relationship with the fashion industry, characterized by the 1978 agreement with Gruppo Finanzario Tessile (GFT), which made it possible to produce luxury ready-to-wear in a manufacturing environment under the attentive supervision of the company's designer.
In 1979, after founding the Giorgio Armani Corporation, Armani began producing for the United States and introduced the Main line for men and women.
The label became one of the leading names in international fashion with the introduction of several new product lines, including G. A. Le Collezioni, Giorgio Armani Underwear and Swimwear, and Giorgio Armani Accessories.
Giorgio Armani net worth
Giorgio Armani net worth is $7.3 billion according to Forbes.
Armani has designed many stage outfits for pop superstar Lady Gaga, including those worn on her record-breaking Monster Ball Tour and Born This Way Ball Tour. He has also designed for many high-profile award shows, such as the 52nd Grammy Awards and the 2010 MTV Video Music Awards
Armani Hotel
Armani is credited with pioneering red-carpet fashion.
The Armani Hotel was opened in Burj Khalifa on April 27, 2010, comprising the bottom 39 floors of the supertall skyscraper in Dubai, United Arab Emirates; it has 160 guest rooms and suites, and 144 residences.
Giorgio Armani is also designing the interiors of the Armani Residences, also within the skyscraper, and its specially designed line of products from the Armani/Casa home furnishings collection.
He is into other businesses in Music, sports as the president of  Olimpia Milano basketball team,
Ole Gunnar Solskjaer Net Worth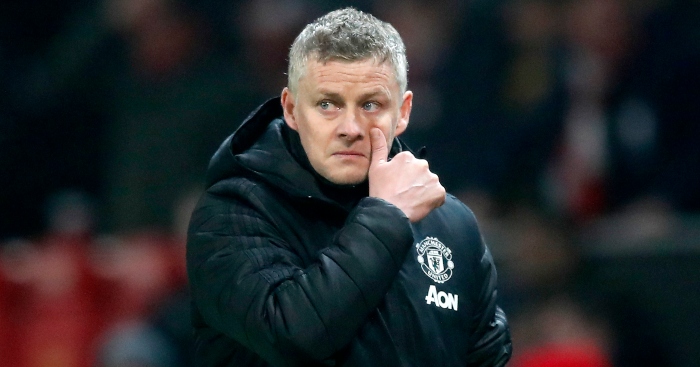 Glusea brings to you Ole Gunnar Solskjaer net worth net worth
Ole Gunnar Solskjær is a Norwegian professional football manager and former player. He is currently the manager of English club Manchester United.
As a player, he played as a forward and spent most of his career with Manchester United.
Ole Gunnar Solskjaer net worth is $80 million
Early life
Solskjær was born in Kristiansund, Møre og Romsdal to Øyvind, a Greco-Roman wrestling champion, and Brita Solskjær. At the age of seven, he joined local football club Clausenengen, who were in the 3. divisjon. 
Solskjær supported Liverpool as a child. Between the ages of eight and ten, he followed in his father's footsteps and trained as a Greco-Roman wrestler, but gave it up due to being tossed around too much. Between 1992 and 1993, Solskjær completed a mandatory year's national service in the Norwegian Army.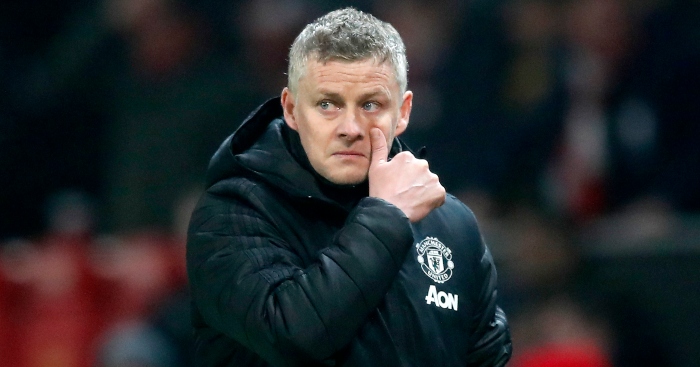 Ole Gunnar Solskjaer Net Worth
Solskjaer's net worth is 22million Norwegian crowns (kr), or £1.9million at the present time, according to Josimar.
In an article titled: "Where has the money gone?" the magazine claims Solskjaer has earned more than 300million kr, or £27million at the moment, throughout his career.
However, according to his income tax returns, which the paper claims they have seen, he only lists 22million kr.
During his 11 year career at Manchester United, he earned just shy of £20million.
In addition, he received a whopping £5million for a testimonial game when his career there ended, however, much of this was expected to go to charity.
When he returned to coach Norwegian team Molde he earned 4.4million Norwegian crowns (kr) £500,000 per year.
Read Highest Paid Coaches in the world
In 2015 he became the Norwegian league Tippeligaen's best-paid managers.
When he coached the team in 2012 he earned half that amount.
However, the year after he revealed he had earned 16million kr (£1.9million) in the year of 2016.
It is safe to say Solskjaer will be adding to his net worth now he is manager of Man Utd.
Personal Life
Solskjaer is married to Silje Solskjaer, 44, who he has three children with – Noah, Karna and Elijah.
The pair got together in 1992, but they took a brief break while he was in the military because she thought she had fallen out of love, according to Norwegian magazine Se Her.
However, they quickly found back to each other, with Silje saying: "I couldn't have a better boyfriend than Ole Gunnar. He is incredibly kind and thoughtful
Read Also Paul Pogba Net Worth
Michael Amushelelo Net Worth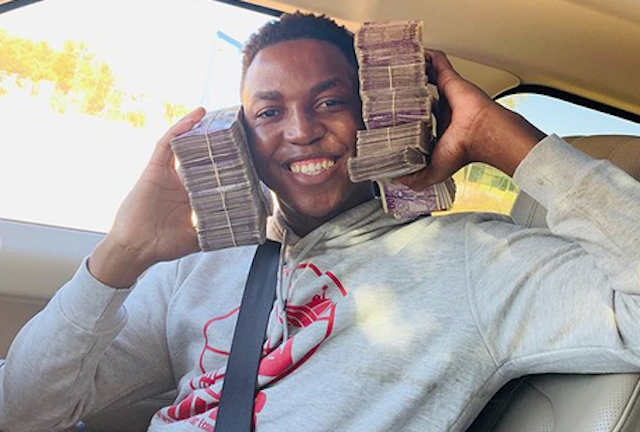 What is Michael Amushelelo net worth?
Read on to find more on Michael Amushelelo net worth
Michael Amushelelo is the Co-Founder at Amushe International Holding Group (Pty) Ltd
Michael is a young Namibian who has never been afraid to work hard to achieve his dreams. Even as a young boy he always had the passion for working hard.
On top of his working skills he is a very intelligent, innovative, outspoken, but most of all highly disciplined. He thinks inside the box, because he believes if you cannot find a solution to the problem inside the box then there was never a problem in the box. 
read on to find more information about Michael Amushelelo net worth
Michael Biography
He was born in Wanaheda where he was raised by my not-so-well-off mother and father.
He attended Moses Van Der Byl Primary School and then moved to Concordia College. Like many other children who grew up in Katutura, Michael did not have so much on the table and this was enough motivation to do something to better his life.
Business Career
It all started in 2009. Michael used to sell lollipops for his mother at high school. That was when Michael realized that he had entrepreneurial ability.
He finished high school in 2008 but did not have the required points to attend university. This was the turning point in his life as things changed drastically.
This was when he decided to become financially independent. Michael started cleaning yards with a cousin. With the profits, he started a mini shop at home. Michael sold a few daily needs such as airtime, hot dogs, soft drinks, etc.
In 2010, Michael got a job at Namib Breweries as an Apprentice Brewer. As a result, he had to partly neglect the small businesses that he ran at home and focus on the new job.
He founded Amushe Inc. in 2010. He started gathering a team of young people from different professions who had the skills to kickstart things because he did not have a qualification to hi name. They then started forming subsidiary companies such as Amushe Construction, Amushe Advertising, Amushe Computer Solutions and started doing consultation work.
Michael Amushelelo Net Worth
Michael is one of the richest young men in Namibia even though the source of his wealth has often been questioned.
 Amushelelo was taken into police custody over a number of charges. Amushelelo is a social media celebrity who often flaunts his wealth and apparent good deeds on that platform.
Read Ginimbi net worth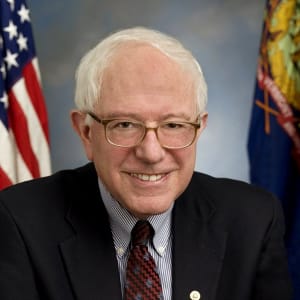 Bernie Sanders net worth is $ 2 million
Find out more about Bernie Sanders net worth
Bernie Sanders is a U.S. Senator from Vermont and candidate to become the next President of the United States.
In 2006, he was elected to the U.S. Senate after 16 years as Vermont's sole congressman in the House of Representatives.
Bernie is now serving his third term in the U.S. Senate after winning re-election in 2018 with 67 percent of the vote.
Born in Brooklyn, New York, he attended James Madison High School, Brooklyn College, and the University of Chicago.
Read Bill Gates Net Worth
After graduating, he moved to Vermont where he worked as a carpenter and documentary filmmaker. In 1981, he was elected as mayor of Burlington, the state's largest city, by a mere 10 votes.
As mayor, Bernie's leadership helped transform Burlington into one of the most exciting and livable small cities in America.
Under his administration, the city made major strides in affordable housing, progressive taxation, environmental protection, child care, women's rights, youth programs and the arts.
In Congress, Bernie has fought tirelessly for working families, focusing on the shrinking middle class and growing gap between the rich and everyone else.
Read Richest Presidents in the world
Bernie has been called a "practical and successful legislator" and he was dubbed the "amendment king" in the House of Representatives for passing more amendments than any other member of Congress.
As chairman of the Senate Committee on Veterans' Affairs, Bernie worked across the aisle to "bridge Washington's toxic partisan divide and cut one of the most significant deals in years."
In 2015, Democratic leadership tapped Bernie to serve as the caucus' ranking member on the Senate Budget Committee.
Bernie lives in Burlington, Vermont with his wife Jane. He has four children and seven grandchildren.
According to estimates from Forbes, the 77-year-old Sanders  has a net worth of about $2.5 million.
That money comes, in part, from his book royalties and his income as a senator, which pays him $174,000 a year, according to the Congressional Research Service report on Senate salaries last year.
Sanders also receives an annual pension from his time as the mayor of Burlington, Vermont, and owns three homes, according to Forbes.
He has a home in Burlington, a home in Washington, D.C., and a Vermont vacation home that he and his wife bought in 2016 a few months after his presidential campaign ended.
Read How Donald Trump Became a Billionaire
After receiving pressure to release his tax returns during his presidential bid, Sanders released 10 years' worth of returns on April 15 this year, which is also tax day.
According to those returns, the independent Vermont senator's adjusted gross income was $561,293 in 2018 and he paid a 26 percent effective tax rate. In 2017, his adjusted gross income was $1,131,925.
"These tax returns show that our family has been fortunate," Sanders said when he released the documents. "I am very grateful for that, as I grew up in a family that lived paycheck to paycheck and I know the stress of economic insecurity."