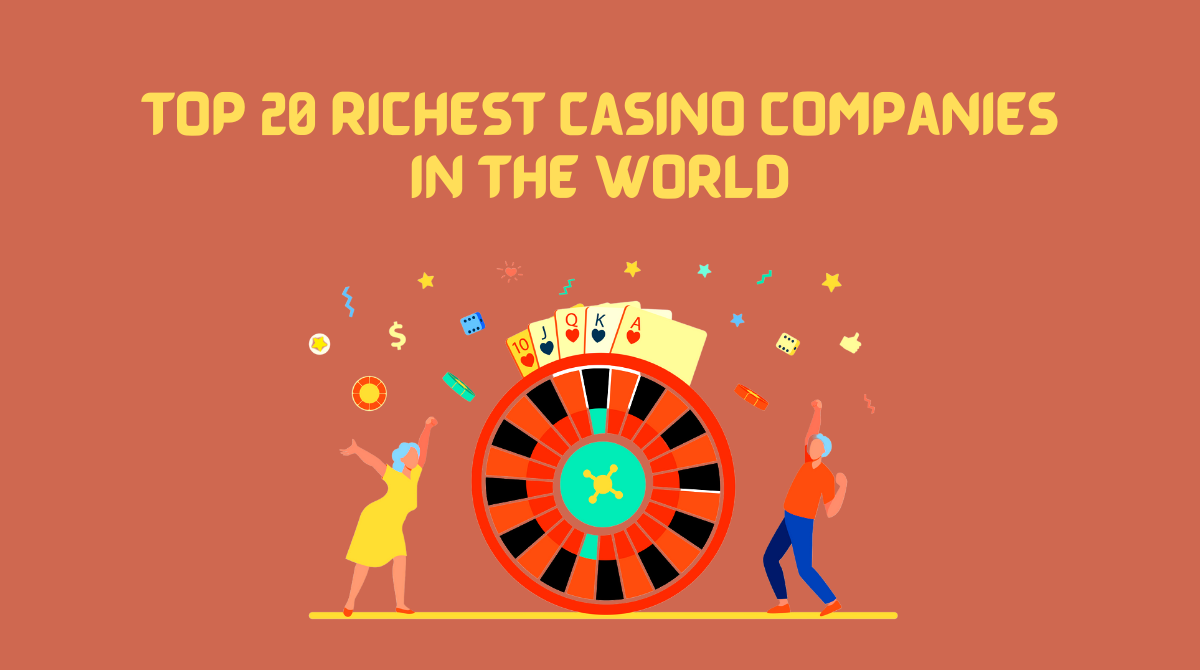 Gambling has been around since ancient times, and it has never lost its popularity so far. There are millions of people who prefer to play casino games, sports betting, or even poker in real money mode on the Internet than going to land-based casinos because they feel more comfortable in the virtual space with no limitations in place as long as they have access to the web and their credit cards or e-wallets ready.
Since this type of online entertainment has gained popularity, many online casino companies have emerged over the years, and some of them are considered leaders in their respective markets. Read Top 10 Richest Betting Companies in the world
Here's a list of the top 20 richest Casino companies in the world as per the data of 2022.
Revenue: £5.2 billion
Headquarters: Dublin, Ireland
Number of employees: 13,653
Founded: 2016
Stock ticker: FLTR (LSE)
Flutter Entertainment is a major industry player in Casino. The company is well-represented in the online and retail segments and has merged with The Stars Group. It owns Adjarabet and BetEasy, FanDuel, Fox Bets, FanDuel and Fox Bets, and Full Tilt Poker. Paddy Power, PokerStars.com.au, Timeform.com.au, TGV Network.
Revenue: $3.47 billion
Headquarters: Reno, Nevada, United States
Number of employees: 21,000
Founded: 1996
Stock ticker: CZR (NASDAQ)
Caesars Entertainment is a leading online casino companies. In the wake of the acquisition of Caesars, its namesake brand, Eldorado Resorts, was rebranded.
Revenue: €561.1 million
Headquarters: Stockholm, Sweden
Number of employees: 6,825
Founded: 2006
Stock ticker: EVO: SS (NASDAQ)
Evolution, another giant, was a victim of M&A fever in 2020. They completed the acquisition NetEnt. This caused some controversy. Evolution laid off employees following the acquisition of NetEnt and closed the NetEnt Live Studio.
Revenue: €106.0 million
Headquarters: Quantum Place, Ta' Xbiex, Gzira, Triq ix-Xatt
Number of employees: 404
Founded: 2012
Stock ticker: CTM (NASDAQ)
Catena Media is a respected and successful affiliate and marketing company in the online Casino. The business generates revenues of approximately EUR100 million annually and EUR106.0 million for 2020. However, Catena Media is still at the forefront of promoting gambling products responsibly, safely, and value-addedly.
Revenue: €160 million
Headquarters: Denmark
Number of employees: 450
Founded: 2004
Stock ticker: BETCO (STO)
Better Collective is a media company in the iGaming, sports betting, and gaming industry that has created numerous platforms to educate consumers about responsible gambling and safe gambling options.
Revenue: $3.61 billion
Headquarters: Las Vegas, Nevada, United States
Number of employees: 50,000
Founded: 1988
Stock ticker: LVS (NYSE)
Sheldon Adelson, a late casino mogul, founded Las Vegas Sands in 1988. Adelson was a pioneering gambling visionary. He believed that conventions could drive gambling interest. This led to a series of ambitious megaprojects that gave rise to Las Vegas Sands dominance not only on the Las Vegas Strip but also in Macau.
Revenue: £2.81 billion
Headquarters: North Staffordshire, United Kingdom
Number of employees: 4646
Founded: 2000
Bet365 is one of the most successful privately held betting companies. Denise Coates is the boss of Bet365 and is the highest-paid female executive in the United Kingdom.
Revenue: £751.4 million
Headquarters: Valetta, Malta
Number of employees: 1400
Founded: 1997
Stock ticker: KNDSBD (NASDAQ)
Kindred Group is among of the largest casino companies on the globe. The group currently owns nine gambling brands, including Unibet and 32Red. These brands have attracted steadfast interest in the largest gambling markets worldwide, including the United States.
Revenue: €3.57 billion
Headquarters: Douglas, Isle of Man
Number of employees: 24,000
Founded: 2004 (as GVC Holdings)
Stock ticker: ENT (LSE)
VGC Holdings issues and speculation about a probe into possible Wirecard connections led to Entain's rebranding. Entain has been doing well since then. Entain is committed to sustainability and player well-being.
Revenue: $3.37 billion
Headquarters: Las Vegas, Nevada, United States
Number of employees: 10,000
Founded: 1973
Stock ticker: SGMS (NASDAQ)
Scientific Games, one of the oldest US gaming companies, is a leader in providing unique products for all kinds of players. Although the company was originally a manufacturer for pari-mutuel wagering and totalizator systems, it soon adapted to digital technology. It brought its OpenGaming content aggregate platform to the table and provided many opportunities for consumers and businesses.
Also Read: How to Choose a Reputable Real Money Casino
Revenue: $849.7 million
Headquarters: Gibraltar
Number of employees: 1,350
Founded: 1997
Stock ticker: LON:888 (LSE)
888 Holdings, one of the largest casino companies worldwide, is the first to launch its products. These include technological solutions, game development, and dedicated gaming sites. The 888 brands are well-known for their online casino, sports betting solutions, and poker rooms.
Revenue: n/a
Headquarters: London, United Kingdom
Number of employees: 12,000
Founded: 1990
Stock ticker: IGT (NYSE)
International Game Technology, also known as IGT, is a leading manufacturer of online and physical slot machines. IGT continues to form partnerships in many global markets and has increased its presence in the interactive gambling and iGaming sectors of the United States.
Revenue: AU$5.48 billion
Headquarters: Melbourne, Australia
Number of employees: 5,000
Founded: 1994
Stock ticker: TAH (ASX)
Tabcorp is Australia's largest gambling company. Tabcorp has many operations in various sectors, including lotteries and casino gaming. It also operates in media. Several companies have made numerous buyout bids to acquire the company's media- and wagering division, including Entain.
Revenue: n/a
Headquarters: Kuala Lumpur, Malaysia
Number of employees: 56,000
Founded: 1965
Stock ticker: GENTING (KLSE)
Genting Group is a among the leader casino companies worldwide, focusing on establishing a physical presence throughout Asia and the rest. A global lockdown has impacted the company's properties around the globe, including Malaysia, Hong Kong, Singapore, and the Philippines.
Revenue: $6.61 billion
Headquarters: Las Vegas, Nevada, United States
Number of employees: 30,200
Founded: 2002
Stock ticker: WYNN (NASDAQ)
Wynn Resorts is one of the most important casino companies worldwide. It has global operations as well as a strong presence in the United States. Wynn has dedicated, state-of-the-art venues in Las Vegas. Wynn Las Vegas is home to Encore Las Vegas as well as Encore Macau, Wynn Palace, Wynn Palace, and Encore Boston Harbor.
Revenue: $12.9 billion
Headquarters: Las Vegas, Nevada, United States
Number of employees: 74,500
Founded: 1986
Stock ticker: MGM (NYSE)
MGM Resorts is a well-known brick-and-mortar casino company. MGM Resorts was established in 1986 in the United States. It employs approximately 74,500 people today. MGM Resorts is associated with iconic casino properties such as Mandalay Bay and Luxor, Excalibur, Bellagio, Mandalay Bay, Luxor, and Excalibur.
Revenue: $3.1 billion
Headquarters: Wyomissing, Pennsylvania, United States
Number of employees: 18,754
Founded: 1972
Stock ticker: PENN (NASDA)
Penn National Gaming is well-known because of its large casino in the United States. Penn was founded in 1972 and had 43 properties across the United States and Canada. The company's most prominent brand is Hollywood Casino. The company was founded by racehorse track builders and capitalized on new opportunities for thoroughbred horse racing, pari-mutuel betting, and thoroughbred horse racing.
The casino is stunning inside and out. The casino's exteriors are stunning and beautiful at night. You will find it hard to find a spot inside that doesn't offer beautiful views. The Venetian is not only a casino, but also a hotel. It offers several luxurious rooms to its guests. There is also the casino. The Venetian boasts 550,000 square feet in gaming and gambling space.
Revenue: $750 million – $850 million
Headquarters: Boston, Massachusetts, United Status
Number of employees: 869
Founded: 2012
Stock ticker: DKNG (NASDAQ)
DraftKings was one of the first companies in North America to offer daily fantasy sports (DFS) and is the only company licensed to operate in the United States. DraftKings can quickly establish a presence in almost every state of the country, thanks to local regulations. This allows them to offer a familiar and intuitive product for sports betting.
Revenue: $4.68 billion
Headquarters: Las Vegas, Nevada, United States
Number of employees: 25,000
Founded: 1975
Stock ticker: BYD (NYSE)
Boyd Gaming, founded alongside other notable gambling companies in 1975, has a strong presence in the gaming sector. Boyd Gaming's most recent report shows that the company has generated $4.68 billion.