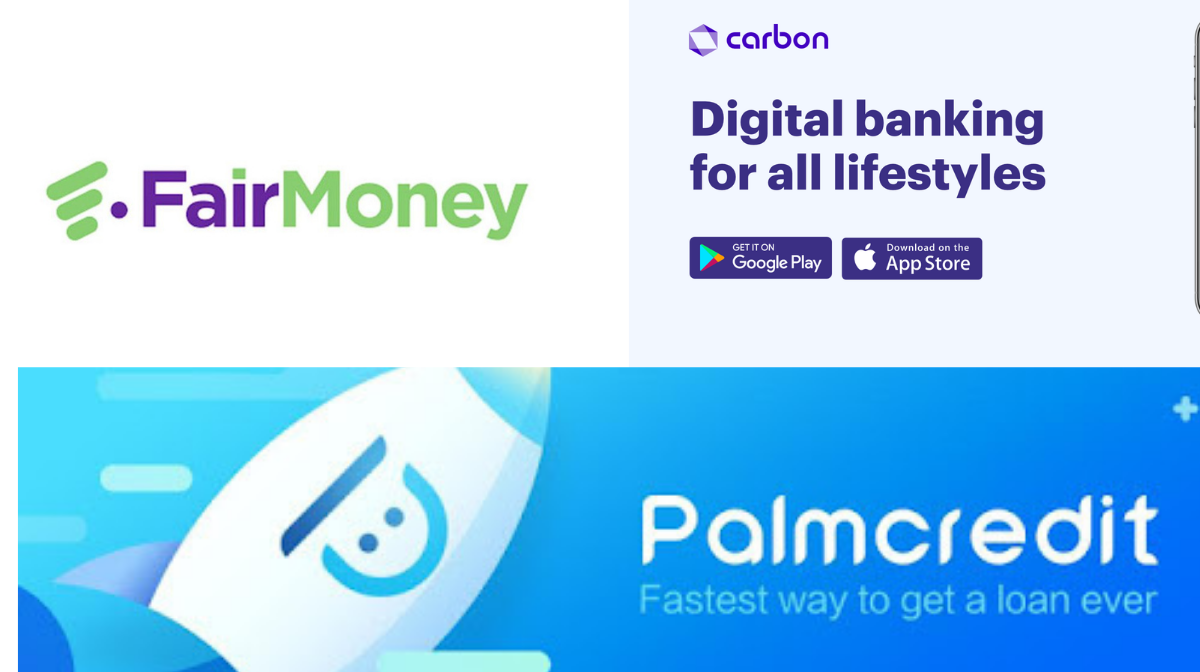 Top 10 best loan apps in Nigeria 2023: have you been in a situation where you need an urgent soft instant loan to solve your personal or business needs? There are several loan apps in Nigeria where you can get instant loans without even providing collateral. With these apps, you can get a loan using your smartphone, either Android or IOS.
| Top 10 Best Loan Apps in Nigeria 2023 | Ranking |
| --- | --- |
| Palm Credit | 1 |
| Carbon Loan App | 2 |
| Fairmoney | 3 |
| Branch | 4 |
| QucikCheck | 5 |
| KwikMoney (Migo) | 6 |
| Aella Credit | 7 |
| Kiakia Loans | 8 |
| Creditville | 9 |
| SokoLoan | 10 |
| Top 10 Best Loan Apps in Nigeria 2023 | Ranking |
Top 10 Best Loan Apps in Nigeria
Top 10 Best Loan Apps in Nigeria 2023
What can you do with loans from these loan apps? There are times where we overspend our emergency fund, experience delay in payment from our employers, needing to add more funds to our business capital, paying for our healthcare needs. No matter what you do, it is recommended that you have an idea of the top 10 best loan apps in Nigeria because issues of finances can be uncertain and having knowledge of these apps can go a long way of helping you overcome unplanned financial needs.
Read African Countries that pay highest salaries
Top 10 Loan best Apps in Ghana
What are the best loan apps in Nigeria?
In this article, we have performed a rigorous scrutiny of the best instant loan apps in Nigeria and have compiled the best 10 for you. Best loan apps should make it easy to access loan, have a user friendly application interface for easy navigation.
Top 10 Best Loan Apps in Nigeria 2023
Palm Credit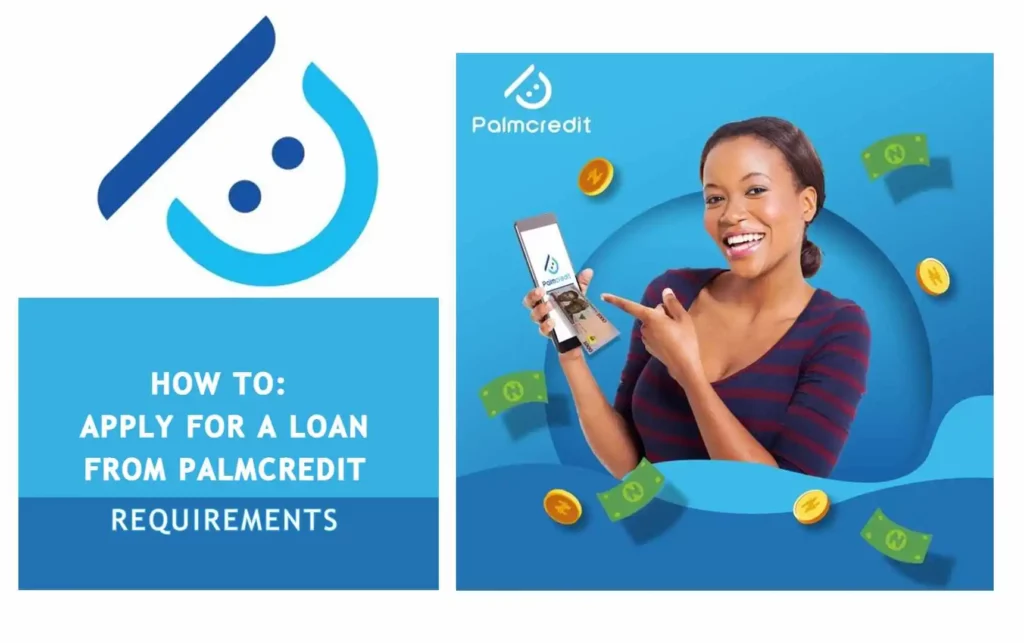 Palm Credit takes the number one spot in the best loan apps in Nigeria.
Palmcredit is a loan app in Nigeria owned by Newedge Finance Limited where you can get a loan without collateral. With Palmcredit, you can access loans within minutes without having to worry about providing any collateral.
One unique thing about Palmcredit is its attractive low interest. Perhaps this makes it a popular loan provider in the country. You can apply for a loan by downloading the Palcredit app from the Google play store.
Several steps to get your loan
1 Download and register an account.
2 Fill out basic information and submit.
3 Apply loan online and easy to get approved .
4 Get your loan disbursed into your bank account.
◉Loan applicant requirement
✔︎Nigeria resident
✔︎18-60 years old
The app is one of the best loan apps in Nigeria because;
1 Limit range from NGN10,000 to NGN300,000.
2 Flexible repayment between 91days to 365days.
3 No collateral.no paperwork,secure and reliable.
4 No hidden fees,no rollover charge,no transaction fees.
5 Repay your loans in time or complete increase limit tasks to build your credit limit and reduce on interest rate.
Loans interest rate:4% to 24%,Equivalent monthly interest 4% to 4.7%,the annual percentage rate (APR) on a Palmcredit loan is 24%~56%.
-Example:If you choose a 6-month loan and borrow NGN100,000,Plamcredit charges an interest rate of 4% per month.Borrow NGN interest rate:24% and the APR is 48%.180 days repayments of NGN24,000.Total amount payment is NGN124,000.
Carbon Loan App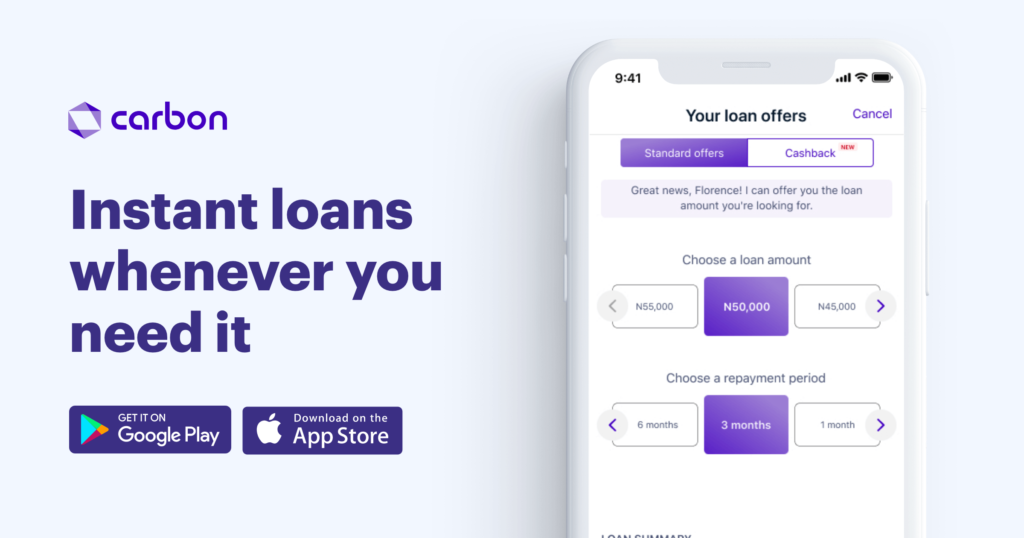 Another one on the list of best loan apps in Nigeria is the Carbon Loan app formerly Pay later. The app has a track record of providing access, collateral free and low interest rate to customers. Founded in 2012, Carbon loan app has provided loan to several customers. with Carbon loan app, you can
Get loans ranging from ₦1,500 to ₦1m(Nigeria)
Make repayments over a maximum of 64 weeks.
* Interest ranges from 1.75% – 30%, with an equivalent monthly interest rate of 1 – 21%.
SAVE WITH HIGH INTEREST
Don't just keep your money in the bank. Create a savings plan and start earning up to 15% interest on your funds when it's time to withdraw.
SHOP NOW, PAY OVER TIME
Buy items you love and need the most and pay in small, equal installments, at 0% interest.
RECEIVE CASHBACK ON LOANS
Apply for up to N1 million and receive funds in your account within minutes. You also get up to 30% cashback on your interest when you pay in time.
GET A CARD YOU CONTROL
The Carbon Visa card is your passport to freedom and security. Spend as you please on both online and offline channels. Freeze your account from anywhere if you notice irregular behavior. Set spending limits across channels.
Fairmoney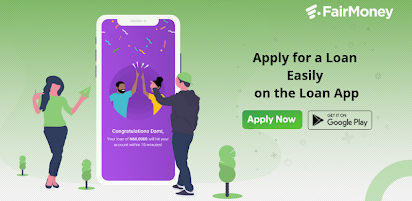 FairMoney is a fast, secure, reliable and free Android mobile banking app, available in Nigeria. They make getting a personal cash loan easy and fast: download the app, sign up using your mobile numbers, answer a few questions and get instant cash loans approved in under 5 minutes!
How to apply for a loan
– Click 'Apply' on the home page
– Answer a few simple questions
– Verify your identity so that we can give you a loan offer
– Receive a loan offer
– Select amount and period for your loan
– Accept loan offer
– Enter bank details to receive your loan directly to your bank account
Branch Loan App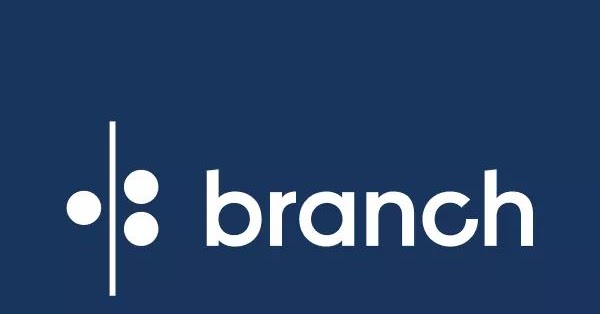 Branch is the simplest and most secure way to borrow, save, and improve your financial health all from the convenience of your phone.
Depending on your loan amount for which you are eligible, you have the option to choose repayment terms for up to 336 days. Every loan amount they offer has the option to repay in a minimum of 62 days.
You can get the Branch instant loan in Nigeria app on playstore here
Quickcheck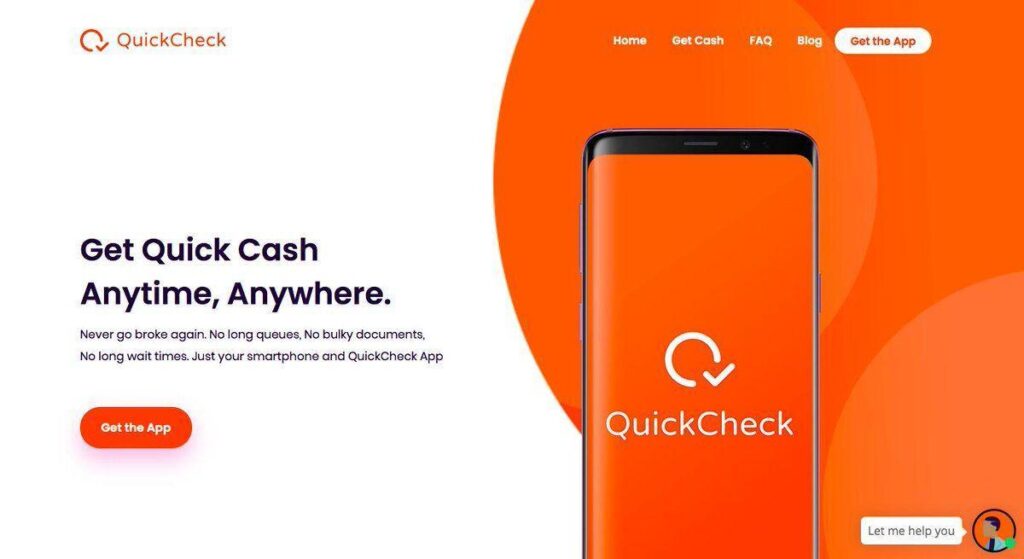 Another one of the best loan apps in Nigeria is Quickcheck. There are no long queues, no long wait times, no collateral or guarantors needed. Just your smartphone and the loan app and you gain access to quick cash credited straight into your bank account. Access quick cash loans at single-digit interest rates, anywhere, anytime. This loan app for Nigerians, helps you access instant online quick credit without collateral.
KwikMoney (Migo)
Migo formerly known as Kwikmoney or Kwikcash is an automated instant loan service that originated from a partnership between banks, mobile networks and telecommunication companies in Nigeria to make personal banking and access to finance easy for Nigerians. At the core of the partnership is giving easily accessible loans to Nigerians without collateral or guarantors.
With Migo, you can get loans in 60 seconds or more. That is how easy and fast the process can be at its best. You can simply dial just a code on your phone to get a loan, the same way you dial a code to check your airtime balance.
Migo is just another best loan app in Nigeria with low interest rate you can trust
Aella Credit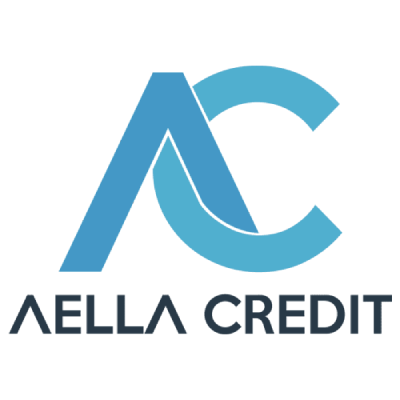 Aella Credit provides Quick and easy access to loans in 5mins. You can grow your credit score and increase your credit limit by prompt repayments, with no paper documentation. All you need is your basic information, BVN, and a smartphone (iOS or Android). The loan ranges from ₦1,500 to ₦1,000,000 with a tenor of 60 days to 180 days. monthly interest rate ranges from 2% – 20% and APR from 22% – 264%/annum.
Aella provides instant credit solutions that eliminates the hassle of standard loan applications and enables employee to borrow at competitive and fair rates through their employers. Individuals can download the application through Android devices. Benefits of the platform are offered to employees, companies, and investors.
KiaKia Loan

Kiakia is another best loan app in Nigeria that grants short-term business and personal loans.
How to Apply for KiaKia Loan
Follow the steps below to apply for KiaKia loan:
Visit the website and create an account with your accurate details
Start an application chat on the site
Upload a valid means of identification
Enter your desired loan amount
Choose the loan duration
Upload a screenshot of your last 3 salary or business income alerts
Accept the loan terms and conditions if your application is approved
Authenticate your bank account
Lastly, get credited
List of the top 10 best loan apps in Nigeria
Palm Credit
Carbon Loan App
Fairmoney
Branch Loan App
Quickcheck
KwikMoney (Migo)
Aella Credit
Kiakia Loans
Creditville
SokoLoan

have you used any of the apps? what was your experience? let us know in the comments on the Top 10 Best Loan Apps in Nigeria 2023 section below.
Source: Glusea