history of noguchi memorial institute for medical research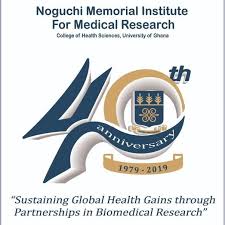 Read the history of noguchi memorial institute for medical research here
History of Noguchi Memorial Institute for Medical Research (NMIMR) is a medical research institute located at the University of Ghana in Accra, Ghana. It was founded in 1979 with funds donated by the Japanese government 
The Noguchi Memorial Institute for Medical Research (NMIMR) set up in 1979 as a semi-autonomous institute of the University of Ghana is the leading biomedical research facility in Ghana.
The Institute is the result of joint efforts by Prof. E. O. Easmon, former Dean of the University of Ghana Medical School, Prof. Kenji Honda of Fukushima Medical School in Japan and the Japan International Co-operation Agency (JICA).
The history of noguchi memorial institute for medical research  is dated  back to 1979 when It was built by the Government of Japan and donated to the Government and people of Ghana in honour of the distinguished Japanese researcher Dr. Hideyo Noguchi, who researched into yellow fever in Ghana and died from the disease in the country in 1928.
Test samples for 2020 coronavirus pandemic in Ghana are performed and confirmed by the institute
The Departments under the In
Contacts of NMIMR
Tel
+233 030 2940421 /
+233 030 2940422
Email
info @noguchi.ug.edu.gh
Box
P.O. Box LG 581 Legon, Accra
RESEARCH AREAS
The Institute continued to pursue its core business of research in 2011. Seventeen (17) new projects commenced in 2011 bringing to a total seventy (70) projects registered in the records of the Office for Research Support as being active in 2011.
The projects were predominantly in infectious diseases. The major areas covered were malaria, schistosomiasis, lymphatic filariasis, HIV/AIDs, Rotavirus, Influenzas, Mycobacterial infections (tuberculosis and Buruli ulcer),and development of natural products (Ghanaian plant medicines) as treatments agents for malaria, HIV IAIDS and trypanosomiasis. Other studies were on aflatoxicosis and cancer.
These activities have been driven by the nine departments of the Institute namely, Parasitology, Immunology, Clinical Pathology, Electron Microscopy, Epidemiology, V1rology, Bacteriology, Nutrition and Animal Experimentation. Details are outlined under each department.
Malaria

HIV/AIDs

Rotavirus

Influenzas

Schistosmiasis

Lymphatic Filariasis

Neglected Tropical Diseases

Mycobacterial infections (tuberculosis and Buruli ulcer)
Sunda and KEIDA International, home care and detergent manufacturing company on Tuesday, presented some items to the Institute to aid in its work in helping curb the spread of the novel coronavirus in Ghana. pic.twitter.com/4zt6O6odjp

— Noguchi Memorial Institute for Medical Research (@NMIMR_UG) March 26, 2020
Content on this website is protected by DMCA.  Dont waste your time copying because you would eventually remove it.