Top 10 Best EPl Players of All Time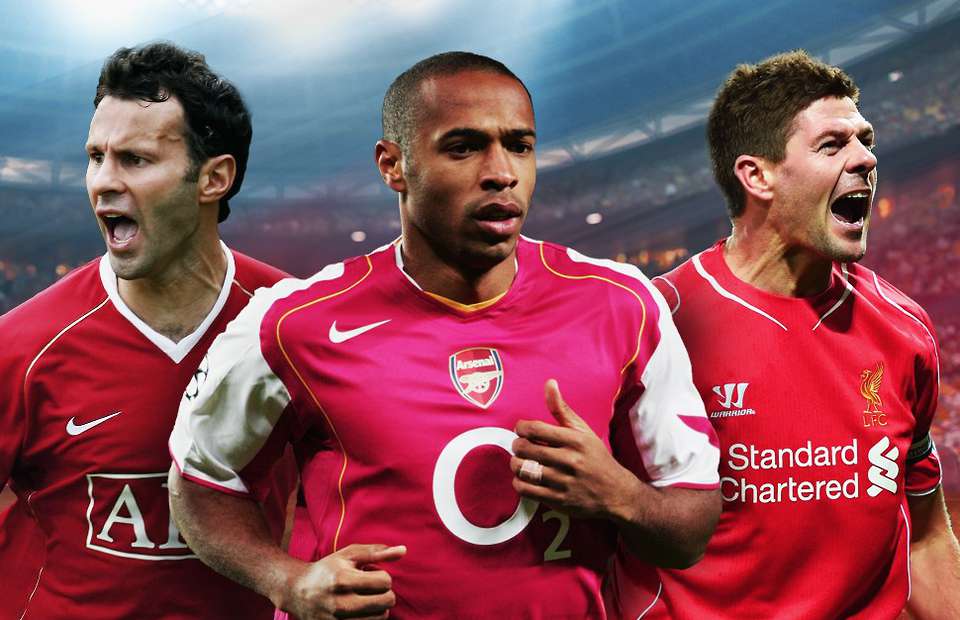 Glusea brings to you the Top 10 Best EPl Players of All Time
Cristiano Ronaldo, Frank Lampard and Thierry Henry are among the best players to have graced the Premier League, with Man Utd, Chelsea and Arsenal legends dominates the list.
Top 10 Best EPl Players of All Time include footballers with the highest number of goals, individual trophies, and those who have made significant impact in English premier league.
Top 10 Best EPl Players of All Time
Wayne Rooney
ALAN SHEARER
Thierry Henry
Paul Scholes
Sergio Aguero
Frank Lampard
Roy Keane
Ryan Giggs
Christiano Ronaldo
10. JOHN TERRY
Arguably the best central defender ever to play in the Premier League, he was a rare breed in that he was comfortable with either right or left foot. But he could also read the game, was aggressive in the tackle and dominant in the air.
Terry is Chelsea's most successful captain, having led them to five Premier League titles, four FA Cups, three League Cups, one UEFA Europa League and one UEFA Champions League title. He is one of five players to have made over 500 appearances for Chelsea and is also the club's all-time highest scoring defender.
John Terry is number 10 of the top 10 best epl players of all time
9. SERGIO AGUERO
More Premier League goals than Thierry Henry. More hat-tricks than Alan Shearer. Some call Sergio Aguero the best foreign player the league has ever seen. No other import has ever scored so many goals.
Agüero became Manchester City's all-time highest goal-scorer, scoring his 178th City goal against Napoli. He was named to the PFA Team of the Year in 2017–18 and 2018–19.
He is currently the 4th highest goalscorer in Premier League history, and the highest non-English scorer in the history of the competition, with 180 goals in the division. He also holds the record for most hat-tricks in the Premier League, with twelve.
Sergio Aguero has achieved a lot in English football and is therefore among the best epl players of all time
8. PAUL SCHOLES
Regarded as one of the greatest midfielders of his generation, over his career Scholes has received praise from other managers and players, including Xavi, who said in 2014 that Scholes was "the best central midfielder" he had seen in the previous 15 to 20 years, describing him as "a spectacular player who has everything.
He could also score spectacular goals, with his long-range volleys from corners becoming legendary. By the end of his career, he still hadn't learned how to tackle, but it didn't stop him winning 11 Premier League titles.
7. ROY KEANE
Another one of the top 10 best epl players of all time is Roy Keane
The fiercest competitor the Premier League has ever seen. A mean, snarling animal who dominated the middle of the pitch like no-one else, Keane was a phenomenon. He is remembered as much for his crunching tackles, in-your-face anger and confrontational personality as much for his ability as a footballer. But he was some footballer too.
He is the joint-most successful Irish footballer of all time, having won 19 major trophies, 17 of which came at Manchester United, in his club career
6 WAYNE ROONEY
Wayne Rooney is another one of the top 10 best epl players of all time
He made his debut for Everton at just 16, and soon hit the headlines when, in 2002, he ended Arsenal's 30-match unbeaten run with a spectacular goal to become the youngest goalscorer in Premier League history.
He has played much of his career as a forward, and he has also been used in various midfield roles. Widely considered to be one of the best players of his generation, Rooney is the record goalscorer for both the England national team and Manchester United.
Number 5 of Best EPl Players of All Time
FRANK LAMPARD
No other midfielder in Europe could match his goalscoring ability. He scored in double figures for ten Premier League seasons in a row, winning three championships. When he finally left, only three players had scored more goals in Premier League history – a quite remarkable achievement.

Lampard was a creative and technically gifted box-to-box midfielder who began his career in 1995 at West Ham United, the club where his father, Frank Lampard Sr., also played.
He is widely considered to be one of Chelsea's greatest ever players, and one of the greatest midfielders of his generation.
He has the record of the most goals by a midfielder in the Premier league and scoring the highest number of goals from outside the box (41).
In addition he was statistically named the Premier League Player of the Decade from 2000 to 2010.
Lampard is one of nine players, and the only midfielder, to have scored 150 or more goals in the Premier League. He is fourth in the Premier League's all-time assists ranking, with 102 assists.
4. RYAN GIGGS
He played his entire professional career for Manchester United and briefly served as the club's interim manager.
Giggs is one of the most decorated footballers of all time. During his time at United, he won 13 Premier League winner's medals, four FA Cup winner's medals, three League Cup winner's medals, two UEFA Champions League winner's medals, a FIFA Club World Cup winners medal, an Intercontinental Cup winner's medal, a UEFA Super Cup winner's medal and nine FA Community Shield winner's medals.
Manchester United and Liverpool are the only clubs in English football history to have won more league championships than Giggs
CRISTIANO RONALDO
Signed by Manchester United as a boy, he left the Premier League not just as a man but as one of the best players in the world.
He was named the world's best player in 2008 after helping United to win the Champions League, and it took a world record transfer fee for Real Madrid to prize him away from Old Trafford the following year.
He was worth the money, and has since gone on to become one of the greatest players of all-time, battling personal rival Lionel Messi for Balon d'Or's on an annual basis.
Often considered the best player in the world and widely regarded as one of the greatest players of all time, Ronaldo has won five Ballon d'Or awards and four European Golden Shoes, the most by a European player.
He has won 32 trophies in his career, including seven league titles, five UEFA Champions Leagues, one UEFA European Championship and one UEFA Nations League.
Ronaldo holds the records for most appearances (180), most goals (139) and assists (42) in the Champions League, most goals in the European Championship (14), most international goals by a male player (115), and most international appearances by a European male (184).
He is one of the few players to have made over 1,100 professional career appearances, and has scored over 790 official senior career goals for club and country.
Read Top 10 Best NBA Players of All Time
2 . ALAN SHEARER
with a record of 260 Premier League goals. No-one has come close to it before or since, and it's a record that looks set to stand for some time. It cost Blackburn Rovers a British record transfer fee to bring Shearer to Ewood Park in 1992, but never has money been better spent.
The complete striker, Shearer scored 30 league goals for three seasons running between 1993 and 1996, helping Blackburn to the Premier League title in 1994-95. Blackburn. Not mighty Manchester United or Liverpool. Blackburn. A town of less than 200,000 inhabitants. They couldn't have done it without Shearer.
Best EPl Players of All Time Number one
THIERRY HENRY
He is considered one of the greatest strikers of all time. he is also dabbed the greatest player in the history of the Premier League. In 2003 and 2004, Henry was the runner-up for the FIFA World Player of the Year, and was runner-up for the Ballon d'Or in the former year.
He was named the PFA Players' Player of the Year twice, the FWA Footballer of the Year three times, and was named in the PFA Team of the Year six-times in a row. He was also included in the FIFA FIFPro World XI once and the UEFA Team of the Year five times. Formerly a figurehead for Nike, he was one of the most commercially marketed footballers during the 2000s.
Top 10 best epl players of all time
Thanks for reading about the best epl players. leave your reply in the comments below.
Source: Glusea