Cristiano Ronaldo Net Worth 2023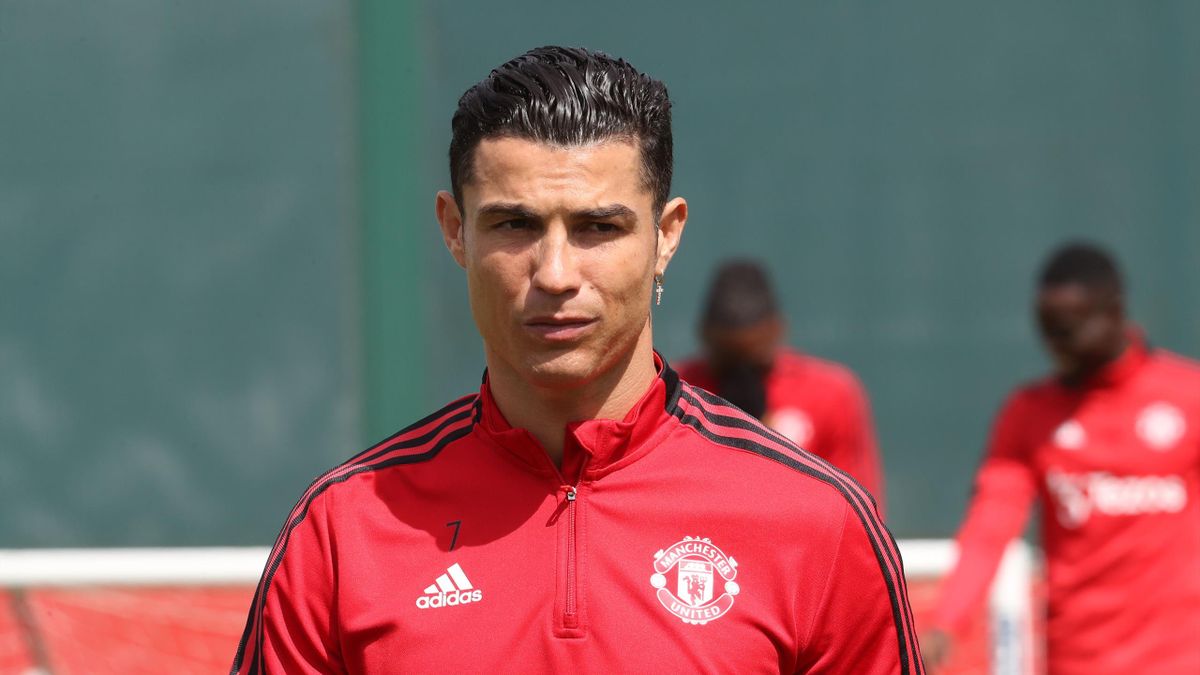 What is Cristiano Ronaldo net worth?
Estimated reading time: 9 minutes
Table of contents
Cristiano Ronaldo dos Santos Aveiro is a Portuguese professional footballer. He is know as one of the richest and most successful footballers in the world. Ronaldo rose to fame after winning the Ballon d'or in 2008. In this write up, we will be bringing to you Cristiano Ronaldo net worth, profile, career, businesses and all other information related to one of the most Iconic footballers in the world.
Cristiano Ronaldo is undoubtedly one of the greatest footballers of all time. Popularly known as CR7, he currently plays for Portugal national team and is a free agent. He holds the record for for most appearances (183), goals (140), and assists (42) in the Champions League
He is the wealthiest footballer and one of the richest athletes in the world. Ronaldo is a successful footballer and a businessman as well
Read Richest Footballers in Africa
Cristiano Ronaldo Net Worth 2023
| | |
| --- | --- |
| Net worth | $500 million |
| Salary | 26.8 million GBP |
| Date of birth | 5 February 1985 |
| Occupation | Professional Footballer |
| Nationality | Portuguese |
As of 2023, Cristiano Ronaldo net worth is valued at $500 million. He is the first player to ever reach a career earnings of $1 billion.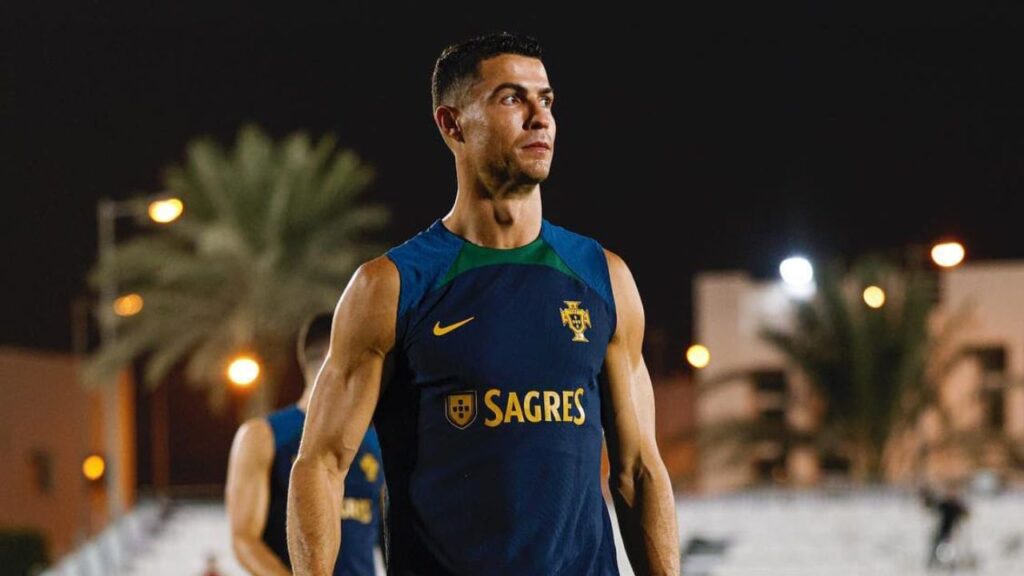 How much is the monthly income of Cristiano Ronaldo?
The Portuguese international returned to the Red Devils last summer on a two-year deal, and had reportedly signed a £480,000-a-week contract to take his annual earnings up to £25m, helping him to achieve a net worth of $500m (£367m) shortly after.
10 Interesting Highlights about Ronaldo
Ronaldo is the most followed person on Instagram with over half a billion followers
Ronaldo has made over 1100 appearances and have over 800 goals in his professional career
Cristiano Ronaldo is the only male player to score in five World Cup tournaments.
Ronaldo made his international debut for Portugal in 2003 at the age of 18 and is currently Portugal's most capped player
Ronaldo is Portugal's all time top scorer
He is the first footballer and the third sportsman to earn US$1 billion in his career
Ronaldo's father, José, died of an alcoholism-related liver condition at age 52 in September 2005 when Ronaldo was 20
Ronaldo does not have any tattoos as he regularly donates blood and bone marrow.
Ronaldo is widely regarded as one of the two best players of his generation, alongside Lionel Messi.
Cristiano Ronaldo won his first balloon dor at age 23 in 2008
Cristiano Ronaldo net worth is valued at $500 million
Cristiano Ronaldo net worth : Biography
Ronaldo began his senior career with Sporting CP, before signing with Manchester United in 2003, aged 18, winning the FA Cup in his first season.
He would also go on to win three consecutive Premier League titles, the Champions League and the FIFA Club World Cup; at age 23, he won his first Ballon d'Or.
Ronaldo was the subject of the then-most expensive association football transfer when he signed for Real Madrid in 2009 in a transfer worth €94 million (£80 million), where he won 15 trophies, including two La Liga titles, two Copa del Rey, and four Champions Leagues, and became the club's all-time top goalscorer.
He won back-to-back Ballons d'Or in 2013 and 2014, and again in 2016 and 2017, and was runner-up three times behind Lionel Messi, his perceived career rival.
In 2018, he signed for Juventus in a transfer worth an initial €100 million (£88 million), the most expensive transfer for an Italian club and for a player over 30 years old.
He won two Serie A titles, two Supercoppe Italiana, and a Coppa Italia, before returning to Manchester United in 2021.
Ronaldo joined Manchester United in 2021 after spending 3 years at Juventus and nine years with Real Madrid. He took a pay cut with his four-year deal worth $64 million annually. Christiano Ronaldo Net worth is $500 million according to Forbes
The Portuguese star is the most followed athlete on social media with over 400 million total followers in all Social media handles combined.
Cristiano Ronaldo net worth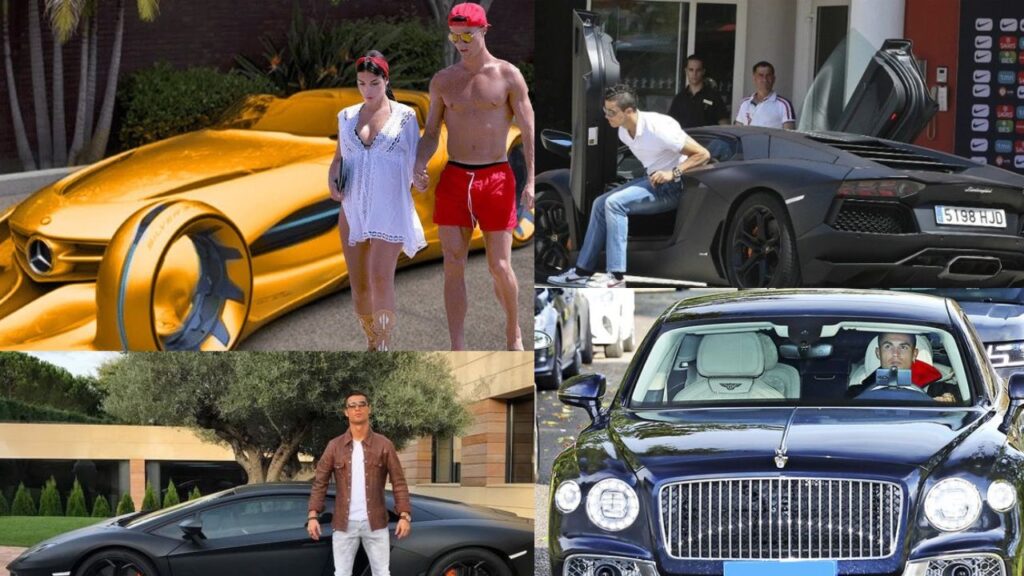 Breaking Down Cristiano Ronaldo's Earnings
Christiano Ronaldo net worth is based on publicly available data about the earnings, endorsement deals, businesses and investments owned by the playmaker.
According to Marca, Ronaldo earns a stagering $200 million per year whiles playing for Al Nassr in the Saudi League.
Aside from football, Ronaldo also owns a chain of businesses including; CR7 brand that deals in Footwear, jeans, hotels, Fragrances, Car rental, Museum among others.
Cristiano Ronaldo also has a large following on social media where he regularly charges to post ads for companies. According to reports available to www.glusea.com, Ronaldo charge up to $2 million per post on his instagram channel.
Cristiano Ronaldo net worth is valued at $500 million
The Extravagant Lifestyle of Cristiano Ronaldo
With a massive net worth of $500 million, Cristiano Ronaldo's garage is filled with cars every human would dream of. The star owns a fleet of cars ranging from Maclaren to Bugatti
According to Goal, Ronaldo's car collection is worth $18 million. According to the report, Three of the most expensive cars in Ronaldo's garage are undoubtedly the Bugatti trio – Bugatti Centodieci, Bugatti Chiron and Bugatti Veyron.
The Bugatti Centodieci is the most expensive one which cost Ronaldo $9.9m followed by the Chiron which is priced at $2.15m and then Veyron which is valued at $1.7m.
Ronaldo does not only spend his fortune on cars only, he also owns a number of homes. The football Icon is also into real estate.
Among the houses owned by Ronaldo include; a house in La Finca in Madrid Spain, he also the most expensive house in Lisbon with a reported price of 7 million euros.
Also, On the island of Madeira, where Ronaldo was born, he owns a seven-story apartment block in Funchal. This is where his mother spends a lot of her time.
Ronaldo also owns a lavish 88-feet long Yacht -Azimut Grande. Built in Azimut-Benett's shipyards in Versilia, Italy, it boasts five luxury cabins and six stunningly decorated bathrooms.
Cristiano Ronaldo net worth is valued at $500 million
Cristiano Ronaldo net worth, Investments and Business Ventures
Nike
The partnership between Cristiano and Nike first began in 2003 and in 2016, he became the third athlete in history to sign a lifetime deal with the brand. Prior to him, only Michael Jordan and LeBron James were given this wonderful opportunity.
Herbalife
Global Nutrition company, Herbalife, first partnered with Ronaldo in 2013, when it launched a co-branded sports drink, 'Herbalife24 CR7 Drive'. Ever since Ronaldo has also served the brand as its brand ambassador. The deal was later renewed in 2018 for three years. On the extension, Ronaldo said, "It is personally and professionally rewarding to be able to help other athletes around the world understand how nutritious products can help them perform better."
DAZN
Sports streaming platform, DAZN, joined forces with Ronaldo in August 2018. Owned by Perform Group, DAZN is an online sports streaming platform, also commonly called the Netflix of Sports. Cristiano works as the global ambassador of DAZN in all its operating countries, including Canada, Germany, and Japan.
Cristiano Ronaldo net worth is valued at $500 million
Clear
Ronaldo became an ambassador of Clear Shampoo in 2014. Since then, he has been featured in a few adverts for the brand, which were spread across different media.
MTG
Ronaldo has been an endorser of MTG's Training Gear Sixpad since 2014.
Altice Portugal
American cable television provider/multiple system operators, Altice, has been a partner of Ronaldo since 2015. The contract was last renewed in 2019.
Garena Free Fire
In December 2020, Cristiano Ronaldo was unveiled as a brand ambassador for Garena Free Fire, a battle royale game developed by 111dots Studio for Android and iOS. As part of the deal, Cristiano was introduced within the game as a playable character called Chrono.
American Tourister
Cristiano has been a global brand ambassador of Samsonite-owned luggage brand American Tourister since 2018.
LiveScore
In May 2021, Cristiano signed a two-year deal to become an Official Global Brand Ambassador of LiveScore, a real-time sports updates and streaming service provider with headquarters in Gibraltar, London and Prague. The deal was signed to include Cristiano in LiveScore's dedicated marketing campaign ahead of the delayed UEFA Euro 2020. The deal will also look to incorporate the upcoming FIFA Men's World Cup.
TAG Heuer
Cristiano is a global brand ambassador for La Chaux-de-Fonds-headquartered Swiss luxury watchmaker TAG Heuer since April 2014.
Louis Vuitton
In November 2022, on the eve of the 2022 FIFA World Cup, French luxury house Louis Vuitton posted a photo across its social media accounts featuring Cristiano Ronaldo and Lionel Messi, the two coming together for a rare joint paid collaboration.
Cristiano Ronaldo net worth is valued at $500 million
Taxation and Financial Management
Cristiano Ronaldo was one of the highest tax paying footballers until his move to Saudi Arabia. A report by TBSnews stated that, In November 2016 Ronaldo signed a financially improved contract extension with Real Madrid and a new deal will keep him at the club till 2021-22 season which means that he will have to pay £365,000 after-tax weekly and £21 million annually or 246 crores a year where his net worth is £361 million.
Comparisons with Other Football Superstars
Cristiano Ronaldo is the highest paid and the richest footballer in the world according to various online reports. He earns more than his arch rival Lionel Messi who currently has a net worth pecked at $400 million.
A. Comparing Cristiano Ronaldo's net worth with Lionel Messi B. Ronaldo's ranking among the wealthiest athletes worldwide
Cristiano Ronaldo net worth is valued at $500 million
Cristiano Ronaldo's Endorsement Deals and Sponsorships
Cristiano Ronaldo is one of the most marketable and famous athletes in the world
Cristiano Ronaldo is associated with a number of high profile brands in various categories ranging from sports to nutrition. Among the brands that have worked or is still working with Ronaldo are;
Coca-Cola
LiveScore
Free Fire
Pestana CR7 Lifestyle Hotels
Nike
Herbalife Nutrition
Clear
7EGEND
Insparya
Dazn
Altice
Tag Heuer
CR7 Fitness
Cristiano Ronaldo net worth is valued at $500 million
The Legacy of Cristiano Ronaldo Net Worth
Cristiano Ronaldo is a role model to a lot of youth. His work ethic, motivation and positive mentality to success is what has contributed to his achievement both as a footballer and a businessman.
Frequently Asked Questions (FAQs) about Cristiano Ronaldo net worth
What is Cristiano Ronaldo's current net worth?
Cristiano Ronaldo net worth is $500 million. He is the richest footballer in the world. He is often considered one of the best footballers of this generation.
How does Ronaldo's net worth compare to other footballers?
Cristiano Ronaldo is currently the richest football player in the wold. Aside from football, Ronaldo is also a successful businessman and an investor.
Cristiano Ronaldo net worth is valued at $500 million
How much has Ronaldo donated to charitable causes?
Ronaldo has been involved in a number of Philanthropic activities. This donation is valued at $350,000. In the past, he has shown his generosity by paying $83,000 to fund a child's brain surgery and donating $165,000 towards a cancer center in his native Portugal.
Cristiano Ronaldo net worth Conclusion
Cristiano Ronaldo's impressive net worth is a reflection of his influence, success and accomplishments over the years. He is definitely living his dream life.
What do you think about Cristiano Ronaldo net worth ? leave your reply in the comments below
Source: Glusea