Women's Champions League all-Time Top scorers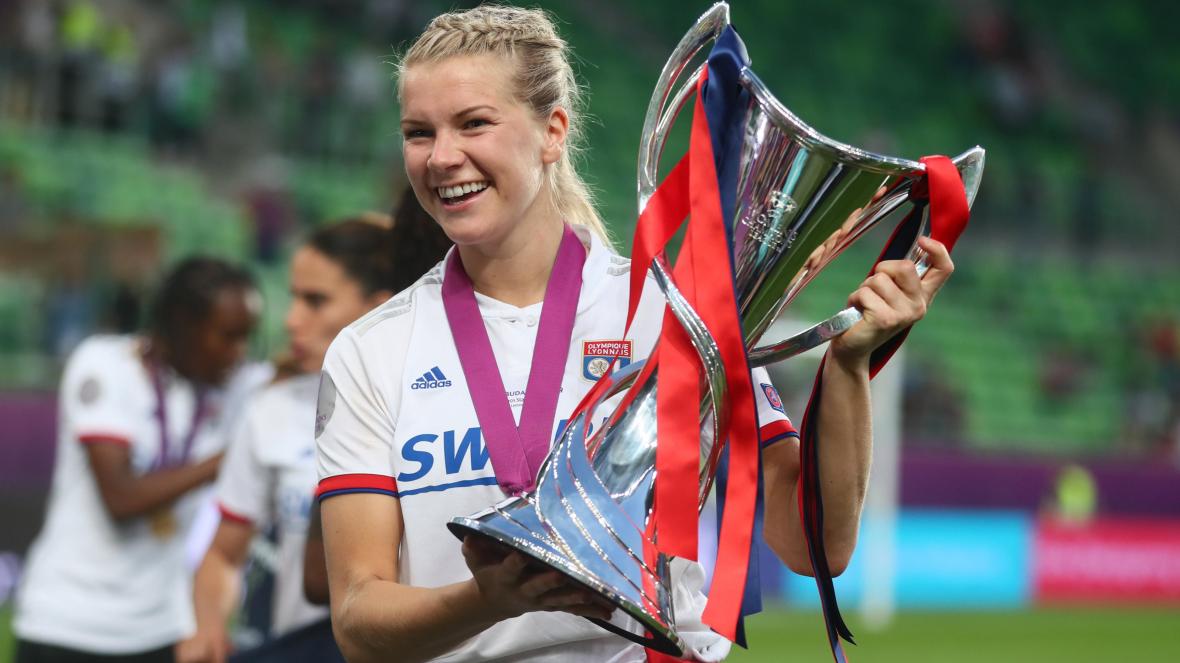 The Women's Champions League is the showcase for the finest players in European football and beyond.
The competition first kicked off in 2001, and over the past two decades some of the game's greatest goal getters have graced the competition. Question is, who are the ones who have shined brightest and found the back of the net most often?
Without further ado, glusea takes you through the players who top the all-time Women's Champions League goalscoring charts.
10. Inka Grings (Duisburg, Zurich) – 38
One-half of Germany's fearsome noughties strike partnership with Birgit Prinz, Inka Grings' spent the majority of her career is incredibly loyal to her first senior side Duisburg. She joined the club as a teenager in 1995, and as a result, did not play Champions League football until Duisburg made their European bow in the 2008/09 season – aged 30.

Despite this, Grings still netted 38 Champions League goals in just 29 appearances. She never won the competition but was the tournament's top scorer during the 2010/11 season.
9. Hanna Ljungberg (Umea) – 39
Former Sweden international Hanna Ljungberg was an integral part of the Umea side that reached five Champions League finals in the space of seven years – being crowned champions of Europe on two occasions.
Read Erling Haaland net worth

She topped the goalscoring charts during Umea's 2002/03 Champions League triumph and was the competition's all-time top scorer for a decade despite her career constantly being disrupted and ultimately ended by injury. A ruptured ACL forced her to call it quits at the age of 30.
8. Nina Burger (Neulengbach) – 40
Austrian forward Nina Burger became the first player to net 40 Champions League goals with a single club, reaching the tally across two spells with Austrian outfit Neulengbach.

She boasted a mean strike partnership with compatriot Maria Gstottner, and the forward reached her 40-goal haul despite Neulengbach only progressing further than the last 16 on one occasion.
7. Lotta Schelin (Lyon, Rosengard) – 42
Sweden's all-time top scorer Lotta Schelin rejected offers from the United States to join Lyon in 2008, and she would go on to score 41 European goals and win a hat-trick of Champions League titles with the French side.

After scoring 225 goals in 225 appearances for Lyon, Schelin returned to her native Sweden for the final two years of her career. She signed for Rosengard and netted one final Champions League goal in the 2016/17 competition.
6. Camille Abily (Montpellier, Lyon) – 43
Despite spending much of her career in midfield, Camille Abily still netted a full 43 Champions League goals during her time with Montpellier and two spells with Lyon. She was the joint top scorer in the 2011/12 competition alongside teammate Eugenie Le Sommer with nine goals.
Read Richest Women in the world

The former France international netted her 43rd goal in the competition from the bench in the 2017/18 final victory over Wolfsburg to seal her fifth Champions League title.
5. Marta (Umea, Tyreso, Rosengard) – 46
Brazilian icon Marta burst onto the Champions scene as an 18-year-old at Umea, netting in both legs of the 2003/04 semi final, and another three across the two-legged final victory over Frankfurt.

This would be the first and only time that Marta would lift the famous trophy. She was a beaten finalist in 2007 and 2008 with Umea, and then again in 2014 with fellow Swedish outfit Tyreso. The forward's 46 Champions League goals have come despite her playing over half of her career outside of Europe.
4. Eugenie Le Sommer (Lyon) – 47
Lyon have royally dominated European football for the last decade, winning the Champions League seven times in 10 years.

Eugenie Le Sommer has been present for each triumph, having joined the club from Stade Briochin in 2010. The versatile French attacking midfielder has scored in three finals – including the opening goal in Lyon's most recent triumph over Wolfsburg in the 2019/20 competition.

Still playing at the highest level, Le Sommer has a Champions League half century in her sights – though she's now off plying her trade in the NWSL, on loan at OL Reign.
3. Conny Pohlers (Turbine Potsdam, FFC Frankfurt, Wolfsburg) 48
World Cup winner Conny Pohlers' tally of 14 goals in the 2004/05 season en route to Turbine Potsdam winning the competition stood as a Women's Champions League record goalscoring haul in a single campaign for 13 years.

The German forward is a four-time Champions League winner, netting three goals in the 2008 final for Frankfurt and collecting successive winners medals with Wolfsburg in the final two seasons of her career in 2013 and 2014. She reached her tally of 48 goals in just 45 appearances.
2. Anja Mittag (Turbine Potsdam, Rosengard, PSG, Wolfsburg) – 51
World Cup winner Anja Mittag became the first player in Women's Champions League history to net half a century of goals in the competition when she found the net for Rosengard in the 2018/19 competition.

The German forward is a two-time Champions League winner with Turbine Potsdam, netting in the 2005 final, and hung up her boots at the end of the 2019/20 season to focus on her coaching career.
1. Ada Hegerberg (Stabæk, Turbine Potsdam, Lyon) – 53
This takes the mickey a little bit, doesn't it? The current Women's Champions League top scorer is nowhere near 30, already has five Champions League winners medals and at the rate she's going could well set an unassailable goal haul in the competition.
Read Richest Footballer in then world
Norway's Ada Hegerberg has netted 53 Champions League goals, hit a treble in the 2018/19 final and has topped the competition's scoring charts in 2015/16 and 2018/19. Her tally of 15 goals in a single season during the latter season's competition is a Women's Champions League record.