UK VISA APPLICATION PROCESS- THE COMPREHENSIVE GUIDE
There are so many types of visas offered to people who travel from one country to another. There has been recent amendment in the uk visa application process. Individuals living in Ghana with the aim of visiting UK will find this article helpful.
REASON FOR TRAVELLING TO UK
First of all, before we go into the application process, you need to define the reason why you need the visa. There are different reasons why people want to apply for a UK visa, such as:
To work and to do business
To study
For short stays and tourism
To join family members who are already in the UK
To transit through the UK to another country
To live permanently
As a refugee or as someone who needs humanitarian protection
As a stateless person
As someone who needs permission to stay
UK Visa Types
There are different reasons why people want to apply for a UK visa. That is why the United Kingdom has an organized visa system based on the purpose of visitor under multiple visa types.
Here are the UK visa types:
Work Visas.
Business Visas.
Study Visas.
Visitor Visas.
Family Visas.
Settlement Visas.
Transit Visas.
UK Visa Application
The application procedures for a UK visa depend mostly on the visa type you need to apply for.
The service you need to use in order to apply for UK visa depends on the visa you're applying for. If you are applying for a tourist or short stay visa you can apply using the Access UK service. This service is for quicker visa application process and is available in any country. Types of visas under this service include;
Standard Visitor visa
Marriage Visitor visa
Permitted Paid Engagement visa
If you do not already have an account, you will have to sign up and give the required information. If you don't, then you will have to create an account.
For every other type of visa you will have to use the online Visa4UK service, including study and work visas. If you are applying for the first time you will have to create an account. If you already have an account, just sign in and fill the areas with the required information.
To apply for UK visa you must go through these simple steps:
Find out if you need a UK visa.
Choose the right UK visa type.
Complete the online application form.
Collect the required documents for a UK visa application.
Schedule a UK visa appointment.
Attend the UK visa interview.
Find out if you need a UK visa
You may be exempt from the UK visa requirement, depending on your nationality. You will not have to apply for a UK visa prior to your trip to England, Scotland, Wales or the Northern Ireland, if you are:
An EEA citizen.
A Swiss citizen.
A Commonwealth citizen..
If you realize that you need a visa, then you can proceed with the other steps!
Choose the right UK visa type
Most of the application process for a British visa, including the visa requirements, depends on your purpose of visiting the UK. Your purpose of travel to the UK determines what type of visa you need, which can be one of the following:
UK Visit Visa – for all those who wish to enter UK to visit friends or family members, for holidays, business, private medical treatment, to get married, etc.
UK Transit Visa – for those who need to pass through UK in transit to another country.
UK Work Visa – for all those who wish to engage in paid activity in the UK.
UK Study Visa – for all those who wish to travel to the UK to enroll at a study course/university. If your study is short-term you ought to apply for a UK short-term study visa. Whereas, if you need a long-term permission to stay in the UK, you have to apply for a Tier 4 Visa.
Other visas – which include visas to set a business in UK, visas to join a family member living in the UK
Complete the online application form
Usually the application form contains questions on personal information as:
your name & surname
nationality
country of residence
marital status
personal number
passport number
reason for wishing to enter the UK
other information about your application
If the information in the application form doesn't comply with the information in the other required documents, your application will be rejected!
Collect the required documents for a UK visa application
You are required to submit some mandatory required documents for UK visa application. READ REQUIRED DOCUMENTS FOR UK VISA APPLICATION
Schedule a UK visa appointment
After making the appointment online, print the email confirming the details of your appointment, and take it with you to the UK visa application center you have chosen to attend, together with the required documents.
The documents required in original must be submitted in original. Make sure that the documents are as required, because sometimes even a little mistake can cause a lot of trouble. Please note that the appointment must be made in your name not in someone else's.
Attend the UK visa interview
When you attend the UK visa application center, you will need to provide your biometric information, which includes a photograph and a digital scan of your fingerprints.
Every applicant who is submitting a visa application must attend the visa application center in person, including children. Applicants under 18 years old must be accompanied by an adult
UK Visa Application Denial
Pay attention to the whole application process, since even small mistakes can lead to the rejection of your application by the UK Home Office. Some of the main reasons for visa rejection are:
Missing Documents.
Applying for the wrong type of visa.
Failure to prove you have the financial means to support your stay in UK.
Fraudulent documents.
You have overstayed in a previous trip.
Criminal history.
How to Appeal Against the UK Visa Denial.
If your UK visa application is rejected, when you receive the answer on your application you will also be notified on the reasons behind it. If you think that this decision has not been taken justly, then you can appeal it.
Fill in Form IAFT-2, which is an appeal form
Submit it to the UK Immigration and Asylum Chamber
This body will send the documents will be forwarded to the relevant authorities
A new decision will be taken and communicated to the applicant in writing
If the decision is not changes, you can file a new application by correcting the previous mistakes.
Extending UK Visa
Extending your UK visa while in the UK is possible. However, the process differs depending on the visa
type you hold. If you are in the UK on a standard visitor visa, you will be eligible to apply for a visa
extension as long as the total time you spend in the UK is less than 6 months.
Germany Visa application for Ghanaians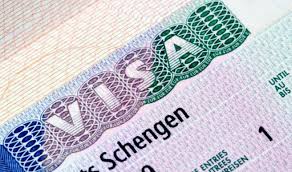 The German Embassy in Accra is responsible for processing visa applications of residents of
GHANA, LIBERIA and SIERRA LEONE.
The German Embassy in Accra processes Schengen visa applications on behalf of ESTONIA
for residents of GHANA.
Germany Visa application for Ghanaians
All applicants have to apply in person at the German Embassy in Ghana. Appointments can only be
booked through the Embassy's Online Appointment System.
The processing of Schengen visa applications in general takes 7 days. Applicants are
encouraged to submit their applications well in advance of their intended travel date to allow
sufficient time for processing. Applications can be submitted up to 3 months before the
intended travel date.
The visa fee is 60.00Euro, only payable in cash in Ghana Cedi at the current exchange
rate of the Embassy. The processing fee is not refundable in case of denial of the visa.
Visa application forms are free of charge and are available on the website of the Embassy
Documents handed in prior to the appointment date cannot be accepted.
in addition to the standard requirements, additional supporting documents may be required,
depending on the specific nature of your application. The Embassy does not return forms,
photos or any documents in case of refusal or if the application is withdrawn. Fraudulent
documents may be sent to the relevant authorities.
READ UK VISA APPLICATION PROCESS
In case of visa refusal, the applicant or an authorized third party may appeal in writing
against the refusal stating the file number and mailing address (P.O. Box) of the applicant.
Further supporting documents and background information should be provided with the
appeal letter. Please note that processing of appeals in general takes at least 4 weeks.
GENERAL REQUIREMENTS FOR
Germany Visa application for Ghanaians
Every applicant is asked to provide the following mandatory documents ie original plus 1 legible
copy of each document, unless otherwise specified at the appointment day, after having
booked an appointment via the Embassy's website: www.accra.diplo.de/appointment
completed and signed visa application form for Schengen visa
signed declaration according to Sec. 54 Par. 2 No. 8 of the German Residence Act
 1 recent passport picture with white background (please do not attach to form!)
 visa fee of 60.00 Euro, only payable in cash in Ghana Cedi
 valid passport and 1 copy of the passport data page
Validity of passport must exceed the duration of intended stay in Germany by at least 3
months. Passport must contain at least 2 blank pages and must have been issued within
the past 10 years.
 previous passports, if available
 original birth certificate of the applicant, based on the first registration
 if minors (below 18 years of age) are not accompanied by both parents: parental consent of
both parents and copies of their passport/photo ID. In case of sole parental custody,
adequate proof has to be provided (e.g. court order, death certificate of other parent).
 flight reservation for round-trip (no ticket required)
 travel health insurance, covering entire duration of stay and valid for all Schengen States
 proof of accommodation / hotel reservation
 proof of sufficient financial means for intended stay
Content on this website is protected by DMCA.  Dont waste your time copying because you would eventually remove it.