Top 10 Richest Football Club Owners in the World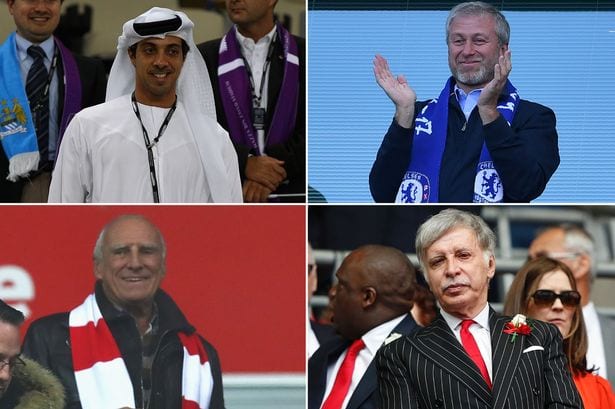 Glusea – 2021 Richest football Club Owners in the World
The game of soccer is the most watched sports in the world. It is estimated that there are over 4 Billion Fans football worldwide. Not only is football the most entertaining sport, it is also one the most lucrative ventures in the world.
In this article we bring to you the top 10 richest football club owners in the world.
Read Top 10 Richest Football Clubs in the world
Top 10 Richest Football Club Owners in the World
sheikh mansour – $ 21 Billion
sheikh Mansour is the owner of several football clubs including; Manchester City, Melbourne City, New York City,  Mumbai City and Montevideo City.
Sheikh Mansour,  is an Emirati politician who is the deputy prime minister of the United Arab Emirates. He is the half brother of the current President of UAE, Khalifa bin Zayed Al Nahyan.
Dietrich Mateschitz – $19.5 Billion
Dietrich Mateschitz  is an Austrian billionaire businessman. He is the co-founder and 49% owner of the Red Bull energy drink company
 He is the owner of Bundesliga side RB Leipzig, Austrian club Red Bull Salzburg and MLS side New York Red Bulls.
Andrea Agnelli – $13.5 Billion
Andrea Agnelli  is an Italian businessman and chairman of Italian football club Juventus F.C.  
Since 2012, he has also served as Executive Member and Chairman of the European Club Association, and was also appointed to the UEFA Executive Committee since 2015.
He is a member of the industrialist Agnelli family.
He is also a board member of FIAT and Exor.
Richest Football Club Owners in the World
Dietmar Hopp – $13 Billion
Dietmar Hopp  is a German software entrepreneur and billionaire. He was one of the founders of SAP SE in 1972 with other former IBM employees Hans Werner Hector, Klaus Tschira, Claus Wellenreuther and Hasso Plattner.
Hopp is the chief financial backer of the German football club TSG 1899 Hoffenheim, a club located close to his childhood home and which he played for as a teenager.
Roman Abramovich -$12.4 Billion
Roman Arkadyevich Abramovich  is an Israeli-Russian billionaire businessman and politician.
Abramovich is the primary owner of the private investment company Millhouse LLC, and is best known outside Russia as the owner of Chelsea F.C., a Premier League football club. He was formerly governor of Chukotka Autonomous Okrug from 2000 to 2008. Roman is the richest person in Israel and the 11th richest in Russia.
Richest Football Club Owners in the World
Philip Anschutz- $10 Billion
Philip Frederick Anschutz is an American billionaire businessman who owns or controls many companies in a variety of businesses, including energy, railroads, real estate, sports, newspapers, movies, theaters, arenas and music.
Anschutz was one of the founders of Major League Soccer and owned several teams for periods of time, including the Los Angeles Galaxy, Chicago Fire, Colorado Rapids, Houston Dynamo, San Jose Earthquakes, D.C. United, and the New York/New Jersey MetroStars.
Stan Kroenke -$8.7 Billion
Enos Stanley Kroenke  is an American billionaire businessman. He is the owner of Kroenke Sports & Entertainment, which is the holding company of English Premier League football club Arsenal F.C., the Los Angeles Rams of the NFL, Denver Nuggets of the NBA, Colorado Avalanche of the NHL, Colorado Rapids of Major League Soccer, Colorado Mammoth of the National Lacrosse League, the Los Angeles Gladiators of the Overwatch League, and the newly formed Los Angeles Guerrillas of the Call of Duty League.
Nasser Al-Khelaifi -$8 Billion
Nasser bin Ghanim Al-Khelaifi  is a Qatari businessman and is the chairman of beIN Media Group, chairman of Qatar Sports Investments, president of Paris Saint-Germain (PSG), and Qatar Tennis Federation (QTF) and vice president of the Asian Tennis Federation for West Asia (ATF).
Richest Football Club Owners in the World
Zhang Jindong -$7.6 Billion
Zhang Jindong is a Chinese billionaire who, through his company the Suning Holdings Group, acquired a majority ownership stake in Serie A club Inter in 2016.
The Suning group is a retail business dealing in domestic appliances, but Jindong's other interests extend to the media and broadcasting sector, as well as sport.
Richest Football Club Owners in the World
Robert Kraft  – $6 Billion
Robert Kenneth Kraft is an American billionaire businessman. He is the chairman and chief executive officer (CEO) of the Kraft Group, a diversified holding company with assets in paper and packaging, sports and entertainment, real estate development and a private equity portfolio.
He is the owner of the National Football League's New England Patriots, Major League Soccer's New England Revolution, and Gillette Stadium, where both teams play.
He also owns the Boston Uprising, the first esports team in New England.
Richard Branson Net Worth 2021
Richard Branson net worth 2021 is $4.4 billion. He is the third oldest person and the first billionaire to travel to space. Branson is among the wealthiest people in the world list.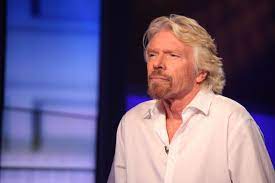 What is Richard Branson net worth?
Richard Branson holds the record as the first billionaire to travel to space
In this write up, we will be bringing to you the net worth and lifestyle of one of the richest people in the world, Richard Branson.
Branson is an English businessman, investor and an author.
Richard Branson Net worth Profile
| | |
| --- | --- |
| Net worth | $4.4 billion |
| Full name | Sir Richard Charles Nicholas Branson |
| Date of birth | 18 July, 1950 |
| Occupation | Businessman and author |
| Nationality | British |
| Spouse | Joan Templeman |
| Known for | Virgin Group Founder |
Richard Branson net worth 2021 is $4.4 billion. He is the third oldest person and the first billionaire to travel to space. Branson is among the wealthiest people in the world list.
Early Life of Richard Branson
Branson was born in Blackheath, London, to Eve Branson, a former ballet dancer and air hostess, and Edward James Branson, a barrister.
Read
He has two younger sisters, Lindy Branson and Vanessa Branson. His grandfather, Sir George Arthur Harwin Branson, was a judge of the High Court of Justice and a Privy Councillor.
Education
Branson was educated at Scaitcliffe School, a prep school in Surrey, before briefly attending Cliff View House School in Sussex. He attended Stowe School, an independent school in Buckinghamshire until the age of sixteen.
Branson has dyslexia, and had poor academic performance; on his last day at school, his headmaster, Robert Drayson, told him he would either end up in prison or become a millionaire.
Business Career
After failed attempts to grow and sell both Christmas trees and budgerigars, Branson launched a magazine named Student in 1966 with Nik Powell. The first issue of Student appeared in January 1968, and a year later, Richard Branson net worth was estimated at £50,000.
Though not initially as successful as he hoped, the magazine later became a vital component of the mail-order record business Branson started from the same church he used for Student. Branson used the magazine to advertise popular albums, driving his record sales.
He interviewed several prominent personalities of the late 1960s for the magazine including Mick Jagger and R. D. Laing.
 Branson took over full direction of Student after successfully bluffing to Powell that the workers at the magazine opposed Powell's plans to turn the magazine into a cooperative.
Branson eventually started a record shop in Oxford Street in London. In 1971, he was questioned in connection with the selling of records declared export stock.
The matter was never brought before a court because Branson agreed to repay any unpaid purchase tax of 33% and a £70,000 fine. His parents re-mortgaged the family home to help pay the settlement.
Virgin Group
In 1972, using money earned from his record store, Branson launched the record label Virgin Records with Nik Powell. The name "Virgin" was suggested by one of Branson's early employees because they were all new at business.
 Branson bought a country estate north of Oxford in which he installed a residential recording studio, The Manor Studio.
 He leased studio time to fledgling artists, including multi-instrumentalist Mike Oldfield, whose debut album Tubular Bells (1973) was the first release for Virgin Records and became a chart-topping best-seller.
Among the other artistes virgin records signed include;  Rolling Stones, Peter Gabriel, XTC, Japan, UB40, Steve Winwood and Paula Abdul. It later became the world's largest independent record label.
Richard Branson net worth was estimated at £5 million by 1979, and a year later, Virgin Records went international.
Virgin Atlantic Airways
Branson's first successful entry into the airline industry was during a trip to Puerto Rico. His flight was cancelled, so he decided to charter his own plane the rest of the way and offered a ride to the rest of the stranded passengers for a small fee to cover the cost
Branson formed Virgin Atlantic and Virgin Cargo in 1984. He formed Virgin Holidays in 1985.
In 1997, Branson founded the Virgin Rail Group to bid for passenger rail franchises during the privatisation of British Rail. The Virgin Trains brand operated the InterCity West Coast franchise from 1997 to 2019, the InterCity CrossCountry franchise from 1997 to 2007, and the InterCity East Coast franchise from 2015 to 2018.
In 2004, he founded spaceflight corporation Virgin Galactic, based at Mojave Air and Space Port in California, noted for the SpaceShipTwo suborbital spaceplane designed for space tourism.
In March 2000, Branson was knighted at Buckingham Palace for "services to entrepreneurship".
 For his work in retail, music and transport (with interests in land, air, sea and space travel), his taste for adventure and for his humanitarian work, he has become a prominent global figure.
 In 2007, he was placed in the Time 100 Most Influential People in the World list. In July 2021, Forbes listed Branson's estimated net worth at US$5.7 billion.
Richard Branson Net Worth
Richard Branson net worth 2021 is $4.4 billion. He is the third oldest person and the first billionaire to travel to space. Branson is among the wealthiest people in the world list.
On 11 July 2021, Branson travelled as a passenger onboard Virgin Galactic Unity 22 at the edge of space, a suborbital test flight for his spaceflight company Virgin Galactic.
 The mission lasted approximately one hour, reaching a peak altitude of 53.5 miles (86.1 km). At 71, Branson is the third oldest person to fly to space and the first billionaire to do so.
Who went to space with Richard Branson?
Beth Moses and Sirisha Bandla
How did Richard Branson get rich?
By the '70s, Richard Branson and Nik Powell started a mail-order record retailer. From there, the business then evolved into a record shop on Oxford Street in London called Virgin Records, according to Virgin's website. Eventually, Virgin took a deep dive into the aviation industry and launched Virgin Atlantic in 1984.
What is Richard Branson famous for?
Richard Branson is Founder of the Virgin Group. Virgin is one of the world's most irresistible brands and has expanded into many diverse sectors from travel to telecommunications, health to banking and music to leisure.
What do you think about Richard Branson net worth? leave your reply in the comments section below.
Source: Glusea
Content on this website is protected by DMCA.  Dont waste your time copying because you would eventually remove it.