Top 10 Loan Apps in Kenya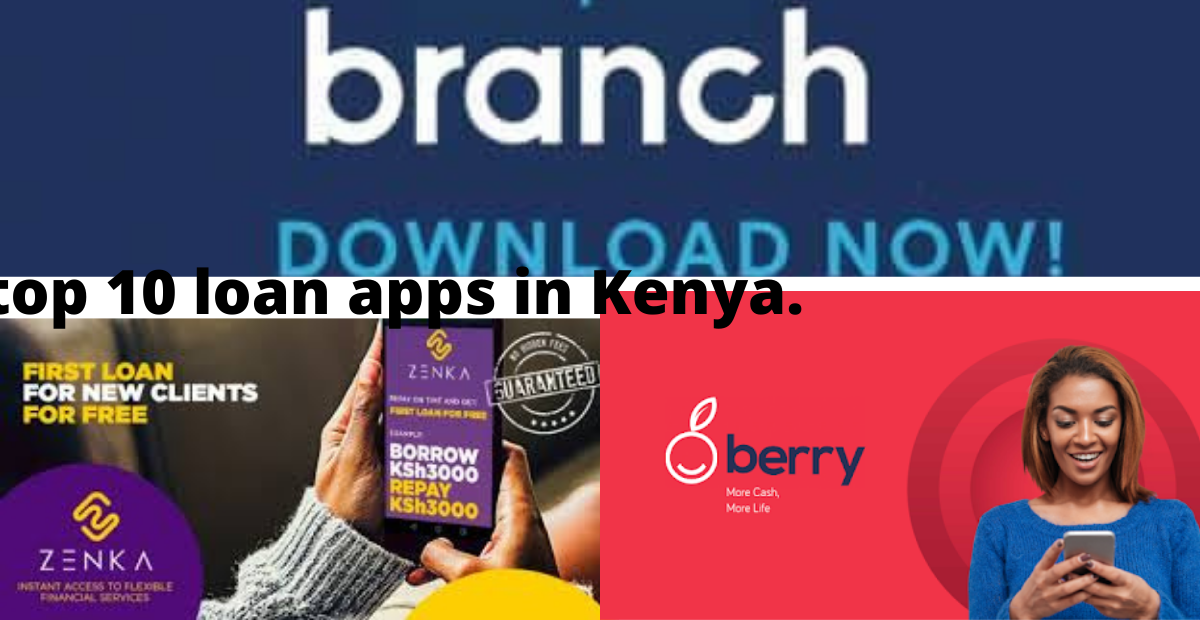 Glusea brings to you the top 10 loan apps in Kenya
Accessing instant loan through you phone is one of the best technological innovations in recent times. Whether you need a loan for your rent, finance or start a small business, pay medical bills or any other emergency need, you can rely on these top 10 money lending apps in Kenya.
Top 10 Loan Apps in Kenya
Branch Loans
Branch lending app is one of the best loan apps you can fine in Kenya. They have a user rating of 4.2 on playstore. At Branch, your eligibility for a loan is determined by an algorithm that uses your phone details, GPS data, loan repayment history among others. One thing that makes Branch standsout is that they don't charge you for late payment or rollover fees. You can get a loan from Branch ranging from Ksh 250- Ksh70,000
Read Top 10 Richest Women in Kenya
Top 10 Loan Apps in Kenya
Tala
Another instant money lending app in the Kenya is Tala. With this app you can receive money into your bank account in minutes. You dont need any salary slip, bank statement or credit score to qualify for Tala Loans.
To get a loan, Download the app and fill a quick form in the app
• Get your loan approval in seconds
• Verify your identity through our secure system
• Get your loan directly in your bank account
• No salary slip, bank statement or credit score needed.
Zenka loan app
This app is one of the most flexible personal loan providers you can find in kenya. they offer a simple registration and application process, after which you will receive your loan straight to your M-Pesa account.
Before you apply for loan at Zenka, you first have to go through these terms and conditions.
– 61-day loan payment terms have a one-time processing fee of 9-30%*
– Processing Fee: Range from KSh 45 – KSh 870 for a one-time charge.
– Loan Amount: from KSh 500 to KSh 30,000.
– Grow with Zenka and build your limit up to KSh 30,000 by making your loan repayments on time
KCB Lending App
KCB is regulated by the central bank of Kenya. In order to qualify for a loan, all you need is to be an M-PESA subscriber for 6 months, save on KCB M-PESA and actively use other Safaricom services such as voice, data and M-PESA.
Read Top 10 Best Forex brokers in Kenya
You can access loan limits from as low as Ksh.100 and up to Ksh.50,000. To access a loan follow this steps
Download the KCB App on Play store
Access the M-PESA menu.
Select Loans and Savings.
Select KCB M-PESA.
Select Loan.
Request Loan.
Enter amount.
Enter your M-PESA PIN
Loan amount will be sent to your M-PESA Account. The loan amount to be paid will be in inclusive of the facility fee.
Top 10 Loan Apps in Kenya
SHIKA LOAN APP
Shika Loan Application belongs to Alternative Circle which is a credit company in Kenya. Credit companies are growing at a very high rate in Kenya but very few are able to meet the borrowers' needs. Shika is among the very few.
This is an app that serves as a platform where borrowers can access quick loans from an Alternative Circle. The app is available to android system mobile phone users in Kenya. You are required to have a Safaricom simcard for you to use the service.
Top 10 Loan Apps in Kenya
Their loan limits ranges between Kshs. 500 to Kshs. 20,000.
Once your loan is approved it is disbursed to your MPesa account within 3 minutes.
The interest charged is 15% of the amount you have borrowed.
iPesa
iPesa is a reliable and secure loan provider where you can get a loan ranging from 500 Ksh ~ 50,000 Ksh.
Unlike many other loan apps, Ipesa does not charge any processing fee and you must be 18 years and above to get access to a loan.
To apply for a loan, you need to follow several steps:
1. Register with your M-Pesa number
2. Apply for the exact loan amount you need
3. Get approved and receive the money
4. Repay on time to get a credit limit of 50,000 Ksh
OKash
At Okash, you can get a loan from 1,500 ~70,000 into your M-pesa account. loan tenure ranges from 91-365 days. they also have an amazing customer support to assist you.
Read Top 10 Universities in Kenya
Okash is a safe and reliable way to access credit when you need it. Get the app here and start the application process to get your loan
JAZIKA Finance app
JAZIKA uses an efficient machine learning technology to determine your loan eligibility. They check how you have been using your phone to make calls, sms, data and how you use mobile money services such as M-Pesa. Jazika will notify you of the amount of money you can apply for
Top 10 Loan Apps in Kenya
You can get loan up to Ksh 100,000 with Jazika
Stawika
v has been used by millions of Kenyans in growing their businesses, paying school feels, medical expenses and other personal expenses.
To qualify for a loan,
Download the Stawika app
• Fill in your details to get verified.
• Get a credit limit
• Apply and get cash sent directly to your M-Pesa phone number in 5 minutes
Berry
Berry is one of the top 10 loan apps in Kenya that provides low interest rate and flexible payment terms.
How to get a loan from Berry Loans
Download the app from Google Play store
• Register with the Berry application
• Get your loan approval on fly
• Our secure system verifies your identity in a few
• Your loan amount will be deposited in your Mpesa account
DISCLAIMER: This article is intended for general informational purposes only and does not address individual circumstances. It is not a substitute for professional advice or help and should not be relied on to make decisions of any kind. Any action you take upon the information presented in this article is strictly at your own risk and responsibility!
Forbes Top 30 Under 30 in Finance 2022
Forbes top 30 under 30 in finance 2022. Every year, Forbes ranks the top 30 under 30 individuals who have made influence in global money flow. The list for the year 2022 has already been published and as usual it includes several young talents making tremendous impact in the financial industry.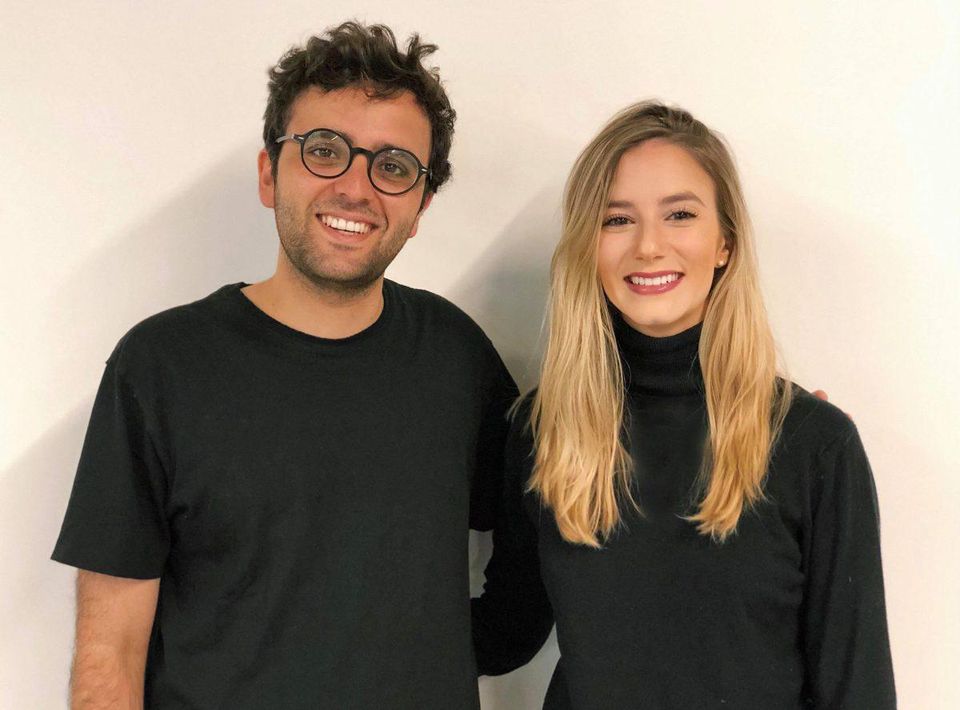 Every year, Forbes ranks the top 30 under 30 individuals who have made influence in global money flow. The list for the year 2022 has already been published and as usual it includes several young talents making tremendous impact in the financial industry.
Take a look at the top 30 under 30 2022 list below;
Luana Lopes Lara and Tarek Mansour
Luana Lopes Lara and Tarek Mansour founded Kalshi. Kalshi lets investors place bets on future events, like how many Americans will receive a Covid vaccine.
Since the company's launch a few months ago, Kalshi has attracted over 4,000 users to join the platform. Liquidity and trading volume has noticeably risen over that time, with the over $30 million in venture-backing starting to show its influence on the industry. The two co-founders are both 25 years old
Ambika Acharya – 27 years
In early 2020 she cofounded Weav, a fintech startup that aggregates sales data for small businesses and makes it accessible through an API, letting lenders see it in seconds to assess borrower risk. Brex was Weav's first customer, using it to power its instant payouts feature. In August 2021, Brex bought Weav for $50 million. At Brex, Acharya is focused on bringing Weav's ecommerce data to more of Brex's products.
Read More on Richest people in the world
Caroline Ellison and Sam Trabucco (27 and 29 years old)
Sam Tabasco is CEO of Alabama Research one of the world's biggest quantitative cryptocurrency trading firms. He has big brain and make big market move and went to MIT for math and computer science.
Before joining Alameda in 2018, Caroline worked at Jane Street as a trader on the equities desk. She graduated from Stanford with a degree in math.
Read Richest Actors in the world
In August 2021 billionaire Alameda founder Sam Bankman-Fried promoted the traders to co-CEOs so he could focus on his FTX cryptocurrency exchange. By charging basis points on $5 billion volume a day the quantitative trading firm makes about $3-4 million daily.
By investing that income into blockchain platforms like Uniswap and Compound that connect lenders and borrowers with little overhead, Alamada generates an additional 7% to 50% annualized depending on the asset.
Both natives of Boston, Ellison wrote her MIT professor-dad an economics paper analyzing stuffed animals' prices when she was eight years old, before getting a bachelor's degree in mathematics from Stanford and a job at Jane Street, where she met Bankman-Fried. Trabucco is a former competitive Scrabble player who studied computer science at MIT, where he also met the Alameda co-founder.
Alex Atallah -29 years
The software engineer worked at Palantir and two early-stage startups before cofounding OpenSea in early 2018. OpenSea is the largest marketplace for consumers to buy and sell non-fungible tokens (NFTs). In July, a month when the company processed $330 million in NFT transactions, it raised $100 million in funding at a $1.5 billion valuation.
Read Top 10 Richest Men in Africa
Sahana Athreya – 29 years
Sahana Athreya researches alternative datasets to provide investment insights. Her statistical and machine learning models have been crucial to a broad set of investment teams. When joining Millennium as an analyst, Sahana was instrumental in designing and implementing a platform that centralized trading data.
Clinton Bembry – 27 years
Founded in September 2020 Slingshot provides a single user-friendly portal to access defi trading platforms like Uniswap and others. Instead of charging fees on the $2 billion volume, they're experimenting with Robinhood's model that charges market makers to route orders.
Albert Owusu-Asare and Ameer Shujjah – (both 28 years old)
The pair immigrated to the U.S.–Owusu-Asare from Ghana and Shujjah from Pakistan–and met on their first day of college, at Iowa-based Grinnell. In early 2021 they cofounded Cadana, which helps African workers access the daily wages they've earned, charging employers and employees $1 a month for unlimited access to earned wages. After launching in May 2021, Cadana has 60 employer-clients in Ghana and Nigeria and processes payments for 7,000 employees.
Scott Kazmierowicz and Michael Spelfogel (both 25 years)
After working jobs in investment banking and credit card research, the duo thought there weren't any companies catering to mid-sized brands that wanted to release their own credit cards.
They founded Cardless in 2019, creating software that lets brands launch their own cards. They've hatched cards for teams like the Boston Celtics, Cleveland Cavaliers and Miami Marlins. Cardless has raised more than $50 million and is valued at $315 million, according to PitchBook.
Brandon Gell and Nick Scaglione -(both 27 years)
Clyde's technology lets manufacturers offer extended warranties on consumer products and helps them manage the claims process. It counts more than 300 merchants as customers, up from 117 a year ago, including Dyson and popular air filter company Molecule. With 75 employees, it's bringing in tens of millions annually in premiums. Clyde has processed more than a million warranty contracts and recently raised $40 million in series B funding from investors including Spark and Crosslink.
Jeron Davis (28 years)
Jeron Davis has deployed more than $210 million for RLJ Equity Partners, whose founder Robert L. Johnson is the first African American billionaire. Other notable deals include the $60 million leveraged buyout (LBO) of Pro-Vac, and the $31 million TechMedia acquisition. Before joining RLJ, Davis was an investment banker at Citigroup Global Markets Inc. where he completed a $4.6 billion LBO of Petco, and $2.2 billion divestiture in which CenturyLink sold data centers to BC Partners and Medina Capital.
Antonio Juliano (28 years)
In 2017, after stints as a coder at Coinbase and Uber, Juliano started Dydx, a crypto derivatives trading platform that caters to professional traders outside the U.S. It averages roughly $2 billion in daily trading volume (Coinbase does about $5 billion). The 19-person startup brought in $75 million in revenue in the first nine months of 2021. It expects to reach $125 million in revenue for the full year and $80 million in net profit.
Sophie DeWaal -(28 years)
Sophie DeWaal is an investment banker specializing in the consumer and retail group at Bank of America. She has advised on more than $18 billion of transactions, including the sale of Dunkin Brands to Inspire Brands, and the acquisition of FreshDirect. DeWaal also supports recruitment for the corporate and retail investment banking business.
Albert Abedi and Sami Tellatin (27 and 29)
While working as a project manager for the U.S. Department of Agriculture, Tellatin learned that farmers were often slow to adopt new technology due to the hefty upfront costs. She and Abedi created FarmRaise, whose technology automates the process for farmers to apply for federal grants and loans, shrinking down an eight-form, three-hour application process to 17 minutes. FarmRaise has 250 paying customers and expects to reach $1 million in annualized revenue by the end of 2022.
Tegan Kline (28)
After raising $22.5 million to help The Graph build an open source tool that lets ethereum developers understand how their products are being used, she co-founded Edge & Node to help monetize the project. Edge & Node was originally funded with an 8% stake of the GRT token, which is now worth about $650 million. Kline has also led Edge & Node's investments into projects adjacent to The Graph, totaling $3.1 million in 2021.
Jen Liang (29)
Jen Liang is a portfolio manager at AIG, an international insurance company, where she co-manages more than $13 billion in emerging market debt. Typically, insurance investing focuses on traditional, liquid assets such as short-term bonds, but she incorporated sustainable investing in their strategy to support the growth of companies in the ESG (environmental, social and governance) space, while generating outstanding returns for AIG's clients.
Mason Liang (28)
Mason Liang is a portfolio manager at Millennium Management, a $50 billion hedge fund. He oversees the quant business for Passaic Capital, one of the largest teams within Millennium. The business combines quantitative and fundamental analysis to assess investments. Liang is a former quantitative researcher at Balyasny Asset Management.
Akash Magoon (25)
Magoon did stints at Amazon Web Services and data consultancy Enigma before cofounding Nayya in 2019. The insurtech startup helps consumers pick the most cost-effective health insurance plan, find lower-cost pharmacies and use tax-efficient healthcare savings accounts more often. It has 400 customers, including Guardian Life Insurance, one of the largest life insurers in America. Nayya is on track to reach $7 million in revenue in 2021 and is valued at $230 million.
Sam Aarons and Matt Marcus (29 and 27)
For businesses that frequently move money in and out of bank accounts for their customers (like fintech and insurance companies), managing bank payments is time-consuming and manual. Modern Treasury automates those payments with software that connects directly to the banking system. It has 80 clients, including fintech companies Pipe and BlockFi, up from 20 a year ago. It's processing more than $2 billion in monthly payments and recently raised $85 million at a $2 billion valuation.
Patrick Mrozowski (25)
In 2016, he opted not to attend college and started his first company, Crumbs, which turned spare change into bitcoin and was acquired by Metal Pay. In late 2018, he started Point, a debit card targeted at consumers earning more than $100,000. Point offers extra rewards for purchases from businesses like Uber, DoorDash and Amazon. The 60-person company has tens of thousands of customers, annualized revenue in the single-digit millions and a $275 million valuation.
Elena Nadolinski (25)
Originally founded to create a privacy protecting cryptocurrency like zcash, Iron Fish expanded to include privacy protecting technology that can be digitally wrapped around any cryptocurrency. The platform now has 750 fully functioning nodes compared to bitcoin's 10,000, and is preparing for a public launch later this year.
Hannah Buchan (28)
Hannah Buchan is a partner at Beehouse, a $300 million investment firm focused on the legal cannabis industry, that has deployed tens of millions of dollars across private equity, stocks and debt deals. As the firm's first hire, she has served on the boards of several of the companies they're invested in. Before joining Beehouse, Buchan was an investment banking analyst at Goldman Sachs.
Brooke Nakatsukasa (29)
Brooke Nakatsukasa leads sourcing, ideation and execution of Vista Equity's largest fund, which focuses on technology and software companies. She has been involved in bringing companies like Ping Identity, Datto and IAS to the public markets, and sits on the board of public companies such as Integral Ad Science and iCIMS. Her previous job was as an investment banking analyst at Deutsche Bank.
Alex Nesbitt (29)
Alex Nesbitt is a principal at BC Partners, helping sign and close important deals like the $3.4 billion SPAC merger and IPO between Cyxtera Technologies, one of the largest data center companies in the U.S., and Starboard Value Acquisition Corp, a blank check company. Before joining BC, he was an associate at Oak Hill Capital, where he helped in the acquisition of Mercer Advisors, an investment advisor with $16.5 billion assets under management in 2019.
Rahul Raina (28)
TRM Labs provides forensic analysis for the IRS and dozens of others. By charging for licenses that let customers identify where an asset came from, who owns it and score the risk of that owner, the firm has grown 700% since last year and is on track to generate several million dollars revenue this year. Born in New Delhi, India, he graduated from the University of Michigan with degrees in business and computer science. 
Roneil Rumburg (29)
Audius lets musicians create their own business models, using cryptography to ensure a their cut of the proceeds doesn't change without their consent. While the platform is not yet monetized 100,000 musicians have uploaded songs to the platform and last month 6 million listeners logged in. Further growth is expected following video-sharing app TikTok's August announcement it would let Audius musicians share their music directly on the site.
Ophelia Snyder (29)
Snyder co-founded 21Shares in 2018 to build sophisticated crypto investing technology her mom could use. Now valued at $700 million, the firm charges about a 2% management fee for 15 ETPs in 4 countries. With over $2.5 billion AUM it is on track for $60 million revenue this year. In October she and 21Shares board member Cathie Wood jointly filed with the SEC for what would be the first Bitcoin ETF.
Ben Spiegelman (29)
Hired by Fidelity in January 2021 to build a one-stop shop for institutional crypto adoption, he now manages billions of dollars' worth of crypto assets for 10 liquidity partners including Arizex and 150 other institutional clients. Through Fidelity venture branch Avon he invested in institutional crypto-trading platform Talos and crypto forensics firm Soldus Labs.
Heather Steinman (29)
As a vice president at the Raine Group, a merchant bank that advises and invests in technology, media and telecom, Heather Steinman has executed more than $10 billion of transactions in the content sector. Some notable advisory assignments include the creation of Viacom's BET + (a streaming service focused on Black content and audiences) with Tyler Perry Studios, and Universal's financing deal with Perfect World.
Connor Wienberg (29)
Connor Wienberg is the youngest resource manager to date of the leveraged finance group at Deutsche Bank. Since joining as an associate in 2017, he has syndicated $90 billion of financings. This year he partnered with their managing director to build out the bank's ESG leverage debt practice in the Americas. He has executed $11.25 billion of ESG financings.
Justin Woodward (28)
In 2018 Justin and his brother Austin launched TaxBit, giving enterprises real-time insight into taxes on crypto and equities. With clients including the IRS, the profitable firm raised $230 million from Tiger Global and others at a $1.33 billion valuation, but has yet to spend any of the capital it raised. 
Content on this website is protected by DMCA.  Dont waste your time copying because you would eventually remove it.