Mega Yachts are the ultimate expression of luxury, sophistication, and extravagance.
Some are equipped with cinemas, helipads, concert halls, and even beaches on board; others are the garage of other smaller boats, mini-submarines, and a whole sports club.
Without a doubt, these mega yachts show us how to live a true life of luxury. But in order to live beautifully and with taste it is not necessary to have such an expensive boat. Drop anchor in a beautiful bay, put on nice clothes, pour wine into expensive glasses and watch the sunset. A romantic sunset on your own boat, even if not very expensive, will be no worse than a millionaire's, and maybe even better. But if you do not have a boat, then it will be difficult to enjoy the beauty of the sunset, not accessible from the shore. In this case, Zeboats will help you, here are yachts and motor boats for every taste and price.
Here are the "Top 10" of the most expensive mega yachts in the world, owned by Russian oligarchs, royals, billionaires, and more:
10. Lady Moura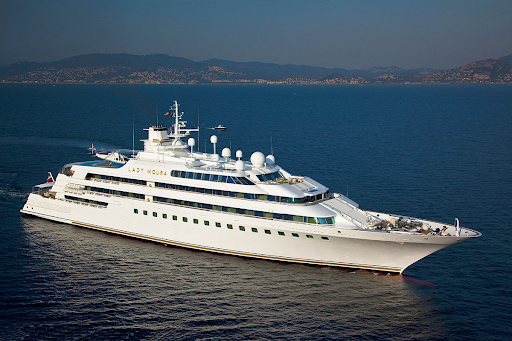 Cost: $ 210 million (€ 185 million)
Owner: Nasser Ibrahim Al-Rashid
Lady Moura is a luxurious 105-meter (344-foot) private mega-yacht owned by Saudi billionaire Nasser Ibrahim Al-Rashid, considered one of the most influential advisers to the royal family of Saudi Arabia.
In addition to having her name and shield in 24-karat gold, the Lady Moura also includes a pool with a retractable roof.
But, without a doubt, the most impressive aspect of this mega yacht is its Beach Club.
Lady Moura has hosted great personalities from around the world, including former US President George H. W. Bush and his wife Barbara.
9. Rising Sun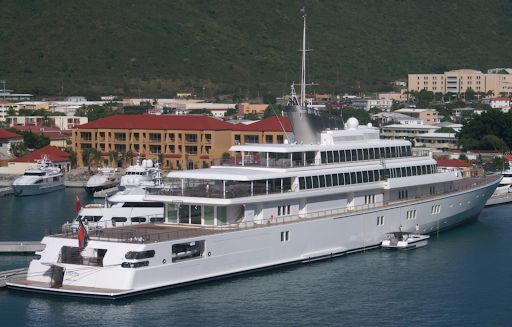 Cost: $ 290 million (€ 255 million)
Owners: Larry Ellison and David Geffen
The actor, Leonardo DiCaprio, is one of the celebrities who has been seen aboard this boat.
Rising Sun is a luxury yacht designed by Jon Bannenberg, and built by the German shipyard Lürssen. Currently, the mega yacht is co-owned by Larry Ellison, founder of Oracle Corporation, along with David Geffen.
The yacht is considered the # 11 largest in the world with a length of almost 138 meters (453 feet).
Rising Sun has 8,000 square meters of space and 82 rooms spread over its five levels.
This mega yacht has a basketball court on the main deck (which can be used as a helicopter platform if necessary), plus another helipad.
It also features Onyx countertops, Jacuzzi baths, a gym/spa and sauna, a large wine cellar, and a private cinema with a giant plasma screen.
8. Pelorus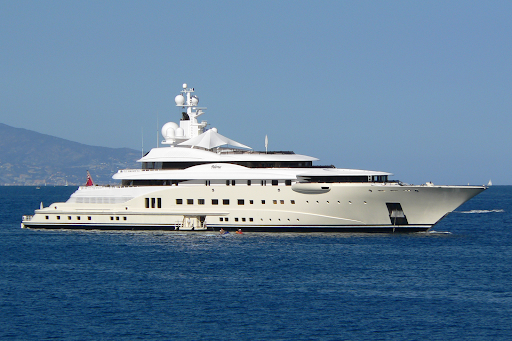 ​​
Cost: $ 300 million (€ 262 million)
Owner: Sammy Tak Lee
Pelorus is the fourteenth largest luxury yacht in the world at 115 meters (377 feet) in length. It was designed by Tim Heywood and built by Lürssen in Bremen, Germany in 2003.
It was briefly owned by a Saudi businessman who sold it to Russian billionaire Roman Abramovich. After buying it, Abramovich ordered the German shipyard Blohm & Voss to adapt it to his own needs.
These adaptations included a second forward helipad, four new speed stabilizers, and modifications to the exhaust, mast, and stern.
Details about the interiors are scarce, as the Russian oligarch is well known for being a protector of the privacy of his family and very security conscious.
"This mega yacht is so huge that it also has a mini-collection of small boats."
The master suite has a movable wall, which can be lowered and transformed into a private terrace. Impressive!
Irina Abramovich received this yacht in 2009 as part of her divorce agreement with the Russian billionaire. In 2011, Abramovich's ex-wife sold her through brokerage Merle Wood to American business magnate and producer David Geffen for $ 300 million.
In 2011, Geffen sold Pelorus to the Foreign Minister of the United Arab Emirates, Sheikh Abdullah bin Zayed bin Sultan Al Nahyan, for € 214 million ($ 188 million).
In 2016, Pelorus was sold to Chinese billionaire Samuel Tak Lee. According to Forbes, Tak Lee has an estimated net worth of $ 3.9 billion.
7. Motor Yacht 'A'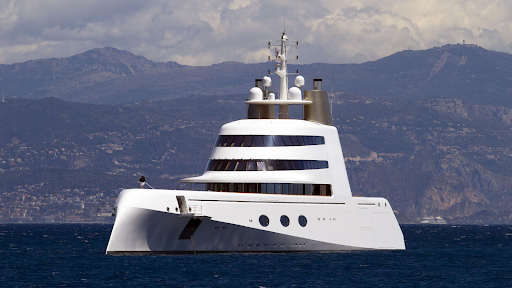 Cost: $ 300 million
Owner: Andrey Melnichenko
The name "A" was chosen so that this fabulous vessel would always appear first in the shipping records.
This 120-meter (394-foot) mega-yacht, one of the most famous in the world, was designed by Philippe Starck and hatched by architect Martin Francis.
'A', owned by Russian magnate Andrey Melnichenko, has a 2,500-square-foot main room, six suites, and versatile interior spaces thanks to glass and sliding walls.
At 119 meters (~ 390 feet) long and displacing nearly 6000 tons, 'A' is one of the largest yachts in the world.
This mega yacht can accommodate a total of 14 guests and has 35 crew members on board. 'A' has a maximum speed of 23 knots and a cruising speed of 19 knots.
6. Al Said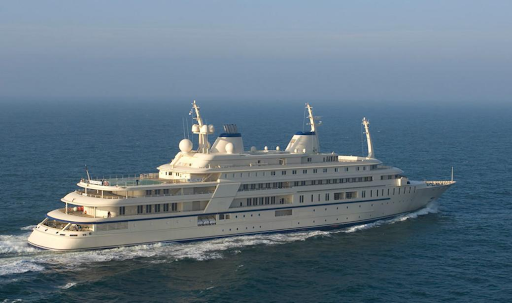 Cost: $ 305 million (€ 267 million)
Owner: Sultan Qaboos of Oman
Al Said is another of the most impressive mega yachts in the world. Its interiors were designed by Redman Whiteley Dixon and it has enough facilities to accommodate up to 70 people.
Perhaps the most opulent thing about this mega yacht is its concert hall, large enough to house an orchestra of 50 musicians.
Al Said was launched by the Lürssen shipyard in September 2007, and at the time of her launch, she was the second-longest yacht in the world.
The yacht was completed in the following months and was handed over to its owners in 2008 by the Sultan of Oman, Qabus bin Said al Said.
5. Serene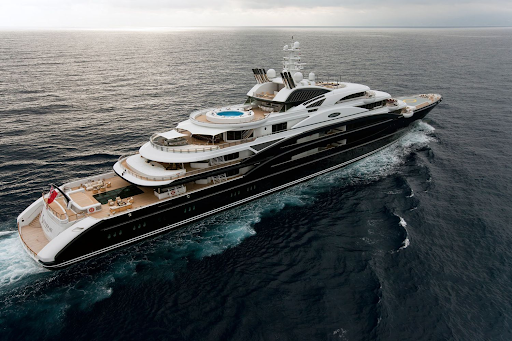 Cost: $ 330 million (€ 290 million)
Owner: Saudi Crown Prince Mohamed bin Salman
In 2010, the Russian billionaire, Yuri Shefler, entrusted Ficanteri to create his spectacular private yacht "Serene".
A year later, in August 2011, the Italian shipyard delivered the new megayacht to the Russian oligarch.
The vessel has no less than 4,459 square meters of space spread over seven decks, with a fully equipped spa, movie theater, and even a wood-burning pizza oven.
Serene is 133.9 meters (439 feet) long.
In 2015, Serene was sold to the Crown Prince of Saudi Arabia, Mohamed bin Salmán, for an amount of $ 550 million, about 483 million euros.
4. Dubai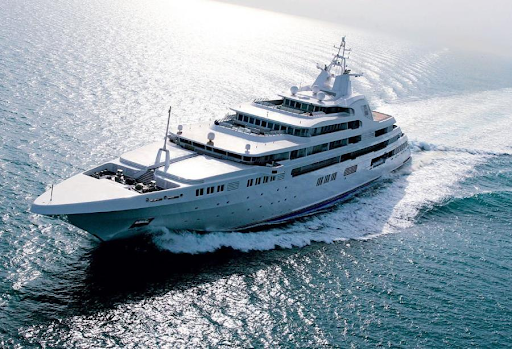 Cost: $ 400 million (€ 357 million)
Owner: Sheikh Mohammed bin Rashid Al Maktoum
This 162-meter (524-foot) megayacht is the third-largest private vessel in the world.
It is owned by Sheikh Mohammed bin Rashid Al Maktoum, ruler of the Emirate of Dubai, and current Prime Minister of the United Arab Emirates (UAE).
It has seven magnificent terraces perfect to relax and a small submarine to explore life under the sea. It was built by the German shipyard Blohm & Voss.
3. Dilbar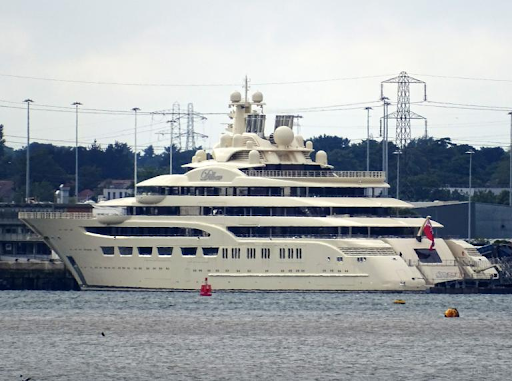 Cost: $ 600 million (€ 527 million)
Owner: Alisher Usmanov
Dilbar is currently the best definition of elegance and glamor at sea.
The 156-meter (512-foot) long mega yacht was built by the German shipyard Lürssen.
Dilbar is the largest private vessel in the world, by interior volume (Azzam is longer but with less volume).
Dilbar was handed over to her owner, Uzbek-born Russian magnate Alisher Usmanov, in May 2016. The huge yacht was designed by Espen Oeino.
Powered by a gigantic 30,000 kW 'Diesel' electric motor, this superyacht is capable of sailing at speeds of up to 22.5 knots.
She seats 40 people and has a crew of at least 80.
Despite being surrounded by the ocean itself, Dilbar's designers did not skimp on their 180 cubic meter indoor pool, the largest ever built inside a yacht.
2. Azzam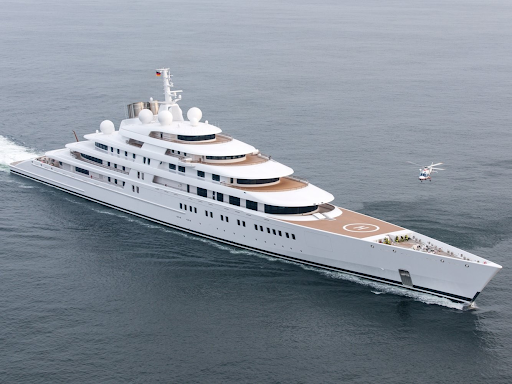 Cost: $ 600 million
Owner: Sheikh Khalifa bin Zayed Al Nahyan
Although Azzam is not the most expensive private mega yacht in the world, it is the largest (in length) in the world.
This monster of a length of 179.8 meters (590 feet), is capable of reaching an impressive top speed of almost 30 knots. Azzam was manufactured by Lürssen Yachts.
Launched in 2013, Azzam is owned by Sheikh Khalifa bin Zayed Al Nahayan, President of the United Arab Emirates (UAE) and Emir of Abu Dhabi.
1. Eclipse
Cost: $ 1.5 billion (€ 1.31 billion)
Owner: Roman Abramovich
Owned by Russian billionaire Roman Abramovich, Eclipse is the most expensive megayacht on this list.
It is a monstrous vessel measuring 170 meters (560 feet) in length, a size that makes it the second-largest private yacht in the world.
Eclipse has two helipads, 11 guest cabins, two pools, several Jacuzzis, and a disco room, she also comes equipped with three tenders, and a mini-submarine that is capable of diving to 50 meters.
Approximately 70 crew people are required for the operation of the huge vessel.
And how could it be otherwise, including security reasons, Eclipse is equipped with intrusion detection systems and a German-made anti-missile defense system.
The windows in Mr. Abramovich's master bedroom are also fitted with armored glass.
Eclipse was built by Blohm + Voss, the renowned shipbuilder based in Hamburg, Germany.
Roman Abramovich also owns two other mega yachts, "Ecstasea", and "Le Grand Bleu", the latter given to a friend of his named Eugene Shvidler.