The Five Richest Pastors In Nigeria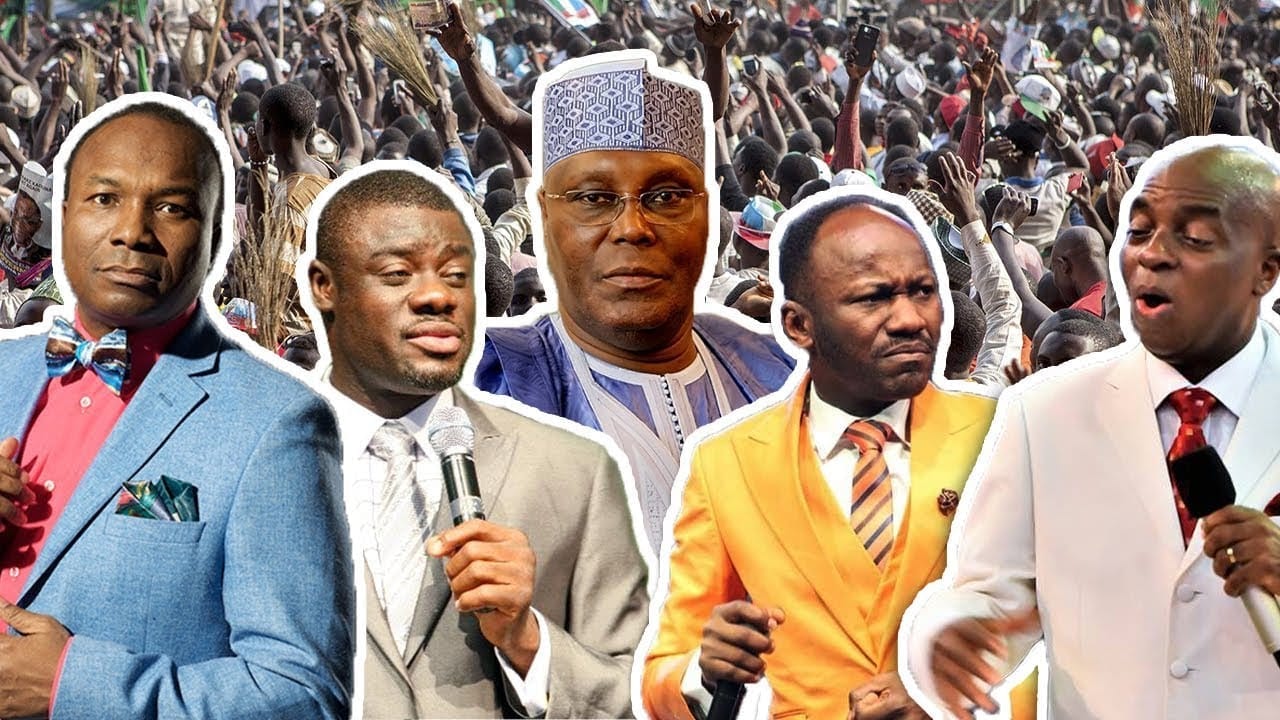 Richest pastors in Nigeria 2023: God is good, especially if you're a Nigerian pastor with some business savvy. These days, millions of souls, desperate for financial breakthroughs, miracles and healing, all rush to the church for redemption.
And while the bible expressly states that salvation is free, at times it comes with a cost: offerings, tithes, gifts to spiritual leaders, and a directive to buy literature and other products created by men of God.
The Five Richest Pastors In Nigeria
This article is based on bringing to you the list of the richest pastors in Nigeria
One of the He is one of the richest pastors in Nigeria is Pastor Chris Oyakhilome. He is the founder and lead pastor of the Christ Embassy, a thriving congregation with branches in Nigeria, South Africa, London, Canada and the United States. Read Pastor Chris Okotie net worth
His publishing company, Loveworld Publications, publishes 'Rhapsody of Realities,' a monthly devotional. It sells over 2 million copies every month at $1 apiece. He also owns television stations, newspapers, magazines, a hotel, a fast-food chain, and more.
Many other Nigerian pastors are similarly building multi-million dollar empires from their churches. Today, pastors fly around in private jets, drive fancy cars like Daimlers, Porsches and BMWs, don Rolexes and Patek Phillipes, and own breathtaking mansions all over the world.
Richest Pastors in Nigeria
Bishop David Oyedepo
Affiliation: Living Faith World Outreach Ministry, aka Winners Chapel
Estimated net worth: $150 million
David Oyedepo is one of the richest pastors in Nigeria. Ever since he founded the Living Faith World Outreach Ministry in 1981, it has grown to become one of Africa's largest congregations.
The Faith Tabernacle, where he hosts three services every Sunday, is Africa's largest worship center, with a seating capacity of 50,000. Oyedepo owns four private jets and homes in London and the United States.
He also owns Dominion Publishing House, a thriving publishing company that publishes all his books. He founded and owns Covenant University, one of Nigeria's leading tertiary institutions, and Faith Academy, an elite high school.
Chris Oyakhilome
Church: Believers' Loveworld Ministries, a.k.a Christ Embassy
Estimated net worth: $30 million – $50 million
His church, Christ Embassy, boasts more than 40,000 members, several of whom are successful business executives and politicians. Oyakhilome's diversified interests include newspapers, magazines, a local television station, a record label, satellite TV, hotels and extensive real estate.
His Loveworld TV Network is the first Christian network to broadcast from Africa to the rest of the world on a 24 hour basis.
READ Richest Musicians in Ghana
Enoch Adeboye
Estimated net worth: $39 million
Enoch Adejare Adeboye is a Nigerian pastor and General Overseer of Redeemed Christian Church of God in Lagos.
Enoch Adejare Adeboye was born on 2 March 1942 in Ifewara, near Ife, in Osun State, Nigeria. He was born into a very humble family background.
Adejare Adeboye joined the Redemed Christian Church of God in 1973 and served as an interpreter before he was ordained a pastor in the church by Pa. Josiah Akindayomi in 1975. He became General Overseer of the church in 1981.
For three years, he filled the role part-time at Unilorin before giving up his university position to preach full-time
richest pastors in Nigeria continue after the video
For miracle-craving worshippers, it's the perfect seduction. The church currently has branches in Ghana, the United Kingdom, South Africa, and Greece. In the past three years, he has given over $20 million to causes in education, healthcare and rehabilitation programs for former Niger Delta militants.
He owns Emmanuel TV, a Christian television network, and is close friends with Ghanaian President Atta Mills.
Matthew Ashimolowo
Kingsway International Christian Centre (KICC)
Estimated net worth: $6 million – $10 million
In 1992, Foursquare Gospel Church, a Nigerian church, sent Ashimolowo to open a satellite branch in London.
But Pastor Matthew had other ideas and decided to set up his own church instead. Today, his Kingsway International Christian Center is reportedly the largest Pentecostal church in the United Kingdom.
He is one of the richest pastors in Nigeria
READ Richest Politicians in Ghana
In 2009, the church posted profits of close to $10 million and assets worth $40 million. Ashimolowo earns an annual salary of $200,000, but his real wealth comes from varied business interests including his media company, Matthew Ashimolowo media, which churns out Christian literature and documentaries. Ashimolowo's representatives did not respond to a request confirming his net worth and ownership of all these assets.
The Five Richest Pastors In Nigeria
Chris Okotie
Church: Household of God Church
Net worth: $3 million -$10 million
Pastor Okotie made his first success as a popular pop musician in the 80s. He found the light, embraced the bible and set up the Household of God Church, one of Nigeria's most flamboyant congregations.
His 5,000 member church consists predominantly of Nollywood celebrities, musicians, and society people. He contested and lost Nigerian presidential elections for the third time this year under the Fresh Party, a political party he founded and funds. An automobile lover, he owns a Mercedes S600, Hummer and Porsche among several others.
Chris Okotie is one of the He is one of the richest pastors in Nigeria