The 10 Largest City In The World
Shanghai, China is said to be one of  the largest  cities in the world.
Urban centers have been proliferating across the world as large populations settle in cities to take advantage of better economic opportunities, modern infrastructure, and other amenities. Asian cities have particularly recorded outstanding growth, and most of the largest cities are currently situated on the continent such as Shanghai, Beijing, Dhaka, Tokyo, Delhi, Mumbai, Karachi, and Guangzhou. The only African city on the list is Kinshasa.
Largest Cities In The World
10. Mumbai – 12.4 million
Mumbai lies on the western coast of the Indian Subcontinent, and has approximately 12.4 million inhabitants. Mumbai developed around a fort established by the British in the 17th century. Its natural harbor facilitated its growth, and by the 18th century, Mumbai was home to a thriving manufacturing sector. The largest population of billionaires and millionaires for any Indian City reside in Mumbai. Mumbai hosts such important financial institutions as the Bombay Stock Exchange and the Reserve Bank of India. As an art center, Mumbai hosts the Bollywood industry as well as the Marathi cinema industry.
9. Tianjin – 12.7 million
Tianjin lies in China's northern coastal region, and it has over 12 million residents. Tianjin developed as a trading center after the Grand Canal was opened in the era of the Sui Dynasty. The city saw particular growth under the Qing Dynasty as well as the Republic of China, and it has served as a treaty port since 1860. Tianjin is also a gateway to Beijing, and European architecture reflects its colonial history. The city's GDP in 2014 was 1.572 trillion yuan with the highest GDP per capita in the country at $17,126.
8. Manila – 12.8 million
The city of Manila was first founded by the Spanish in 1571. Because of this, the city is home to many historic sites dating back hundreds of years as well as a unique mix of architectural styles. The design of the city was carefully planned by American architect and urban planner, Daniel Burnham in 1905. Today, the city is the capital of the Philippines and listed as an alpha-global city. Manila sits on the shores of Manila Bay, and is renown for its harbor. The city is prone to natural disasters such as floods, earthquakes, tsunamis, and typhoons.
7. Moscow – 13.1 million
Moscow is Russia's largest city as well as the country's capital. Situated on the banks of the Moskva River in central Russia, the city is the world's northernmost megacity. The city has been the seat of power for a multitude of states before being named as the capital of Russia and the home of the Government of Russia. The city is known for its well-developed transit network, large green areas, and stunning architecture.
6. Tokyo – 13.6 million
Tokyo lies on the eastern coast of Honshu, the largest of the four islands that make up Japan. The city is the Japanese capital and one of Japan's forty-seven prefectures. The city was initially called Edo but was renamed in 1868 when the Japanese imperial family relocated there from Kyoto. Tokyo's metropolis has an estimated 13,617,445 residents. Tokyo is home to fifty-one of the Fortune Global 500 firms, and it is ranked 4th in the Global Cities Index. The inhabitants of Tokyo are almost all Japanese with communities of Chinese and Koreans. Tokyo is home to headquarters of large corporations and financial institutions while the manufacturing sector is mainly concentrated in Yokohama, Chiba, and Kawasaki.
Largest Cities In The World
5. Dhaka – 14.5
The city now known as Dhaka has been a prominent commercial center since the 17th century and has been the capital of several empires and countries before becoming the capital of the newly independent Bangladesh in 1971. With a population of 14.5 million people, it is the largest city in Bangladesh and one of the major cities of South Asia. The city's population has grown tremendously over the past several decades emerging as a megacity by the 21st century. It is the major financial, political, and cultural center of the region.
4. Istanbul – 14.6 million
Istanbul had a fascinating history having been established around 660 BCE as Byzantion and reestablished in 330 CE as Constantinople. Istanbul was a capital of the Roman, Byzantine, Latin, and Ottoman Empires, the latter which transformed it into an Islamic center. The city was positioned along the infamous Silk Road which facilitated the settlement of diverse peoples in its territory. Istanbul has over 14 million inhabitants, and it attracts millions of tourists yearly as one of the most sought-after European tourist destinations. Istanbul has also earned a reputation as a historical, arts, cultural, and entertainment hub.
3. Karachi – 18 million
Karachi serves as the capital of Sindh Province, and its greater metropolitan area has 18 million residents. The city enjoys strategic location on the Arabian Sea, and it is home to Port Bin Qasim and Port of Karachi which are among Pakistan's largest ports. The city was established as a fortified village in 1729 called Kolachi, and it gained prominence with the occupation of the British. Karachi's residents belong to different ethnicities, races, and religions making it Pakistan's most diverse and secular city. Karachi's formal economy was valued at $113 billion in 2014, and it generates about 20% of the nation's GDP.
2. Beijing – 18.5 million
Beijing is the capital of China, and it sits on the North China plain in the country's north-central region. The city, also called Peking, has an eventful history from being one of the Four Great Ancient Capitals of China to foreign occupation as well as civil war in the 20th century. Beijing established itself as an industrial sector in the aftermath of the Communist Revolution of 1949. Automobiles, textiles, petrochemicals, aerospace equipment, and semiconductors are some of the products produced by the city's industrial sector. Beijing is home to over 20 million residents. As a cultural center, Beijing boasts of seven World Heritage Sites listed by UNESCO.
1. Shanghai – 24.1 million
Shanghai's population of 24.1 million makes it the top populous city proper not only in Asia but in the world as well. Shanghai strategically lies in the Yangtze River Delta and the city's port is ranked as the world's busiest having handled 37 million TEUs in 2016. Qinglong Town, founded in 746, preceded Shanghai and it grew as a trading port in Imperial China. Shanghai's economic potential made it a center of conflict in the 19th century as the British and French fought to control the city.
The Japanese also invaded Shanghai during the 2nd World War. Shanghai is an economic and trading hub in modern day China, and it has reported double-digit growth since 1992 excluding the global recession of 2008 and 2009. Shanghai's top three service sectors are real estate, financial services, and retail while manufacturing accounts for about 40% of the total output. Shanghai hosts numerous industrial zones such as the Shanghai Hongqiao Economic and Technological Development Zone. Shanghai attracts populations of local immigrants as well as foreign settlers from Japan, the US, and Korea.
How to Safe Guard your Home from Coronavirus
Read How to protect your home from Coronavirus here
Life under coronavirus means staying home as much as possible — but you'll likely need to make a trip to the grocery store or pharmacy at some point.
With the help of physicians and infectious disease experts, we built a tip sheet to make sure you don't bring the virus back with you.
Note: Recommendations for COVID-19 may change as officials learn more, so monitor your local health department and the Centers for Disease Control and Prevention for updates.
Read How to wear were a Face Mask the tight way
Make a game plan
Designate one person to be your errand-runner to limit your outside exposures
Set up a disinfecting station — an area outside your home or in a room with low foot traffic where you can disinfect packaged food
When you're out
Avoid coming within less than six feet of others
Wipe handles on carts or baskets while shopping
Some states mandate you wear a mask when you go into a business. Also, wash your hands frequently while you're out and avoid touching your face
Read More Updates About Coronavirus 
When you get back
Wash your hands with soap and water for 20 seconds
Disinfect takeout boxes and packaged foods at your disinfecting station
Thoroughly wash produce before putting it in your kitchen
Disinfect
Disinfect everything you touch — doorknobs, light switches, keys, phone, keyboards, remotes, etc.
Use EPA-approved disinfectants (these include Clorox Disinfecting Wipes and certain Lysol sprays) and leave surfaces wet for 3-5 minutes
Delivery
Ask workers to drop deliveries off on your doorstep or in an area of your complex
If they need you to come to the door, keep six feet of distance
Pay and tip online when possible
After you pick up mail from your mailbox, wash your hands
Laundry
Wash clothes, towels and linens regularly on the warmest setting
Disinfect your laundry hamper, too, or place a removable liner inside it
Don't shake dirty laundry to avoid dispersing the virus in the air
Guests
You shouldn't allow guests over right now
If you need to house a family member or friend, avoid shared living spaces as much as you can
If they need to enter shared living spaces, ask them to keep six feet of distance
If someone in your house gets sick
First, consult your doctor
Isolate them in another room and ask them to use a separate restroom
Disinfect frequently touched surfaces every day
Avoid sharing items with them
Wear gloves when washing their laundry
Continue to wash your hands frequently
Ask them to wear a face mask if they have one
How to protect your home from Coronavirus
Supplies you'll need
EPA-approved disinfectants
If you don't have disinfectants, make a bleach solution: Mix four teaspoons bleach per quart of water
Or Use a 70% alcohol solution
Laundry detergent
Trash bags
Prescription medicines (you can mail order these)
Canned foods — fruits, veggies, beans
Dry goods — breads, pastas, nut butters
Frozen foods — meats, veggies, fruits
Read How to Make your own Hand Sanitizer at Hone
Pets
Supervise your pet in your backyard
It's OK to play with them outside — just keep your distance from other humans
If you're sick, ask someone you live with to take care of them while you recover
If you must care for them while you're sick, wash your hands frequently
#OpenWHO, the free, open-access learning platform for health emergencies, now offers 9 online courses related to #COVID19

Enroll today:
👉 https://t.co/yvxUqiwKm0 pic.twitter.com/o6bx5lY287

— World Health Organization (WHO) (@WHO) April 22, 2020
How to Download from Facebook
Learn how to download  from Facebook in this post
Have you ever seen a video on Facebook you wanted to download it to your device? well if your answer is YES then this post will show you how…
There are several ways of downloading videos from facebok but on this post we will be dealing with two easiest ways to do that.
How to Download From Facebook using FBDOWN.NET
Step 1
On your Facebook feed or timeline 'Right Click' on any video then 'Copy Video URL at current time'. See screenshot below.
How to Downlaod From Facebook
Step 2
Go to FBDOWN.net. Then paste the URL and Click 'Download', like the screenshot below
How to Download From Facebook
Step 3
Click on "Download normal quality video" or "Download HD video" (if available) to start downloading the video.
READ How to Download from Youtube
Note 1: If the video starts playing instead of downloading, then on Step 3 Right Click the link and "Save as…" to download the video.
How To Download From Facebook Using Savefrom.net
1.Open Facebook. Go to https://www.facebook.com/. This will open your News Feed page if you're logged in.
If you aren't logged in, enter your email address and password in the top-right corner of the page and click Log in.
2.Go to the video that you want to download. Either scroll through your News Feed until you find the video, or enter the name of the person who posted the video into the search bar at the top of the page and go to their account to look for the video.
3.Make sure the video is public.
 If you see a globe icon somewhere below the name of the person or the page which posted the video, you can download it without any problems.
If you see a lock or a two-person silhouette instead of a globe, you cannot download the video.
How to Downlaod From Facebook
4. Right-click the video. Once you arrive at the video, press your mouse's right button on it to prompt a drop-down menu. You may have to right-click the video a few times before the drop-down menu will appear.
Read How to Make Money Online in Ghana as a student
On a Mac, you can also hold Ctrl and click the video.
If your mouse doesn't have a right-click button, click the right side of the mouse, or use two fingers to click the mouse.
If your computer uses a trackpad instead of a mouse, use two fingers to tap the trackpad or press the bottom-right side of the trackpad.
How to Download From Facebook
5. Click Show video URL. It's at the bottom of the drop-down menu. Clicking it prompts a small pop-up box with the Facebook video's link in it.
  6. copy the Facebook link. Click the link in the pop-up box to select it, then press Ctrl+C (Windows) or ⌘ Command+C (Mac). Doing so will copy the link.
You can also right-click the link and then click Copy in the resulting drop-down menu.
7. Open the SaveFrom website. Go to https://en.savefrom.net/ in your browser. SaveFrom is a website that allows you to download videos from Facebook by inputting links.
8. Paste in the Facebook video's link. Click the "Just insert a link" text box at the top of the page, then press Ctrl+V (Windows) or ⌘ Command+V (Mac). After a moment, the video's preview icon will appear below the text field.
You can also right-click the text field and click Paste in the drop-down menu.
How to Download From Facebook
9. Click Download. This green button is below the video's preview window. Doing so will immediately prompt the video to download into your computer's default "Downloads" folder, though you may have to confirm the download or select a save location depending on your browser's settings.
SaveFrom will automatically assign the highest possible quality to your video, but if you want to lower the video's quality, click ∨ to the right of the "MP4 HD" text and then select a different option (e.g., MP4 SD).
How to Download From Youtube
How to Download From YouTube
Learn how to download from YouTube in this post.
Downloading videos from YouTube is not as simple as one may think. Youtube does not allow  direct downloading content from youtube. This is because videos uploaded to youtube are copy write content of other people. However, it is not impossible to download from youtube.
There two ways of downloading from youtube.
Downloading content through Youtube app
The only legally allowed way to download from youtube is through the youtube app.
How to make money online as a student
When you download YouTube videos using this method, you can watch them without an internet connection, which is ideal for keeping yourself entertained on planes, trains, and trips to places without reliable mobile internet access.
Downloading YouTube videos using this way is also great if you have a mobile plan with a limited data allowance. You can download them to your phone using your home Wi-Fi, and watch them on the move without risking going over your data allocation.
How to Download Videos through Youtube app
First you need to install the youtube app on you device; Mobile phone, laptop or Tablet.
2. Open the youtube app on your device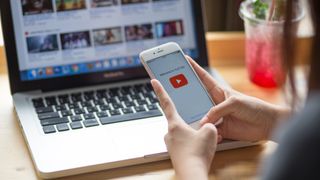 3. Search for the video you want to download.
4. Click to play the video
5. under the right lower corner of the video, click download(for mobile and tablet) or Save (for Laptop)
6. Wait for your video to download. You can find downloaded videos Library in the  menu
Read How to Make Money Online in Ghana
How to Download From Youtube Using 4 K video Downloader
To download YouTube videos to a Windows PC,
start by downloading and installing 4K Video Downloader.  This software is completely free, and can download whole playlists, as well as 360-degree and 3D videos. When it's done, check the box marked 'Launch' and click 'Finish'.

Copy and paste the video URL.  Open your web browser, find the video you want to download from YouTube and copy its URL from the address bar. Then return to 4K Video Downloader and click the green 'Paste Link' button at the top left.

Choose the quality and format. 4K Video Downloader will allow you to download whole YouTube videos, or just rip the audio. Choose your preferred selection using the drop-down menu on the left, then choose a format using the menu on the right. We prefer MP4 for our videos, because it gives a good balance of quality and file size – and will play on basically every device.

Download the video. The YouTube video will now be downloaded for you. If there are other videos in the creator's channel, 4K Video Downloader will ask whether you want to download those as well. It can download up to 24 videos at once.
How to Download From Youtuebe Using Keepvid
Keepvid is one of the most popular names to download YouTube videos. Interestingly, there are plenty of YouTube Video Downloader sites and tools. And there are multiple keepvid websites, including…
https://keepvid.com/
https://keepv.id/
https://keepvid.pro/en4/
https://keepvid.ch/
https://keepvid.works/
https://keepvid.work/
Let's see how you can download video from YouTube using keepvid
Step 1: Go to the website https://keepvid.ch/
Step 2: Copy the link of the video or from YouTube and paste.
Step 3: It will analyze the URL and then provide options to choose from video resolutions.
Step 4: Click on the desired format download link and its done.
You can save the video and watch that anytime without internet.