Satya Nadella Net Worth 2023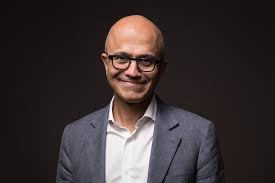 What is Satya Nadella net worth?
Satya Nadella net worth 2023: Satya Narayana Nadella is an Indian-American business executive who has a net worth of $320 million. He is the current CEO of Microsoft.
Satya Nadella Net Worth
| | |
| --- | --- |
| Net worth | $320 million |
| Name | Satya Narayana Nadella |
| Date of birth | 19 August 1967 |
| Occupation | Business Executive |
| Nationality | Indian American |
As of 2023, Satya Nadella Net Worth is valued at $320 million.
Early life
Nadella was born in Hyderabad of present-day Telangana, India into a Telugu-speaking Hindu family.
Read Jeff Bezos net worth
Nadella attended the Hyderabad Public School, Begumpet before receiving a bachelor's in electrical engineering from the Manipal Institute of Technology in Karnataka in 1988. Nadella then traveled to the U.S. to study for an M.S. in computer science at the University of Wisconsin–Milwaukee, receiving his degree in 1990. Later, he received an MBA from the University of Chicago Booth School of Business in 1996.
Career
Nadella worked at Sun Microsystems as a member of its technology staff before joining Microsoft in 1992.
At Microsoft, Nadella has led major projects that included the company's move to cloud computing and the development of one of the largest cloud infrastructures in the world.
He worked as the senior vice-president of Research and Development (R&D) for the Online Services Division and vice-president of the Microsoft Business Division. Later, he was made the president of Microsoft's $19 billion Server and Tools Business and led a transformation of the company's business and technology culture from client services to cloud infrastructure and services.
Read Tim Cook net worth
He has been credited for helping bring Microsoft's database, Windows Server and developer tools to its Azure cloud. The revenue from Cloud Services grew to $20.3 billion in June 2013 from $16.6 billion when he took over in 2011.He received $84.5 million in 2016 pay.
Read Lisa Su net worth
Nadella's tenure at Microsoft has emphasized working with companies and technologies with which Microsoft also competes, including Apple Inc., Salesforce,IBM, and Dropbox. In contrast to previous Microsoft campaigns against the Linux operating system, Nadella proclaimed that "Microsoft ❤️ Linux", and Microsoft joined the Linux Foundation as a Platinum member in 2016.
Since Nadella became CEO, Microsoft stock had tripled by September 2018, with a 27% annual growth rate.
Satya Nadella Net Worth
As of 2023, Satya Nadella net worth is $320 million. He has authored a book titled Hit Refresh that explores his life, his career in Microsoft, and how he believes technology will shape the future. He announced that the profits from the book would go to Microsoft Philanthropies and through that to nonprofit organizations
Family
Nadella married Anupama, the daughter of his father's IASbatchmate. She was his junior at Manipal pursuing a B.Arch in the Faculty of Architecture. The couple have three children, a son and two daughters, and live in Clyde Hill and Bellevue, Washington. His son Zain is a legally blind quadriplegic with cerebral palsy