Saahene Osei Despite net worth 2023: Saahene Osei Despite is the last born of business mogul Dr. Osei Kwame Despite. He is one of the richest kids in Ghana. Saahene Osei Despite net worth $500,000. Read more about the born rich kid Saahene here.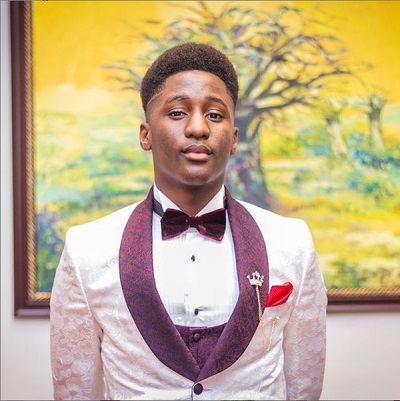 saahene osei Despite Biography
He was born in 2003. Sanhene Osei is 17 years old. He became famous on social media after his brother Kenedy Osei's wedding in February, 2020.
Saahene graduated from grade 12 at Tema International School in 2019.
Not much information is known about Saahene. He has been in the publisc domain for only a few times.
Read Osei Kwame Despit Net Worth
In 2019, Saahene also known as Kirk was spotted with a lady known as Nadia who is believed to be his girlfriend.
The two young lovers were spotted at the Prom Night 2019 held at Marriott Hotel, Accra where they represented in expensive outfits in a luxury Rolls Royce escort.
On another occasion, Saahene in a Q&A with his fans on Instagram told one of the fans to pray and work when the said fan request money from him.
Saahene Osei Despite Net Worth
Saahene is worth about $500,000. He said to be one of the richest Kids in Ghana according to Ghgossip.
Saahene is the younger brother to Kennedy Osei who took the country by storm with his "never seen before" wedding in February, 2020.
Kennedy is the General Manager at Despite Group in-charge of Okay FM, Neat FM, Peace FM, Hello FM, UTV, and the very popular Peacefmonline.com portal.
Kennedy also holds various capacities in the following companies;
Managing Director – Golden Crest Hotel and Golden Crystal Hotel
Director, Aerial Plus Service- A company that is into power line inspections, advertisement, and other media content provision
Director, Nextbite Company Ltd – Importers of Food products and confectionaries
Founding Member, TRIBAL AFRICA – a movement of young Africans set up to promote African Culture and Heritage.
Read More on Kenedy Osei Biography