Richest Comedians in Nigeria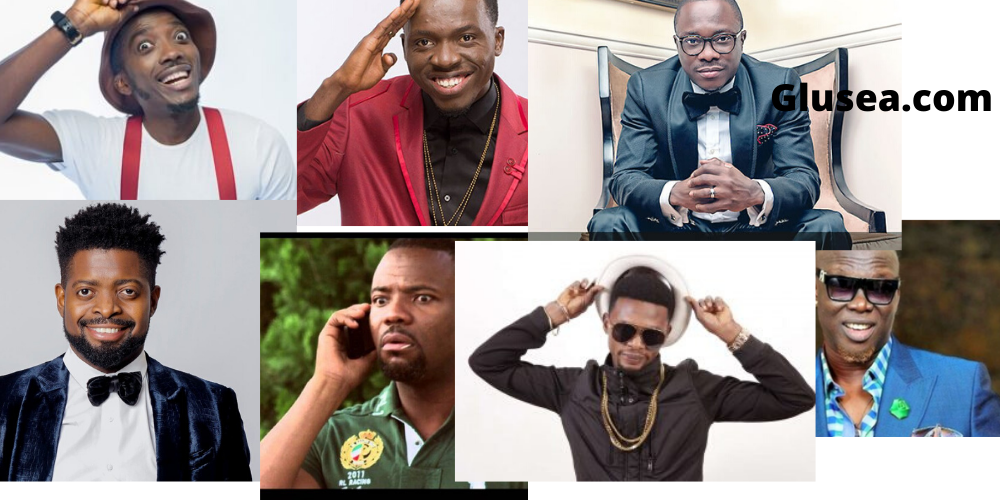 We bring to you top 10 richest comedians in Nigeria.
Nigeria is a hub of hilarious and rib-cracking comedians. Comedy in Nigeria is a well-established industry and a lot of the comedians are cashing in on their talents. Read on as we unveil to the top 10 wealthiest Nigerian comedians.
Top 10 Richest Comedians in Nigeria
10. Akpororo -N350 million
Akporor's intense passion for success has made it possible for him to achieve great results. His real name is Jephthah Bowoto.
Akpororo began his brilliant career as a vocalist in the gospel genre. He had taken part in a lot of comedy contests. At the time, he never thought of comedy as a full-time ambition but eventually, he started to really enjoy it.
He has since risen through the ranks to become one of the richest comedians in Nigeria with a short while
9. Gordons -N400 Million
Gordons studied Integrated Science and graduated in 1998. Before venturing into standup comedy, he actually tried his hands in running a church in the capacity of a pastor.
With his church background, it is no wonder he always adds 'hallelujah' to his jokes and does more gospel music when he has the opportunity.
Gordons is one of the wealthiest Nigerian comedians
8. Mbenga Adeyinka -N500 million
Mbenga is one of the richest Comedians in Nigeria. He is the organizer of Laff Mattazz. He mostly organize shows for politicians.
Number 7 of Richest Comedians in Nigeria
Bovi -N600 million
Bovi began his career in April 2007, starring in the sitcom Extended Family, which he also wrote and produced.
He got his big break as a stand-up comedian in Nite of 1000 Laughs organized by Opa Williams.
Bovi has become one of the most hilarious stand up comedians and he is making a lot of money from his talents.
6 Okey Bakassi -N800 million
Okay Bakassi is known in real life as Okechukwu Anthony Onyegbule. He is a comedian as well as an actor. Okay is one of the sort after comedians in Nigeria. It is reported that Okay charges up to N1 million per show. He is among the top-earning comedians
Read Also Richest Actors in Nigeria
5 Julius Agwu-N 1.5 billion
Julius Agwu is the MD/CEO of Reellaif Limited, music, and movie production company.
He is also an entertainment consultant and motivational speaker. He is the producer behind comedy shows like Crack Ya Ribs, Laff 4 Christ's Sake and Festival of Love.
Agu is one of the most successful comedians in Nigeria.
4. I Go Die -N1.8 billion
I Go Die whose real name is Francis Agoda is, without doubt, one of the richest comedians in Nigeria. He charges N1-1.5 million per show.
He is also involved in many endorsement deals including the United Nations Millennium Development Goals Ambassador.
Agoda also organized several international comedy shows such as "Igodye Standing."
Number 3 of Richest comedians in Nigeria
Basket Mouth -N2 billion
Bright Okpocha aka Basket mouth started his career as a rapper in 1994. He later quit rap and started comedy. He has become a household name not only in Nigeria but other African countries such as Ghana, Kenya, Among others.
Basket Mouth charges between N1.5-N2 million per show.
He has organized popular stand-up comedy concerts like Basketmouth Uncensored across the globe.
Ayo Makun popularly called AY is one of the topmost earning entertainers in Nigeria. His movies "30 days in Atlanta" was an instant hit and contributed to his rise in earnings.
He came into the spotlight after being Alibaba Akporobome's personal assistant and event manager.
AY has become a huge investor in stand up comedy and has influenced upcoming comedians through his AY "Open Mic Challenge".
Number 1 of Richest comedians in Nigeria
1. Alibaba -N 3 billion
Alibaba had a plan to study law but later realize he could be more successful by making people happy than defending them.
He has been refereed to as the king of Comedy.
With little precedent in Nigeria for stand-up comedians, Ali Baba persevered to professionalize his skills and carve a niche as an innovator and comedian for corporate and non-corporate events and by serving as a Master of Ceremony at many events.
Alibaba is the richest comedian in Nigeria today.
Read Genevieve Nnaji net worth
More on Top 10 Richest Comedians in Nigeria