Richest Celebrities in Ghana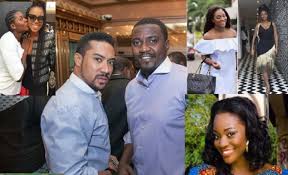 Who are the richest celebrities in Ghana ?
Richest celebrities in Ghana: Ghana is one of the countries in Africa to have produced entertaining talents who are able to market the country and the continent to the rest of the world. A lot of them are know to live lavish and fulfilled lifestyle.
They have been able to distinguish themselves from the 'rest'. People want know how much these celebrities make from their talent which often bring to mind the question of who are the richest celebrities in Ghana. Read Richest Celebrities in South Africa
Asamoah Gyan
Aside playing football, Asamoah Gyan is also a Businessman. He own a lot of companies including; Coach Buses, Baby Jet Promotions,Real Estate . As of October 2017, Asamoah Gyan has been granted an Air Carrier Licence (ACL) by the Ghanaian Civil Aviation Authority (GCAA).
According to the Ghana News Agency, the start-up is named Baby Jet Airlines. With the license in hand, the start-up is now permitted to begin with its AOC certification drive. The 33-year-old is said to be worth about $23million
Sarkodie
Sarkodie is arguably one of the wealthiest celebrities in Ghana and African at large. He has won many awards, performed on both local and international platforms and his own Rapperholic Concert. His chart-topping tracks also sustain his relevance which generate some revenue on some digital online streams.
He lives in a luxurious mansion (he has one Accra and another one in the UK worth over $250,000) and has fleet of cars most of us only see in our dreams. According to Forbes Sarkodie net worth is $10 million.
Richest celebrities in Ghana ?
SHATTA WALE
Charles Nii Armah Mensah known on stage as Shatta wale is a reggae Dancehall artist from Ghana. He came into lame light with his greatest hit ' Dancehall king". Shatta wale has since become a household name in Ghana and other African countries such as Nigeria.
Shatta wale owns nine expensive cars and three mansions.The cars owned by the star include a Range Rover, a G Wagon, Toyota Camry, and Chevrolet Camaro. Most recently, the musician added three vehicles to his fleet of cars which are Mercedes Benz, BMW, and Maserati. Shatta Wale has an estimated net worth of $6.2 million in 2019 according to forbes.
John Dumelo
John Dumelo was born on born February 3, 1984 .John Dumelo now into politics is a top Ghanaian actor and the first Ghanaian citizen to hit a million likes on Facebook.
He won Best Actor in a lead role in a movie 'A Northern Affair' in 2013. John Dumelo campaigned for President John Mahama during Ghana 2012 general elections and again campaigning for him in this years' 2016 general elections. Dumelo's net worth is estimated to be about 1 Million Us dollars.
Majid Michel
Majid Michel is a prominent Ghanaian actor. He is probably the most handsome Ghanaian actor. Michel was born on 22nd September. His acting career spans over 20 years. He was the nominee of the Best Actor in the Leading role in the Africa Movie Academy Awards for four years in a row between 2009 and 2012. He was also the nominee of the same in 2014 and 2017. He managed to scoop the award in 2012 after losing out on the first three consecutive nominations. Ever since, his acting career has been on the rise. He has acted many movies including love movies featuring the most beautiful Ghanaian actresses.
Kwadwo Nkansah
Kwadwo Nkansah was born in Ghana on May 15, 1988. Actor and comedian commonly referred to as "Lil Win" who is best known as the star of such Kumawood movies as Asam Bi Safua (2015) as well as the films in the Obroni Hianii franchise. He has also released popular songs like "I Don't Think Far." His song "Obumpa" features rapper Flowking Stone. He attended junior high school at Kenyasi Abrem in the Ashanti region of Ghana. Kwadwo Nkansah Net Worth: 5 Million
richest celebrities in Ghana ?
Stonebwoy
Livingstone Etse Satekla, better known by his stage name Stonebwoy, is a GhanaianAfropop, dance hall and reggae singer. He is the CEO of Burniton Music Group. He won the Best International Act: Africa category at the 2015 BET Awards and Artist of the Year at the 2015 Ghana Music Awards.
He is also a recipient of two Billboard plaques. He has been described as the king of reggae and dance hall artists in Africa. Stonebwoy is also an actor, having appeared in the movies Happy Death Day and My name is Ramadan. He is a global ambassador for sanitation.
In September 2019, he was made the brand ambassador for Voltic Natural Mineral Water, in a deal that could be renewed after two years.
Appiah's appearance on screen became regular when she was invited by Edward Seddoh Junior, the writer of Things We Do For Love , where she played the role of Enyonam Blagogee. She later took part in Tentacles, Games People Play, Sun-city and many other TV series including The popular YOLO.
Who are the richest celebrities in Ghana ?
Jackie Appiah's estimated Net Worth 2019 is estimated as $800, 000.
Nana Ama Mcbrown
Nana Ama Mcbrown is the richest Kumawood actress today According to Ghpage.com. She doesn't hide her wealth and how much God has blessed her.
Born Felicity Ama Agyemang, Nana is the highest paid Kumawood actress.And have starred in over 200 movies. The 43-year-old actress, singer, and comedienne is in her prime of her career and still getting all the endorsement deals. Nana Ama Mcbrown net worth is $250,000.
Read More on Nana Ama Mcbrown Net Worth