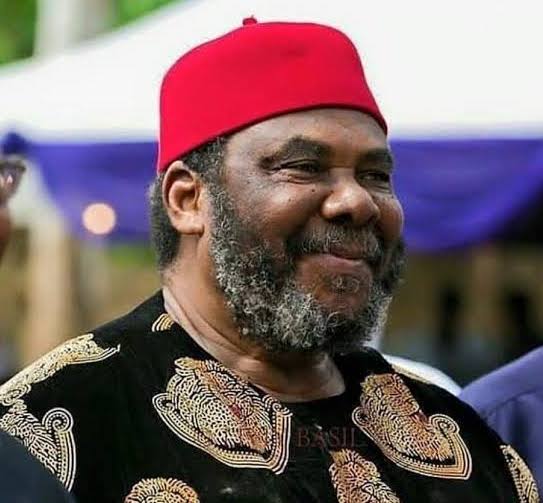 Chief Pete Edochie  is a Nigerian actor. He is the father of Yul Edochie He is considered one of the best actors in Africa. Edochie became a start after starring in things fall apart as Okonkwo. Pete Edochie net worth is estimated at $4 million.
Pete Edochie Early Life
Pete Edochie was born on March 7, 1947 in Enugu, Nigeria. He hails from Anambra State, but was raised in Zaria, Kaduna. He attended his basic and secondary school in Nigeria and proceeded to England where he had his tertiary education. Edochie attended the School of Journalism and Television in England
Read Nkem Owoh net worth
He began his career at 20 when he got into the broadcasting corporation. He started as a junior program assistant and rose to the position of director where he acted in different directorial capacity. He later left the broadcasting job and started a career in acting.
He featured in Things Fall Apart  in the  1980s and had won an International Award.  He played the lead role of Okonkwo in the movie. Pete has sine starred in hundreds of movies. He mostly acts either as "Igwe"(a rich king). Pete Edochie is regarded by many as one of the most talented actors on the african continent. It was not suprising when he was honored the life time achievement award by Africa Film Academy and Africa Magic.
Pete Edochie Net Worth
Pete Edochie is worth $ 4 million. He is one of the richest nollywood actors.
Some of the movies starred by Pete Edochie are;
Lionheart (2018)
Mummy Why (2016)
Heavy Battle (2008)
Test Your Heart (2008)
Greatest Harvest (2007)
Secret Pain (2007)
Fair Game (2006)
Holy Cross (2006)
Lacrima (2006)
Living with Death (2006) …. Mr. Harrison
Passage of Kings (2006)
Simple Baby (2006)
Zoza (2006)
Azima (2005)
Baby Girl (2005)
End of Money (2005)
Living in Tears (2005)
Never End (2005)
No More War (2005)
Ola… the Morning Sun (2005)
Price of Ignorance (2005)
The Price of Love: Life Is Beautiful (2005)
Sacred Tradition (2005)
The Tyrant (2005)
Across the Niger (2004)
Coronation (2004)
Dogs Meeting (2004) …. Anacho
Dons in Abuja (2004)
The Heart of Man (2004)
King of the Jungle (2004)
Love from Above (2004)
My Desire (2004)
Negative Influence (2004)
The Staff of Odo (2004)
St. Michael (2004)
Above Death: In God 
Content on this website is protected by DMCA.  Dont waste your time copying because you would eventually remove it.