Paul Pogba Car Collection and Houses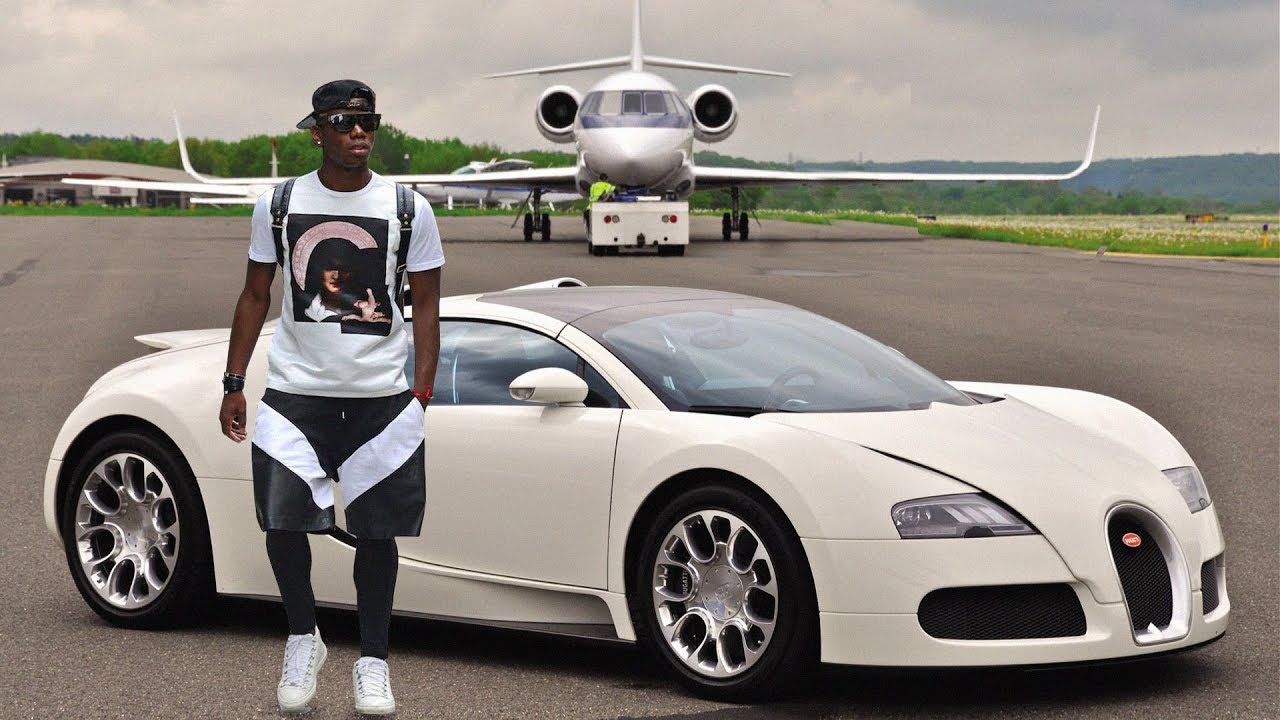 Paul Pogba car collection: Paul Labile Pogba popularly known as Pogba, is a French midfield maestro who plays for France and Manchester United. Popularly known as the "Entertainer", Pogba is known for his quick feet, dribbling prowess, eye for goal and pinpoint passes. Pogba has become a fan favorite in England and the world with his charisma, and his funny celebrations, one of them being dance. 
For someone who earns a whooping weekly wage of £290,000, you can only imagine the life of luxury he is wallowing in. He has made the world to be awestruck with his numerous exotic and luxury cars which he cruises around with, not to talk of his megamillion dollars worth of mansions. We are going to consider the details of Paul Pogba car collection and houses but first we have to get to know who Pogba is and how he became so wealthy.
Who is Paul Pogba?
Paul Labile Pogba was born on the 15th of March 1993 in Lagny-sur-Marne. The prolific playmaker has his brother's Florentino and Mathias. At an early age of six, Paul Pogba had already began showing interest in playing football, and was soon registered with Roissy-en-Brie youth ranks in 1999.
After spending seven years at Roissy-en-Brie, Paul Pogba moved to US Torcy before being hijacked by Manchester United in 2009. After failing to break into United's first team, Pogba had to move elsewhere in search of playing time and that saw him settle at Juventus where he went on to establish himself as a first team player and a perfect partner alongside legendary midfielder and former Juventus coach Pirlo.
Pogba won four Serie A titles with the Italian champions, two Copa Italia and two Supercoppa Italiana title. During this time he had risen to become a world class player and so he attracted a lot of Europe's elite clubs including his boyhood club Manchester United he secured his services the second time, this time on a record breaking fee of £89 million which made him the most expensive player at that time.
On his return to Manchester United, he helped them with three trophies in a single season, the EFL cup, Community shield and Europa League. He has been an integral part of the squad, and in the 2021/2022 season he notched four assist in the club's opening match of the season.
Internationally Paul Pogba has represented France at various levels, beginning from the U-16 up to the senior team. He led the national team to the 2018 FIFA World Cup victory in which he was very pivotal through the competition.
Endorsement Deals
Paul Pogba has signed several mega million endorsement deals with top brands such as TLC, Adidas, PepsiCo.
Net worth
For a footballer so popular and highly regarded, you could only imagine how wealthy he would, considering how much Pogba earns and his several endorsement deals worth millions of pounds. Well your imagination is not wrong as the versatile midfield maestro has a ground shaking net worth of $125 million. 
Paul Pogba car collection
Everybody knows Pogba to be a player that knows how to flaunt his wealth, this is evident in the varieties of jaw dropping luxury cars he has in his garage. Cars that the price of each can feed some countries. Here, we are going to take a look at some of these exotic cars in the possession of the world class midfielder as well as their prices and features.
Mercedes GLS 4X4
One of the luxury cars in Paul Pogba car collection is the Mercedes GLS 4X4 which he purchased at a mouth watering £71,465. Let's look into the features of this exotic car then you will see why it is worth that amount. 
Features
Two distinct engines
Six-cylinder compartment diesel 350D/AMG 63 V8 petrol
State of the art interior capable of accommodating seven people across three rows.
Accelerates from 0-60 mph within five seconds.
A well ventilated and massaging seats, heat 3rd-row seats and 5-zone climate control.
100% LED lighting
Lamborghini Aventador
Another expensive ride in the midfield maestro Paul Pogba car collection is the Lamborghini Aventador which is valued at £271,000. 
Features
A set of scissor doors that swing open.
High quality and cutting-edge dashboard which comprises of a digital cluster changes its layout each time a different mode of driving auch as Sport, Corsa and strada, are selected.
Mid-engine, all-wheel-drive wheel
Engine-6.5 L L539 V12
7-speed ISR automated manual
Bentley Flying Spur
Being lover of Bentley rides, he did not fail to include the expensive Bentley Flying spur superspeed ride worth £200,000 in Paul Pogba car collection . 
Features
The Bentley Flying Spurs has an eight-speed dual-clutch automatic transmission.
All-wheel drive
A very powerful twin-turbocharged engine
A 542-hp V-8 engine
It can accelerate at 69 mph within 3 seconds
Comfortable and convenient interiors to give you the perfect relaxation and comfort.
Rolls-Royce Wraith
Probably the most expensive car in is collection, the Pogba owned Rolls-Royce Wraith black matte is valued at £367,700.
Features
Full type – Gas
8-speed shiftable automatic transmission
Cylinders V12
Rear wheel drive
Seats-4
Maserati Quattroporte GTS-£115,980
Another expensive car worth mentioning in Paul Pogba car collection is the Maserati Quattro Porte with an estimated worth of £115,980
Audi RS6 Power-R-£105,000
McLaren P1-£220,000
Pogba Houses
Paul Pogba resides in a £2.9 million worth of a five bedroom mansion in Cheshire where he resides with his partner Zulay Pogba and kids. The mansion has an indoor pool, gym, and custom football pitch called "P.P Arena". 
Read Also
Thanks for reading the article about Paul Pogba car collection and house. Leave your reply in the comments below
Source: Glusea