One in a million : Love STORY SERIES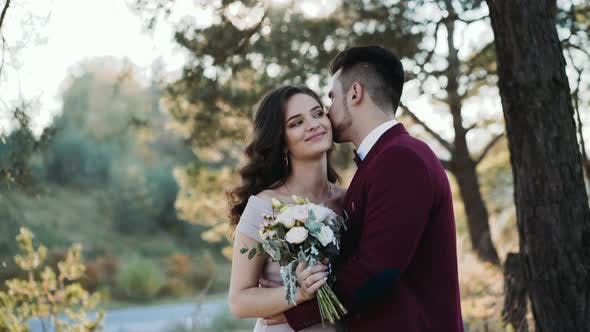 One in a million : Love STORY SERIES
From FEB 24 2010 17:46 – the REST OF MY LIFE There I was, lost forever, trapped and without a choice, holding my head in one hand and the ring on the other. Crying my heart out but I could not produce a sound. All hopes were lost. The tears in my face were covered by the rain drops. I was the one who always told her that I never wanted anyone to see me cry. But then now I wish she would open her eyes at least to see me cry and tell me not to cry.
FEB 24 2010 17:45 I felt empty. I dint have words to express myself for what I had done. She was the only one I had in my life and now I was alone. Alone once again. Yes I had told her that loneliness was something that I loved but now I felt that she could have been there with me to share the loneliness. Even my ego, my pride my aim, my achievements had left me alone. Now I know what being lonely meant. The fair face was because she was having leukemia, blood cancer. She was not able to come but still did just because I had asked her to. She had become thin not because of her gym but because she was not well. It was weak not thin. The thud while on the call was because she had fainted. And I failed to notice that. Despite all that she had come just to make me happy and what did I do? Hurt her, irritate her, and kill her.
FEB 24 2010 15:30 she was there, still as a rock. Alone in her home, in her bed. There was a sudden rush that fell as a heavy thud in my heart. And all the voices came rushing to me. She was gone, for good. A deadly cancer had taken her away from me. Her mom had told me it was cancer. But it was all over before it even started. Cursing myself I took out my chain which was a gift from her and placed it on her beautiful hands. Then with a hollow punch of pain I went near her ear and said "I am really sorry Sam…" and I left the place with welled up eyes and a heavy heart.
FEB 23 2010 09:44 "That's it I cannot take any more of your ignorance. This is no longer a relationship. It's always about you and you just seem to be interested about yourself. It's as if you never wanted me here. And it's me who is always pushing things and taking initiatives to keep this relationship healthy. That's it, I quit, FOR GOOD!!" were her last words. I tried to explain how it all was just a game. But she refused to accept it. She must hate me. Well even I was not crazy about myself at that point. I ran behind her and explain all about it but it dint seem to go anywhere." I woke up with a start it was all a dream. I had to apologize to her. Be with her again. So after all that wait I started for her house. To apologize in person. But the Ego restrained me. So I stayed.
FEB 22 2010 15:31 it had been more than a week since I had spoken to Sam. And I was starting to feel really guilty. It was not my fault but that's not the point at all. It was a huge fight but now it's all getting on to my head. I was stupid and I should have apologized to her but I did not. It was her mistake as well. The ego dint let me move forward with the apology. I was an achiever up till then, that dint let me put my foot down. But at the end no matter whose mistake it is the distance between US increases. I dint know what would make it better. And I was torn between my feelings and my ego. Damn the ego!!
FEB 14 2010 it was the day of roses, Valentine's Day. I went to meet her. You know, SAM. The one and only, my beloved. I loved her so much but I felt something was wrong. I just knew it. I wanted to surprise her. I just got 100 odd candles and arranged it on the 1st floor of my house, in a small room which had lot of shelves. The candles were everywhere. And I had chosen a song called, expressions by Helen Jane so that it would be romantic. And then she came, her face was glowing more than it usually did, fair than usual she had become thin, since she was going to gym. I said "I am not going to compare you with the moon because moon has scars etc is an old line, in one line if I have to describe you I would say you are the most beautiful girl in this planet, in one WORD if I had to say it would be "PURE"". She smiled at me. She said "thanks a lot, this is the best thing anyone has ever done for me, you are the best." saying this she held my hand and gave me a silver chain. It was so good and I hugged her and looked into her eyes. but I saw that she was not happy.
So I asked her me: You still like him dont you.
her: please its valentine's day and after this beautiful thing why are you at it again?
Me: if you thought it was beautiful then you wouldn't be so dull. If you don't like me just say so.
Her: oh come on, you know I loved it please don't be angry. That anger doesn't go well with your face,
me: okay m sorry too. By the way I have got us tickets for tomorrow. Morning movie then afternoon rain tree then at night a really nice play.
Her: m sorry ad I can't make it. I have to go to vishal's house remember? I told you la his cousin is getting married. I got to go to Trivandrum.
me: Go day after tomorrow Na, please stay for tomorrow I made all the arrangements. Her: sorry da cant. I skipped today cos I know I have the best guy in the world.
Me: please please tomorrow please.
Her: sorry da pleaase understand.
Me: so you like vishal more than me? Fine!!
Her: oh come on you know that's not true
me: then stay and prove it
her: stop it, now
me: why should I? You don't like me anymore.
AFTER A WHILE OF SIMILAR FIGHTS her: That's it I cannot take any more of your ignorance. This is no longer a relationship. It's always about you and you just seem to be interested about yourself. It's as if you never wanted me here. And it's me who is always pushing things and taking initiatives to keep this relationship healthy. That's it, I quit, FOR GOOD!
Me: Fine I am not dying for you, one day you ll die for me and then you ll know.
FEB 9 2010 10:00 I called her up in the morning she dint pick up the call. I tried many times I could not reach her. I started getting worried. And got paranoid so kept trying she dint pick up the call. Later at three in the noon she called me, and apologized for not answering the call I yelled at her but then I heard a thud as if she fell down and got worried. I was not able to reach her for some hours and then she called me again. She said that she fell down from the swing and her mobile was not working properly and she had given it for repair.
FEB 7 2010 00:00 she called me at twelve, and said "HAPPY 5 YEAR anniversary honey" I said thanks a lot and we spoke about our relationship till two or three o clock. But I sensed her coughing a lot and also sounding really weak. I dint want to upset her so I dint ask her about it. We kept talking and I said ok I am going to sleep I have got a match in morning. I am sorry SAM. Gunnite! She sounded sad when she said bye, but I dint say anything. And we met in the evening I was only boasting to her about my match entirely and I dint even ask her how she was and all that.
FEB 7 2005 16:00 it was after tuition that she came near me. We used to go home together pushing the cycle. In the 4 years we had become really best friends and I felt that we had gone a tad more than that. But I dint say anything. While walking she said, "sri I need to tell you something, rather talk to you about it" saying this she pulled my hand. Sure she thought it was romantic but my cycle fell down. She said, "There is something I have been feeling lately. And I don't know what it is. I mean I think I have crossed the limits by my heart and become too close to you" I started smiling and saying something but she interrupted "no let me finish please. I think about you all the time and always for everything, you are the one guy I speak to this much apart from my dad. And I don't know what to name this relationship but it's not restricted to friendship. Love seems too awkward considering we are too young. I am sorry I don't know how to express myself. I just feel," I kept my finger on her lips and said, "yes, I love you too Sam". Tears were filled in her eyes she was so happy and jumping with joy. This got me since I was not so attractive. She looked like an angel just even more beautiful.
JAN 12 2004 11:45 I had a bad fever and also I had my exams. I don't pray to god. Not that I don't believe in him, it's just that, he is there, let him be there. But she called me up and said "how are you feeling." I said I was fine but was worried about fever and the exam. She said "don't worry I have prayed to 4 gods, I pray only to 3 gods daily but since yesterday I dint pray for myself, that is for me to get a good guy, you know with all the looks I asked for, I have that one pending so I used it for you today… You will clear the exam easily" I dint know I would say this but I did "Sam, I don't believe in god, But I believe in you when you pray for me, Thanks a lot. You will get the best guy in this world. i promise!!"
One in a million : Love STORY SERIES
READ MOTIVATIONAL MESSAGES FOR HIGH ACHIEVERS
__END__