Top 10 Most Expensive Guitars in the world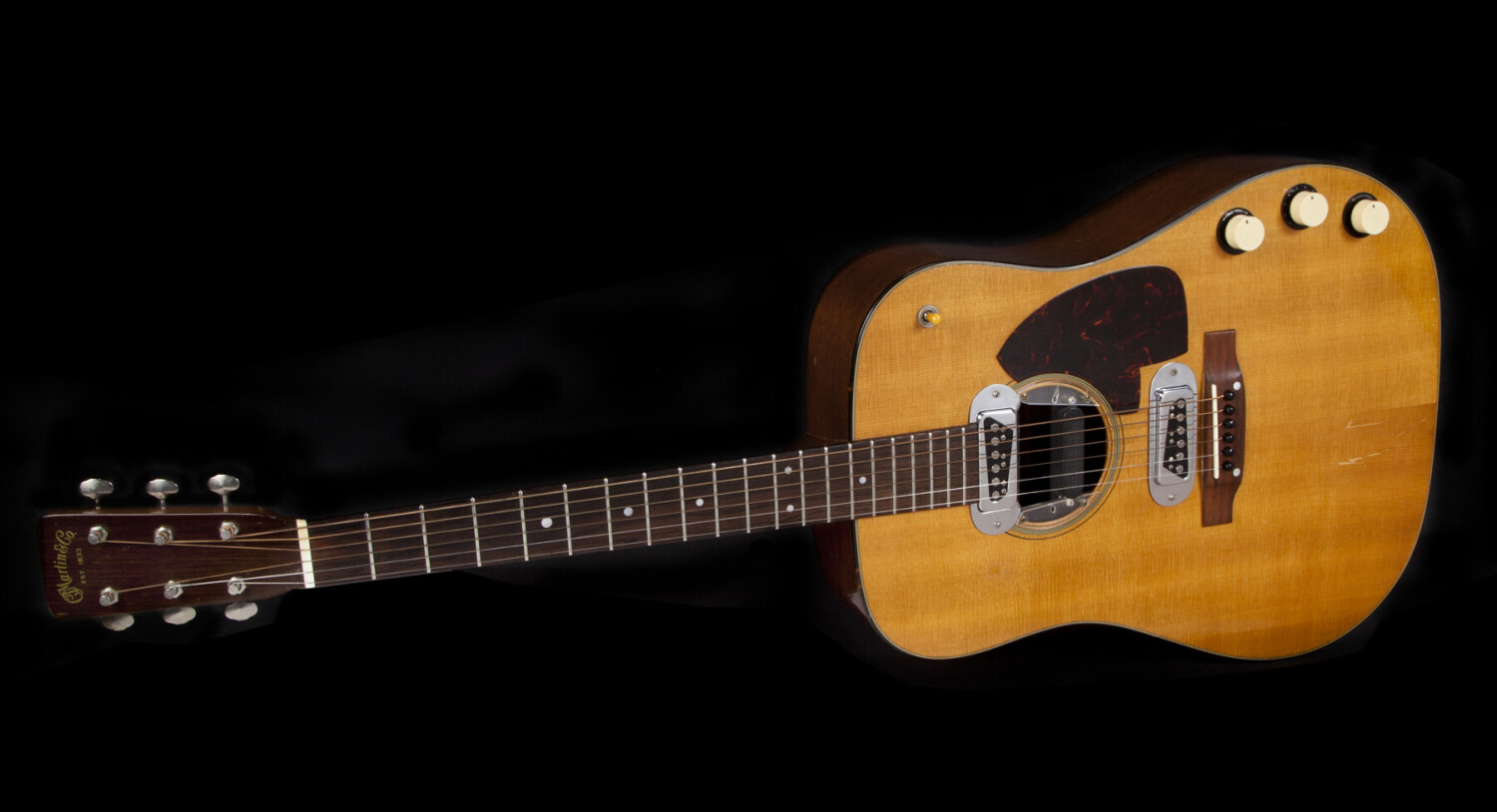 Guitar is more popular than any other musical instrument. They may be found in a wide variety of forms and sizes, and their costs can vary widely. Keep reading to find the 10 Most Expensive Guitars in the world
Read Most Expensive Colleges in the world
What causes this price fluctuation? You may be forced to ask. Well, the craftsmanship, the quality of the materials, the accessibility and experience of the labor force, etc. However, the guitar's history comes into play when discussing the very expensive ones.
Top 10 Most Expensive Guitars in the world 2023
Here's a list of the 10 most expensive guitars.
1.Kurt Cobain's 1959 Martin D18E ($6,000,000.)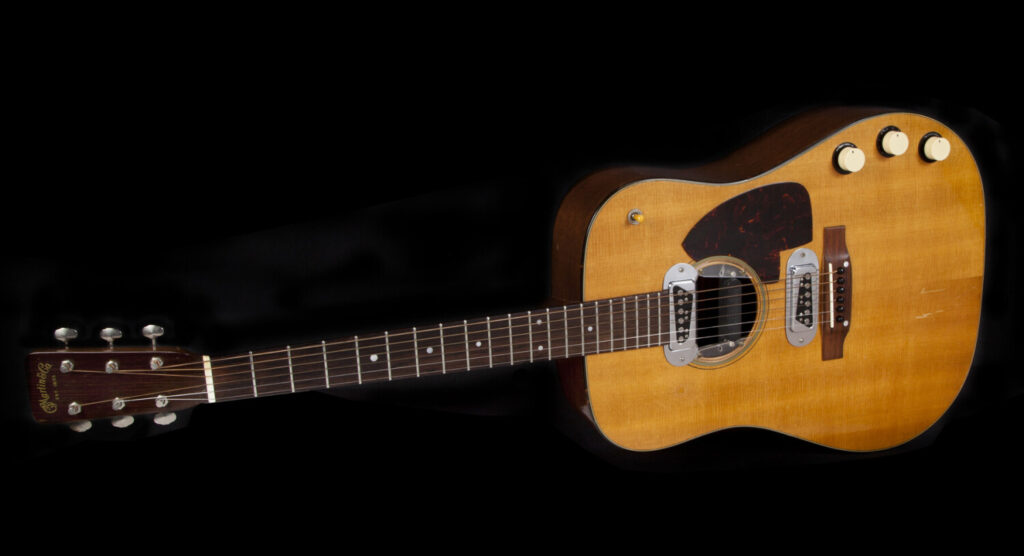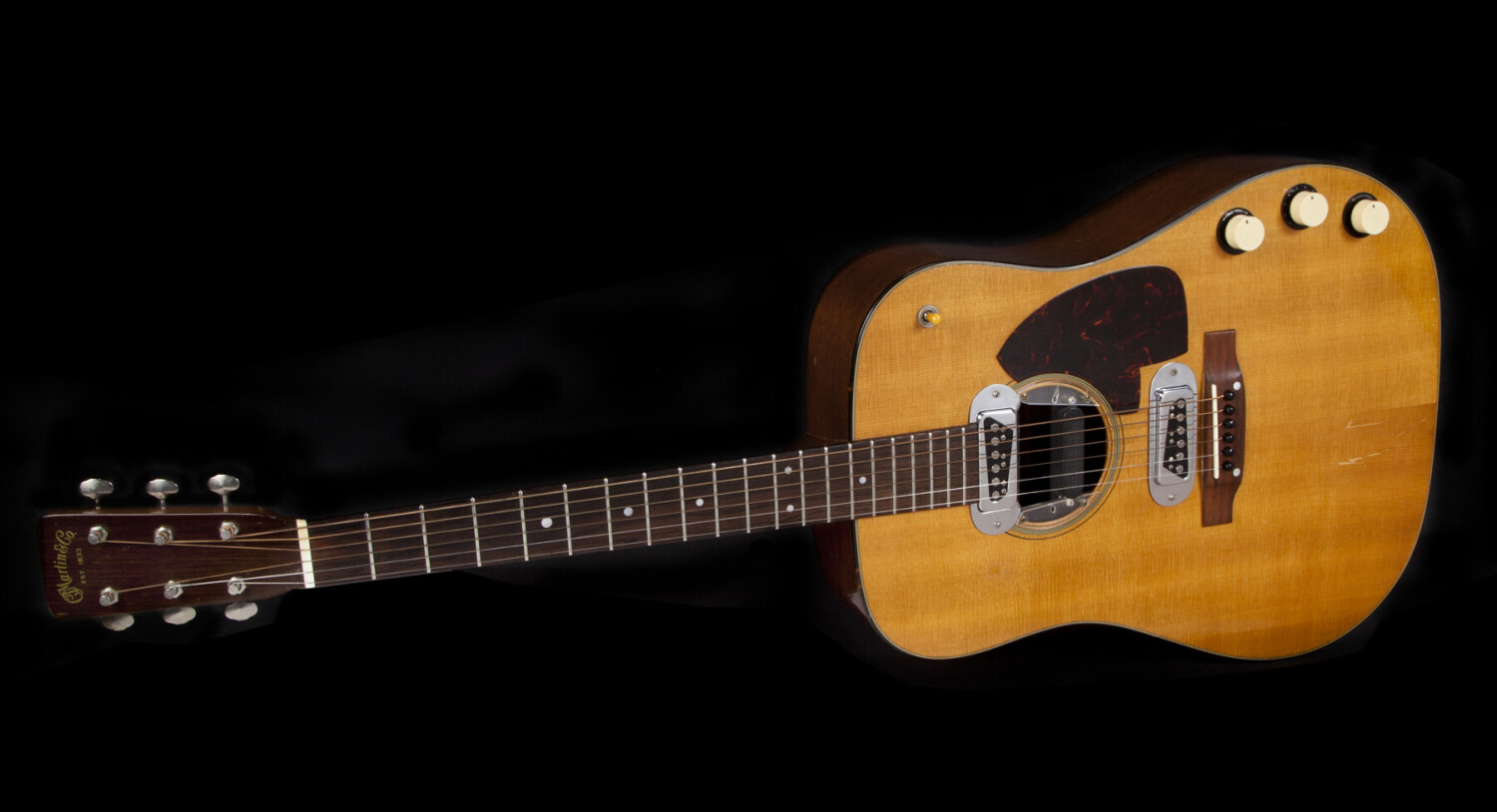 Here we have another acoustic, but not just any acoustic, but the most expensive guitar ever sold: Kurt Cobain's 1959 Martin D18E. Even if it was the sixth of just 302 total D18Es, that's really not the point.
This is the guitar that grunge legend Kurt Cobain used during Nirvana's legendary 1993 performance of "Unplugged" on MTV.
It proved Nirvana was a standard grunge band by showcasing the band's ability to be just as fierce and dynamic in an acoustic environment as they were during their high-octane live shows.
The founder of Australian microphone company Rode Microphones, Peter Freedman, bought it at auction in 2020 for his own collection. This guitar has sold for more than any other instrument in history, and we can only speculate how the order of these records might have looked different if David Geffen had instead purchased Kurt Leadbelly's guitar.
Kurt Cobain's "Smells Like Teen Spirit" Fender Mustang ($4,500,000).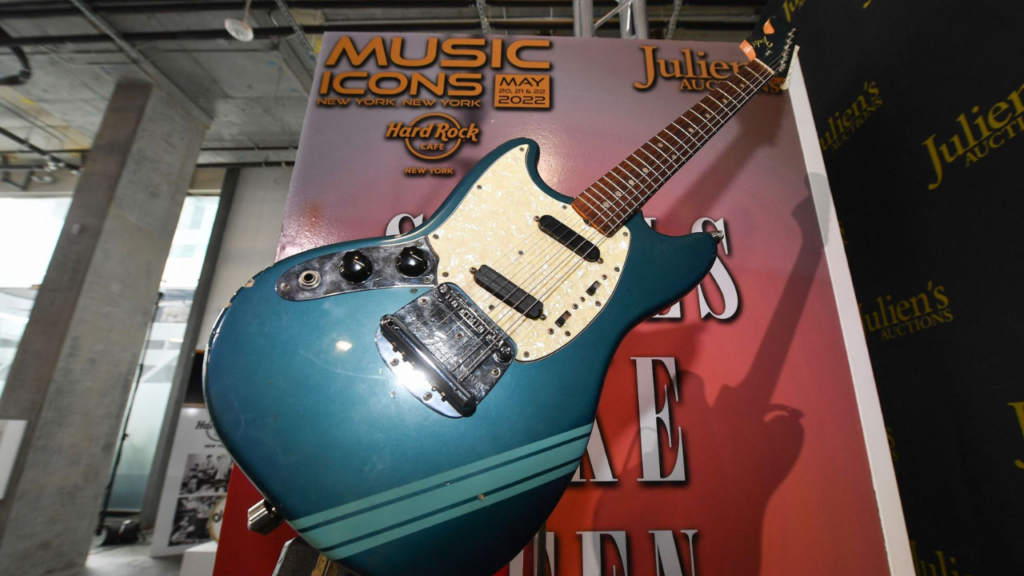 This guitar is the second most costly guitar ever sold, and it was only sold this year.
The Fender Mustang portrayed by Kurt Cobain in the "Smells Like Teen Spirit" video, which was expected to sell for about $800,000, instead brought in $4.5 million.
Read Richest Rockstars in the world
Even though Cobain seldom used the guitar in live performances, it is still one of the most recognizable instruments in 90s music. The video for "Smells Like Teen Spirit" propelled Nirvana into the public eye, brought the Seattle scene into the limelight, and altered the course of music in the 1990s.
To no one's surprise, Jim Isray also bought this guitar to add to his collection of rock relics.
"Black Strat" ($3,975,000)
Among the Most Expensive Guitars in the world is The "Black Strat" played by David Gilmour cost $3,975,000.
Pink Floyd superfan and Indianapolis Colts owner Jim Irsay paid over $4 million for another instrument offered at the Gilmour charity auction.
It's easy to understand why the "Black Strat" was the best-selling guitar during the auction. This guitar is one of the most recognizable in the world.
Irsay was an avid guitarist who used to engage in fierce bidding battles with the late Paul Allen for rare guitars and other musical artifacts.
"Reach Out to Asia" ($2,700,000)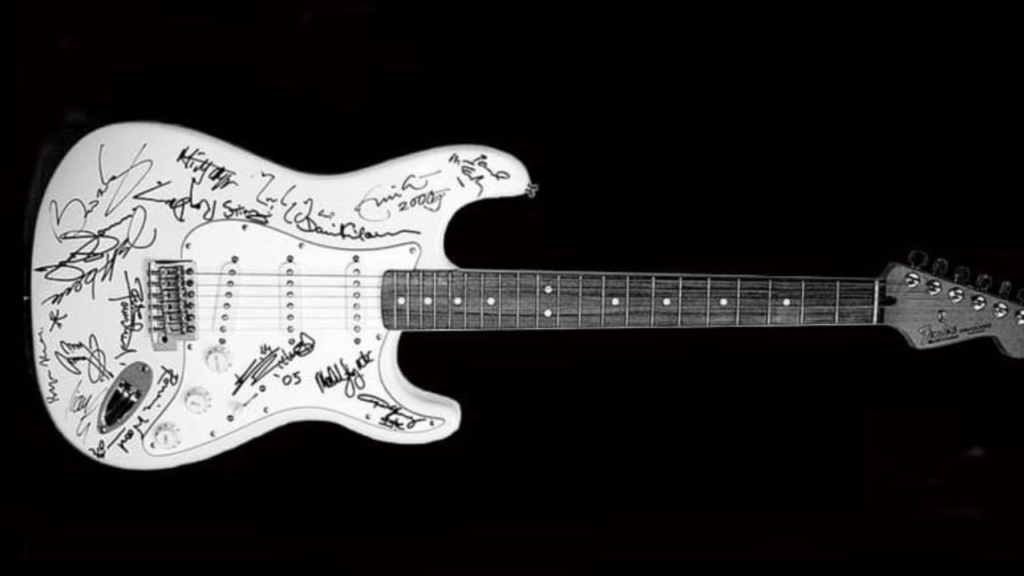 Fender Stratocaster inscribed
None of the artists ever really owned (or played) this particular Strat unlike the other guitars on this list.
Read Richest Musicians in the world
As a charitable contribution to individuals affected by the 2004 Indian Ocean tsunami, Bryan Adams conceived this
This high-priced guitar is special because it bears signatures from 19 famous musicians, including Paul McCartney, Eric Clapton, Jimmy Page, and the Def Leppard guys.
The final cost of $2.7 million is certainly commensurate with the significance of the cause for which it was made.
More on Most Expensive Guitars in the world
JOHN LENNON'S GIBSON J-160 E ACOUSTIC ($ 2,410,000)
John Lennon, widely regarded as the greatest composer of all time, used a wide variety of guitars in his work. Songs like "I Saw Her Standing There" and "I Want to Hold Your Hand" may have been influenced by this 1962 J-160 E Acoustic.
This guitar was one of the most expensive ever sold at auction, for $ 2,410,000. This Gibson guitar was lost after a Beatles performance in 1963, long before it was worth this amount of money.
The previous owner didn't find out who owned it until 2014, when he read an article on the property. When John Lennon reportedly purchased this guitar, he did so for the price of 161 British pounds.
John Lennon's 1962 Gibson J-160E Acoustic-Electric ($2,400,000)
As one of just two acoustic guitars to make our top 10, John Lennon's Gibson J-160E may often be seen in vintage photos of the Beatles in concert.
On early Beatles favorites like "Love Me Do" and "P.S. I Love You," Harrison utilized it frequently in the studio.
It went missing during a 1963 tour by the Beatles and was eventually sold in 1969 for the very un-Beatles-like price of $175 to an "ordinary Joe," where it remained forgotten until roughly 2014. The previous owner did some sleuthing and found out what he had been sitting on.
After the guitar's actual identity was revealed at auction in 2015, it fetched a price that was extremely Beatle-like: $2.4 million.
Jimi Hendrix' Stratocaster -$ 2,000,000
When it comes to electric guitar, Jimi Hendrix marked the beginning and end. All the guitars on this list owe a great deal to his influence since he is as legendary as it gets. Its among the Most Expensive Guitars in the world
His impact is hard to exaggerate. And here we have the Fender Stratocaster he played at the Woodstock Festival in 1969, which was made in 1968.
Paul Allen, co-founder of Microsoft, bought the company. Presently, you may see it on display in Seattle's (Hendrix's birthplace) Museum of Pop Culture.
The guitar played by the greatest guitarist of all time at the greatest event in the world? Yes. That's why we had to drop two million on it.
Peter Green And Gary Moore's Les Paul ($ 2,000,000)
The Gibson Les Paul from 1959 is now one of the Most Expensive Guitars in the world.
A lot of people think it's great because it strikes a nice middle ground between modern conveniences and retro charm in terms of its build quality, materials, and taste.
Certain wealthy collectors are willing to spend up to $ 350,000 for a Gibson Les Paul from 1959. However, the price of a guitar model that is already highly sought-after and pricey might explode if it has a history with two guitar gods. As is the situation with this instrument.
And if you're curious about who would spend $2,000,000 on a guitar, you may remember the name: Kirk Hammet. This 1959 Les Paul was acquired by the famed Metallica guitarist from a local music shop. Who owned it before? specifically, Peter Green, followed by Gary Moore.
Jerry Garcia's Wolf – $ 1,900,000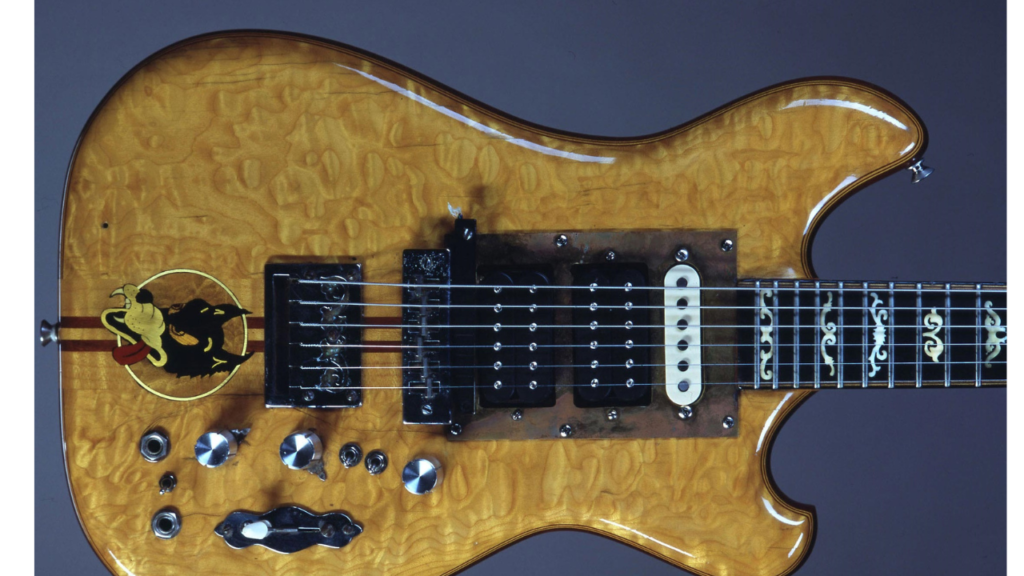 In the early 1970s, the legendary guitarist and vocalist from The Grateful Dead commissioned a guitar from luthier Doug Irvin. 
A guitar dubbed "The Wolf" was what he ended up with. Along with its odd design, it also has a cartoon wolf etched on it.
Despite being the most unusual guitar on our list, it became one of the most expensive instruments ever sold.
Garcia using it for so long contributed to the distinctive appearance that has come to be associated with the band. In 2017, it was sold at auction for $1.9 million.
Bob Marley's Washburn – $ 1,200,000 Some say that Bob Marley, the legendary reggae artist, only ever had seven guitars.
Marley played the guitar on record and in performance many times. One time, Marley gave it to his guitar repairman as a present.
The government of Jamaica eventually purchased it and displayed it in a museum.
Most Expensive Guitars in the world