Most Expensive Cars in The World 2021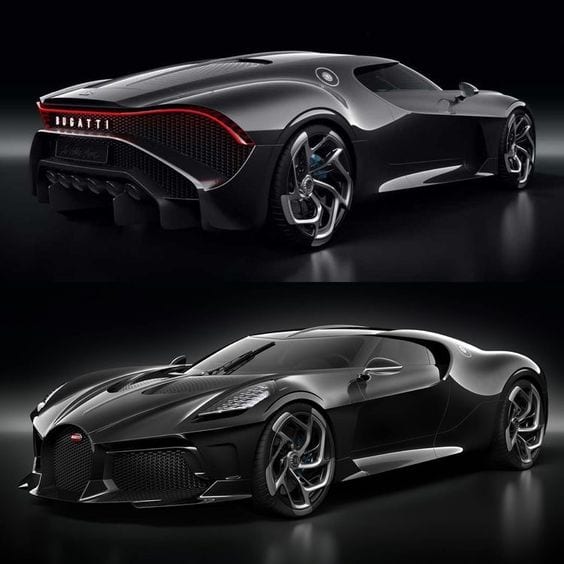 These are the most expensive cars in the world
Most expensive cars in the world 2021– what are they and how much do they cost? We've gathered a collection from 10 most expensive autos all over the world – from Bugatti Chiron with price tag $2,7 million to Rolls Royce Sweptail for $13 million. Some of them are impossible to buy even you have required amount of money. In the way it was happened with Ferrari Pininfarina Sergio – this luxury supercar was sold only to the clients chosen by Ferrari company.
BUGATTI'S LA VOITURE NOIRE – $19 MILLION
Coming from the stables of French luxury sports cars brand is the Bugatti La Voiture Noire. Voiture Noire was unveiled at the Geneva auto show, where it was sold at a record 19 million US dollars. That is a whopping amount of money, and it remains the most expensive car ever produced. This black masterpiece is a combination of speed, technology, luxury, and aesthetics, according to Stephan Winkelmann, Bugatti's president. The car is embedded with an 8-liter engine, 16 cylinders, and 1500 brake horsepower. An ultra-powerful car with six tailpipes.
You want to get one of these. You could have the money, but sadly, Bugatti only produced one of its kind.
ROLLS ROYCE SWEPTAILS – $13 MILLION
Another one-off luxury car from Rolls Royce, this two-seater, a large car is a hand-built, bespoke automobile designed at the request of a yacht and aircraft collector -whose identity remains unknown till today. The car meets the unique specification required by the anonymous requester, taking about five years to carve out the unique car. The car has an intricately carved back and a glass ceiling that transverses the wheel to the trunks. The car has a maximum speed of 150 mph and is the second most expensive car ever.
KOENIGSEGG CCXR TREVITA – $4.8 MILLION
Only two of these unique model have been produced. The car producers admit the difficulty in producing the model, stating "the white carbon fiber used for the Trevita made the car extremely difficult and time-consuming to manufacture." It must be so difficult to produce that it has translated into being so difficult to afford. The car features a unique double carbon rear wing, Inconel exhaust system, carbon ceramic brakes with ABS, airbags, paddle-shift, Chrono instrument cluster, infotainment system, tire monitoring system and a hydraulic lifting system. A prominent feature of this car is used for the unique carbon fiber for the car that makes it sparkle like diamonds under sun rays.
READ RICHEST COUNTRIES IN THE WORLD
LAMBORGHINI VENENO ROADSTER – $4.5 MILLION
Thought of a flying car, well, there is the Lamborghini Veneno roadster that speeds across the road. Made of carbon fiber, the car has a sophisticated, unique design that enables it to retain a spot as one of the best speedsters.
The car boasts a seven-speed single clutch ISR automated manual transmission run a rum at 8,400 rpm, has 740 horsepower and 507 pound-feet of torque. The car accelerates to 60mph in an astonishing 2.9 seconds.
MCLAREN P1 LM – $3.6 MILLION
A great car that had only five units produced, this expensive car boasts of 1000 horsepower and superb aerodynamics. Has a gold-plated engine of 3.8 liters twin-turbo V-8 and weighs 132 pounds in total.
LYKAN HYPERSPORT – $3.4 MILLION
A great car was originating from Lebanon, this piece is known as the Arab wonder and is a wonder anywhere in the world. Fitted with gems, particularly 240 15-carat diamonds, or according to the wishes of the owner. The car has great design and fabulous specifications. The twin-turbo mid-rear 3.8 liters flat-six boxer produce 780 horsepower through the rear wheels, and a 708 pound-feet of torque. Its high speed got it featured in Fast and Furious, as it peaks at 60mph in 2.8 seconds. It can reach 240mph.
BUGATTI VEYRON BY MANSORY VIVERE – $3.4 MILLION
This swift car was launched in 2005 and named car of the decade (2000-2009). It has been modified four times since its inception. The car has an 8.0-liter W16 engine, 1,200 horsepower, and 1,106 pound-feet of torque.
ASTON MARTIN VALKRYIE – $3.2 MILLION
Estimated at that price, the car is one of Aston Martins most beautiful products. With a structure and design modeled after formula one cars. The car has a 6.5-liter V12 engine, a 1:1 power /weight ratio, and a Rimac-built hybrid battery. The company has announced its plan to produce 150 units of the car in 2019, so you can start saving or include that in your budget.
FERRARI PININFARINA SERGIO – $3 MILLION
An invite-only car, the manufacturer's hand-picked the owner of the six handmade, exquisitely designed car. The car, made with carbon fiber has no roof, side windows, and windshield. Boasts an engine of 4.5 liter F136F V-8.
PAGANI HUAYRA BC – $2.8 MILLION
The most expensive Pagani car ever, the car has a 6.0 liter V-12 bi-turbo engine and produces 790 horsepower with an 811 lb-ft torque. The car has a dynamic transition rate at 75 milliseconds.
The Best Liverpool Players of All Time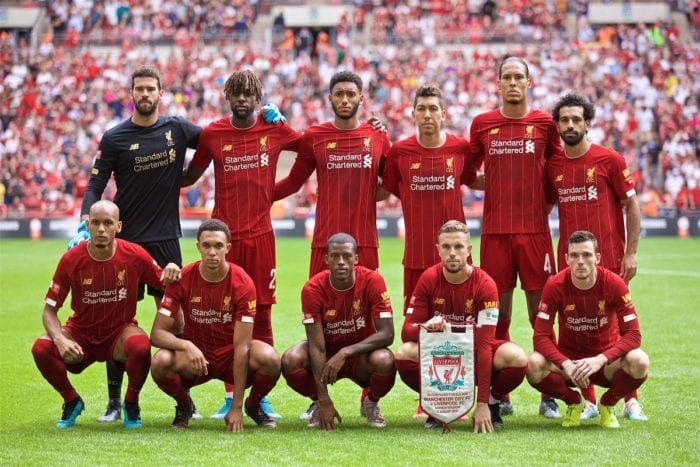 Since its inception in 1892, Liverpool FC have been one of the greatest clubs in English football history. In fact, many will argue based on the club's domestic and European successes, that Liverpool is England's greatest club. With 18 league titles and 5 European cups, along with a slew of FA Cup and League Cup victories, Liverpool is easily in the conversation. With the club's great success, it has needed great players. Some of soccer's greatest players have suited up for the Reds. Whether they were local lads or shrewd transfer purchases, the best players in Liverpool history are international icons due to the club's popularity.
If you were to ask Liverpool fans who were the greatest players to shake the Kop, opinions would be split. One thing you can agree on is that Kenny Dalglish is Liverpool fans' king. between his stint as a player and manager, he oversaw one of the most successful periods in club history. As for this generation's icon, no one can question Steven Gerrard's commitment and his list of accolades. While many players have come and gone, Gerrard, for nearly two decades, has been Anfield's most consistent performer. Not only is he one of Liverpool's favorite sons, but is a proven winner.
This is the list of the greatest soccer players in Liverpool's history. If you see someone who isn't on this list, feel free to add him. Vote or re-rank this list according to who you think is the best Liverpool player ever. Who is the greatest Liverpool player of all time? That's up to you to decide.
Steven Gerrard
Steven George Gerrard, MBE was an English footballer who plays for and captains Premier League club Liverpool. He has played much of his career as a central midfielder, but he has also been used as a second striker, holding midfielder, attacking midfielder, right back and right winger. Gerrard has spent his entire career at Anfield, making his debut in 1998, cementing his place in the first team in 2000, and succeeding Sami Hyypiä as team captain in 2003. His honours include two FA Cups, three League Cups, one UEFA Champions League, one UEFA Cup, and two UEFA Super Cups.
Kenny Dalglish
Kenneth Mathieson "Kenny" Dalglish MBE is a Scottish former footballer and manager. In a career spanning 22 years, he played for Celtic and Liverpool, winning numerous honours with both. He is Scotland's most capped player of all time with 102 appearances, and also Scotland's joint-leading goal scorer, with 30 goals. Dalglish won the Ballon d'Or Silver Award in 1983, the PFA Player of the Year in 1983, and the FWA Footballer of the Year in 1979 and 1983. In 2009 FourFourTwo named Dalglish as the greatest striker in post-war British football, and in 2006 he topped a Liverpool fans' poll of "100 Players Who Shook the Kop".
Ian Rush
Ian James Rush, MBE, is a Welsh former footballer. Rush played for Liverpool F.C. from 1980-1987 and 1988-1996, and is the club's all-time leading goalscorer, having scored a total of 346 goals in all competitions during his two spells at the club. Regarded as one of the greatest ever Liverpool players, Rush came 3rd in the "|100 Players Who Shook The Kop" – an official Liverpool fan poll. Rush also had short spells playing at Chester City, Juventus, Leeds United, Newcastle United, Sheffield United, Wrexham and Sydney Olympic. He made 73 appearances for the Wales national football team and he remains the record goalscorer for Wales with 28 goals between 1980 and 1996
Robbie Fowler
Robert Bernard "Robbie" Fowler is an English former professional footballer and manager who played as a striker from 1993 to 2012. Fowler was known for being a natural scorer with an instinctive goal-poaching ability. Fowler is best remembered for his time at Liverpool and is the sixth-highest goalscorer in the history of the Premier League. He scored 183 goals in total for Liverpool, 128 of which were scored in the Premier League. He earned the nickname "God" from the Anfield crowd, becoming a club legend due to his ruthlessness in front of goal and his cheeky personality
Luis Suárez
In January 2011, Suárez transferred to Liverpool, and won the League Cup in his first full season. In 2014, he was named the PFA Players' Player of the Year and the FWA Footballer of the Year as well as winning the Premier League Golden Boot, and sharing the European Golden Shoe with Cristiano Ronaldo before moving to Barcelona in a transfer worth €82.3 million (£64.98 million), making him one of the most expensive players in football history.
Xabi Alonso
He moved to Liverpool in August 2004 for £10.5 million and won the UEFA Champions League in his first season, under manager Rafael Benítez, scoring the equalizing goal in the Final against Milan. The following season, he won the FA Cup and the FA Community Shield.
Fernando Torres
Torres joined Premier League club Liverpool in 2007, after signing for a club record transfer fee. He marked his first season at Anfield by being Liverpool's first player since Robbie Fowler in the 1995–96 season to score more than 20 league goals in a season. The most prolific goalscoring spell of his career, he became the fastest player in Liverpool history to score 50 league goals. He was named in the FIFA World XI in 2008 and 2009. Torres left the club in January 2011 to join Chelsea for a British record transfer fee of £50 million,
Content on this website is protected by DMCA.  Dont waste your time copying because you would eventually remove it.