Meet The Youngest Olympians Competing At The Tokyo Games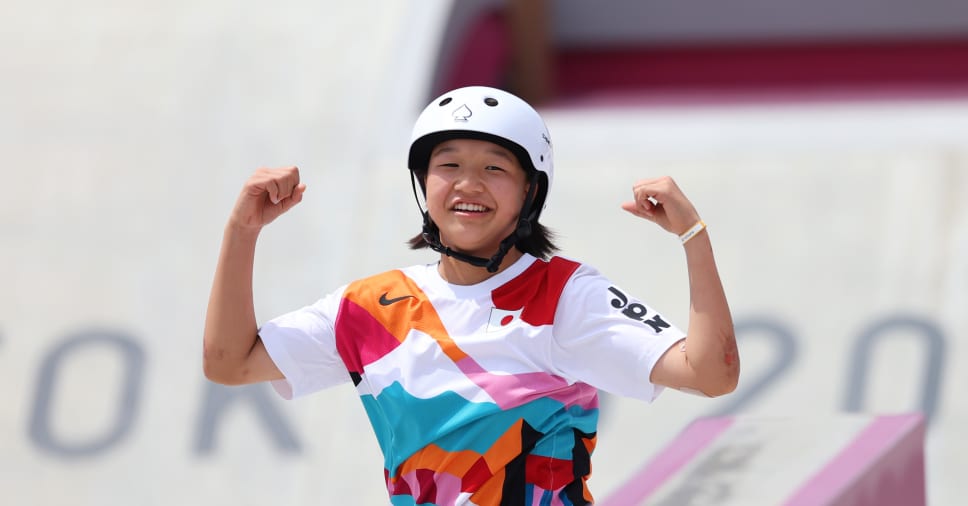 Some of the youngest olympian athletes in the history of the modern Olympic games are competing in Tokyo this summer, and despite their young ages, they're not here to play—even just a few days into the competition, they're already breaking records in their events.
Tokyo's youngest competitor was 12-year-old Syrian table tennis prodigy Hend Zaza, who exited the Games Saturday after losing 4-0 in her first-round match against Austria's Liu Jia.
The second-youngest Tokyo Olympian is 12-year-old Kokona Hiraki, a Japanese skateboarder who is Japan's youngest athlete to ever represent the country in the Summer Games.
iraki isn't the only child skateboarder competing in Tokyo: She'll go up against Great Britain's Sky Brown, who just turned 13 this month, making her Team GB's youngest Summer Olympics competitor ever.
Another one of the Games' youngest competitors is China's Quang Hongchan, who is competing as a diver in the women's 10-meter platform event at just 14 years old.
Read
Another 14-year-old, Canada's Summer McIntosh, set a new Canadian swimming record Sunday when she finished a 400-meter freestyle heat in 4:02.72.
Katie Grimes, a 15-year-old swimmer, is the youngest member of the U.S. swim team since gold medal record holder Katie Ledecky, who debuted in the Olympics at age 15 and, now 24, called Grimes "the future" of the sport during Olympic trials.
The youngest Olympian in the modern history of the games to win a medal was 10-year-old Dimitrios Loundras, a Greek gymnast who helped his team win a bronze medal in team parallel bars at the 1896 Athens Summer Games. Loundras never competed in another Games, but did serve on Greece's Olympic committee as an adult.
There is no universal minimum age for Olympians set by the International Olympic Committee, but individual sports have eligibility limits. Gymnasts, for example, must be 16 years old to compete at the Games, while boxers must have turned 18. Olympic skateboarding, notably, has no minimum age requirement, opening the door for young competitors like Brown and Hiraki.
The young athletes competing in Tokyo this year are doing so during an unprecedented game. After a year's delay over the coronavirus pandemic, the games are going forward with strict pandemic protocols in place. On Sunday, organizers said 137 people connected to the Olympics had tested positive for coronavirus, including more than a dozen Olympians who have since been pulled from competing.
Read Uday Kotak net worth