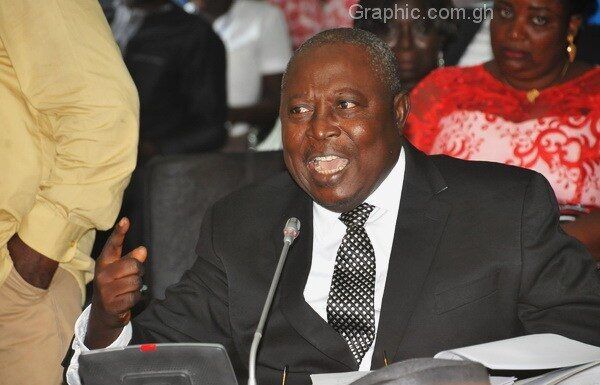 Glusea brings to you Martin Amidu biography and all information you need to know about the former Ghana's Special anti-corruption leader. Keep reading to find out more here
Martin Amidu Biography
Martin Alamisi Burnes Kaiser Amidu is a Ghanaian politician. He was the Attorney-General and Minister for Justice from January 2011 till January 2012. He is the man, who introduced the word 'gargantuan', into the lexicon of Ghanaian politics, when he opened the can of worms about the Woyome scandal which was set to be the worst financial scandal in Ghana's fiscal history at the time.
On 11 January 2018, Martin A.B.K Amidu was named by the President of Ghana as the Special Prosecutor for the newly created Office of the Special Prosecutor.
Amidu served as the Deputy Attorney-General for about the last four years of the Provisional National Defence Council military government. Amidu is a member of the National Democratic Congress(NDC) After civilian rule was established in the Fourth Republic in January 1993, he continued to serve in the government of Jerry Rawlings as Deputy Attorney-General. This he did for both terms lasting eight years until January 2001.
In the December 2000 presidential elections, he stood as the running mate of John Atta Mills. They both however lost to President John Kufuor that year.
In January 2010, following a cabinet reshuffle, President Mills replaced Cletus Avoka with Amidu as the Minister for Interior. As Amidu is a Builsa, some people raised questions as to his neutrality in dealing with the Bawku conflict. He however went successfully through vetting by the Parliament of Ghana and assumed his post.
More on Martin Amidu Biography
Following the second major cabinet reshuffle by President Mills, Amidu became the Attorney general and Minister for Justice of Ghana.
Martin Amidu was relieved of his post on Thursday January 19, 2012 by President John Evans Atta Mills under circumstances described by aids as 'his misconduct' at a meeting chaired by the president at the Osu Castle on January 18, 2012. He made allegations related to alleged financial impropriety on the part of another cabinet minister, allegations he was asked by the president to substantiate.
Martin Amidu, the former Attorney General, single-handedly challenged the legality of the payments after being relieved off his post at the Supreme Court. The Supreme Court in 2014 ordered Mr. Woyome to pay back the money as Supreme Court judges unanimously granted the Attorney-General clearance to execute the court's judgment, ordering Mr. Woyome to refund the cash to the state.
Martin Amidu Biography
Following the delays in retrieving the money, Mr. Amidu in 2016, filed an application at the Supreme Court seeking to examine Alfred Woyome, on how he would pay back the money, after the Attorney General's office under the Mahama Administration, led by the former Minister for Justice, Marietta Brew Appiah-Oppong, discontinued a similar application.
In February 2017 however, Mr. Amidu withdrew his suit seeking an oral examination, explaining that the change of government under the New Patriotic Party under His Excellency the President, Nana Addo Dankwah Akuffo Addo and his Attorney General, Miss Gloria Akuffo's assurance to retrieve all judgment debts wrongfully paid to individuals Mr. Woyome in response prayed the Supreme Court to stay proceedings on the oral examination since he had filed for a review on the case.
His lawyer, Ken Anku, argued that, his client will face an irreparable damage if the oral examination is allowed to take place but the deputy Attorney General, Godfred Dame, opposed the application, describing the reasons as incompetent and unmeritorious according to citifmonline.
He is Ghana's first Special prosecutor nominated for parliament's approval. The nomination was announced by the President of Ghana Nana Akufo-Addo on January 11, 2018. Martin A.B.K. Amidu was sworn into office on Friday, February 23, 2018 by President Nana Addo Dankwa Akufo-Addo at the Flagstaff House.
Amidu at the swearing in ceremony thanked the Attorney General and the President for appointing him, and promised to fight corruption in the country without fear or favour.
Read Akuffo Addo Allegedly Caught on Tape Taking Bribe
He resigned as special prosecutor on 16th November, 2020 after two years in office. He cited among other reasons, presidential interference as the major cause.
Joshua Clottey net worth and Biography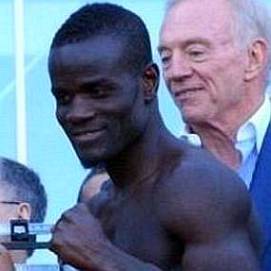 Glusea.com brings to you Joshua Clottey net worth and Biography
Joshua Clottey is a Ghanaian former professional boxer who competed from 1995 to 2019 and held the IBF welterweight title from 2008 to 2009.
Born in Accra, Ghana, Clottey now lives in The Bronx, New York. At the peak of his career, he was notable for his exceptionally durable chin, and was never stopped in any of his five losses. his recent fight which he won was with opponent Azziz Mponda from Tanzania. Clottey won by TKO in round 8.
Joshua Clottey net worth
Read Richest Footballers in Ghana
As a child in his native Ghana, Clottey had a passion for football, a sport that was also played by his father. Clottey moved and spent a few years in the United Kingdom then later to the United States.
Professional career
Clottey rose to prominence by winning his first twenty fights, including 14 by knockout. His performance set him up to fight Carlos Baldomir, in a title defense by Baldomir for the WBC international welterweight title.
Clottey was winning until the 10th round, where he was penalized two points for an intentional head butt. After another clash of heads, Clottey was disqualified.
Clottey rebounded from the controversial loss by winning the African Boxing Union welterweight title in his next fight. He then rolled off a 10 fight winning streak highlighted by his first win on American soil and capture of several minor welterweight and middleweight titles.
Joshua Clottey net worthOn June 13, 2009, Clottey faced Miguel Cotto in New York City at Madison Square Garden for the WBO welterweight title. Cotto dropped Clottey in the first with a jab. Cotto was cut in the third round by an accidental head butt. Clottey's combinations throughout the fight gave Cotto problems. Cotto emerged the winner with a controversial split decision
Read Mayweather Net Worth
Joshua Clottey's Biggest Fight
Clottey had great fights in his career, but the one fight that will forever remain in his memory was the fight against Manny Pacquiao.
on March 13, 2010 Joshua Clottey battled  Manny at the Dallas Cowboys Stadium following the disagreement on terms of a proposed boxing match between Manny Pacquiao and Floyd Mayweather Jr. Clottey lost to Pacquiao by unanimous decision.
Pacquiao threw a total of 1231 punches in the fight, missing 985 and landing 246. Clottey threw a total of 399 punches, 291 missed and 108 hit Manny.
On August 23, 2013, Star Boxing announced Clottey's return to boxing as they have signed the former champion to a contract. Clottey returned to the ring on September 14, 2013, when he faced Dashon Johnson. Clottey defeated Johnson via unanimous decision.
Joshua Clottey's Fighting Style
Clottey has a balanced combination of size, speed, stamina, power, endurance, ring savvy, and a solid chin. In addition, he is an accurate, efficient puncher with effective countering ability.
His defensive skills are top-notch; he stands upright while holding his arms and gloves high to protect himself, which is similar to Winky Wright's defensive stance.
Joshua Clottey Net Worth
Joshua Clottey net worth is estimated at $11 million. He is one of the great athletes from Ghana to have chalked international success.
Amazing Facts About Joshua Clottey
Joshua Clottey was never defeated by TKO during his career
Joshua fought 47 bouts, winning 42, lost 5( one was a disqualification)
24 of Clottey's victories were TKOs
Clottey is rated the second greatest boxer from Ghana begin Azumah Nelson by Pro Boxing
Joshua is also known as Grand Master
Joshua Clottey wins a decision at Minute Maid Park PHOTO: @muls96 for @GoldenBoyBoxing / @GettySport #boxing pic.twitter.com/Hdph904Goz

— Ed Mulholland (@muls96) May 9, 2015
Content on this website is protected by DMCA.  Dont waste your time copying because you would eventually remove it.