Linda Ikeji Biography, Companies, Family.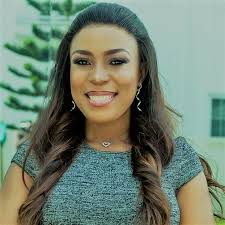 Linda Ifeoma Ikeji was on born 19 September 1980. She is a Nigerian blogger, writer, entrepreneur and former model. She is known for her blog. Linda Ikeji was born and raised in a Catholic family from Nkwerre, Imo State, Nigeria. She is the second child. She began writing at the age of 10.
LINDA 'S CAREER
she started blogging as a hobby IN 2006. At that time, the internet was not as prominent in Nigeria and she had to make her posts at a cybercafé.
Ikeji's blog is apparently her biggest venture. After graduation, Ikeji started blogging in 2006. She became an active blogger in 2007 using a blogger sub-domain lindaikeji.blogspot.com and later obtained her domain www.lindaikejisblog.com.
Linda's name is known all across the country. This woman is one of the most successful bloggers in 2018-2019. In her blog, According to atqnews.com and strategicbusinessteam.com, Linda's net worth ranges from 8-9 million to 40 million U.S. dollars. She is the first Naira billionaire blogger in Africa, and this is an impressive achievement.
In 2016, on her blog, she announced the creation her online TV network, LITV alongside other brands she was establishing. LI TV airs a variety of programmes ranging from talk shows, reality shows, TV series to Movies.
Ikeji also ventured into online radio broadcasting. The station is operated from the Linda Ikeji Media Office. Some of its programmes are broadcast live on LI TV.
Ikeji also opened a Music Platform known as LindaIkejiMusic which was launched on the 21st of November 2016, but it became dormant three months after the Launch .
Linda launched a social networking platform named Linda Ikeji Social on the domain name LindaIkejiSocial.com.
Ikeji runs a non-profit project themed "I'd rather be self made; No thanks". In her interview with HipTV, she revealed that through the project, she assists young girls aged 16–25 who have great business ideas and are willing to venture into entrepreneurship. She gave out the sum of NGN10,000,000 in the Phase 1 of the project.
Linda Ikeji was the biggest Google Search trend in Nigeria for 2014. The name Linda Ikeji was the most searched item by users of Google in Nigeri
In 2015, She moved to her Multi-million Naira Mansion home ., a feat celebrated by many, especially the female gender in Nigeria.
FAMILY AND CHILDREN
The father of Linda's baby is Sholaye Jeremi, who is a businessman and socialite. He is known to be a very influential man in the business world of Nigeria.