John Magufuli Net Worth late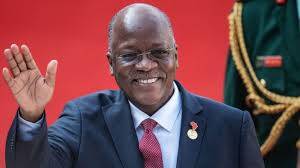 Glusea brings to you the late John Magufuli Net Worth
John Pombe Magufuli was a Tanzanian politician who served as the fifth President of Tanzania from 2015 until his death in 2021. He has served in various capacities in his political life.
Early life and political career
John Magufuli was born on 29 October 1959 in Chato, Tanzania.
John Joseph Magufuli ventured into elective politics after a short period as a teacher at The Sengerema Secondary School between 1982 and 1983.
He taught chemistry and mathematics. Later on, he quit his teaching job and was employed by The Nyanza Cooperative Union Limited as an industrial chemist.
Read Richest Presidents in Africa
He remained there from 1989 to 1995, when he was elected as Member of Parliament (MP) representing Chato district. He was appointed Deputy Minister for Works in his first term as MP.
He retained his seat in the 2000 election and was promoted to a full ministerial position under the same docket. After President Jakaya Mrisho Kikwete was requested to take office, he moved John Joseph Magufuli to the post of Minister of Lands and Human Settlement on 4 January 2006. Subsequently, he served as Minister of Livestock and Fisheries from 2008 to 2010 and again as Minister of Works from 2010 to 2015.
Education
John Joseph Magufuli started his education at The Chato Primary School from 1967 to 1974 and went on to The Katoke Seminary in Biharamulo for his secondary education from 1975 to 1977 before relocating to Lake Secondary School in 1977 and graduating in 1978. He joined Mkwawa High School for his Advanced level studies in 1979 and graduated in 1981.
That same year he joined Mkwawa College of Education (a constituent college of the University of Dar es Salaam) for a Diploma in Education Science, majoring in Chemistry, Mathematics and Education.
Magufuli earned his bachelor of science in education degree majoring in chemistry and mathematics as teaching subjects from the University of Dar es Salaam in 1988. He also earned his masters and doctorate degrees in chemistry from The University of Dar es Salaam, in 1994 and 2009, respectively.
In late 2019, he was awarded an honorary doctorate by the University of Dodoma for improving the economy of the country.
Presidency
On 12 July 2015 Magufuli was nominated as CCM's presidential candidate for the 2015 election, afer winning a majority vote in the final round of the primary over two opponents: Justice Minister and former United Nations Deputy Secretary-General Asha-Rose Migiro, and the African Union Ambassador to the United States of America, Amina Salum Ali.
Although Magufuli faced a strong challenge from opposition candidate and previous CCM political party member Edward Lowassa in the election, held on 25 October 2015, Magufuli was declared the winner by the National Electoral Commission (NEC) on 29 October; he received 58% of the vote. His running mate, Samia Suluhu, was also declared Vice President. He was sworn in on 5 November 2015.
In July 2020 Magufuli was nominated as the CCM's presidential candidate in elections scheduled for October 2020. His nomination was not opposed after the expulsion from the party earlier in the year of Bernard Membe, a former foreign minister who had planned to challenge the nomination.
He received the highest votes and was therefore re-elected to extend his presidency until 2025 for a second term.
John Magufuli Net Worth
John Maguguli net worth is estimated between $500,000 and $1 million. According to AlJazeera, he earned a monthly salary of $4,008, a third of what former president Jakaya Kikwete was reported to be earning. John Maghufuli once stated his salary was Tsh 9 million( almost $4,000 equivalence)
John Magufuli Death
A Kenyan newspaper reported on 10 March 2021 that "an African leader" was being treated for COVID-19 at a hospital in Nairobi, leading to speculation that it could be President Magufuli, who had not been seen in public since February.
On the night of 17 March 2021, Tanzania's vice president, Samia Suluhu, announced Magufuli's death and attributed it to heart-related problems.
He was married to Janeth Magufuli, a primary school teacher, and had three children together.
John Magufuli Net Worth