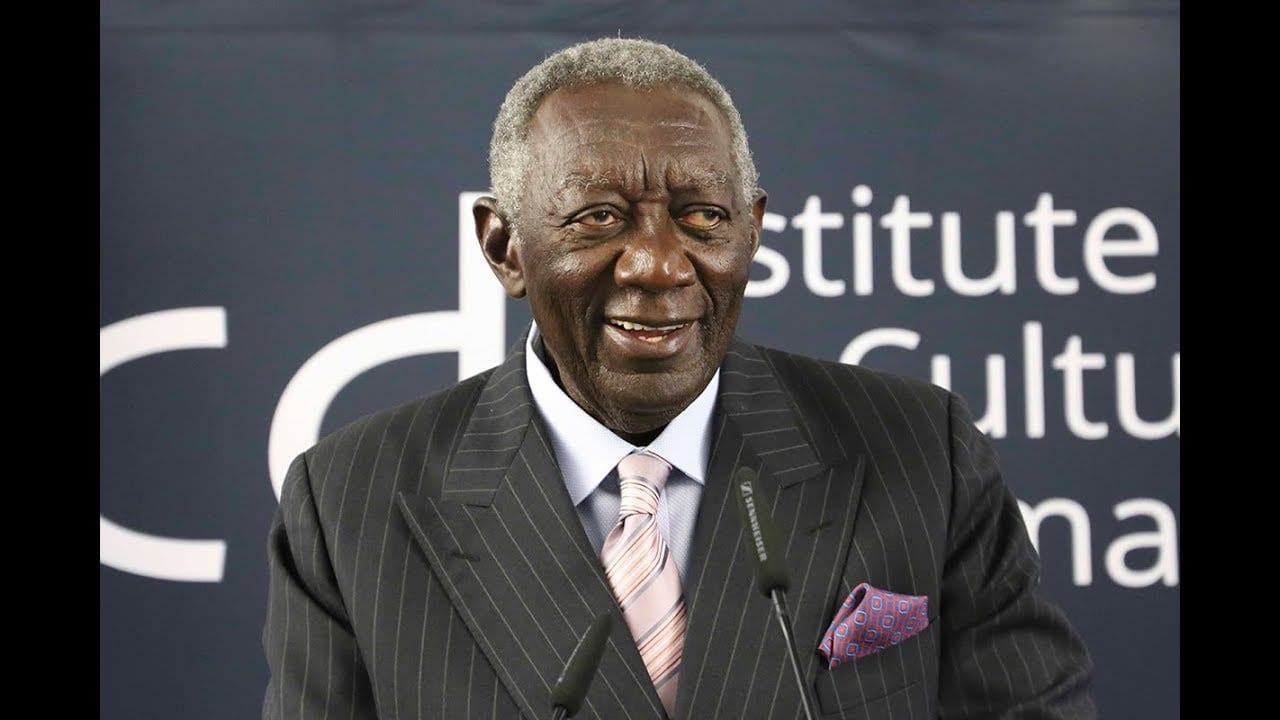 John Kofi Agyekum Kufuor KCB (born 8 December 1938) aka John Kufuor  is a Ghanaian politician who served as the President of Ghana from 7 January 2001 to 7 January 2009. He was also Chairperson of the African Union from 2007 to 2008. His victory over John Evans Atta Mills after the end of Jerry Rawlings' second term marked the first peaceful democratic transition of power in Ghana since independence in 1957.
Kufuor's career has been spent on the liberal-democratic side of Ghanaian politics, in the parties descended from the United Gold Coast Convention and the United Party. He was a minister in Kofi Abrefa Busia's Progress Party government during Ghana's Second Republic, and a Popular Front Party opposition frontbencher during the Third Republic. In the Fourth Republic Kufuor stood as the New Patriotic Party's candidate at the 1996 election, and then led it to victory in 2000 and 2004. Having served two terms, in 2008 he was no longer eligible for the presidency.
An Asante, Kufuor married Theresa Kufuor (née Mensah) in 1962; they have five children together. Kufuor and his family belong to the Roman Catholic Church, and is a Senior Grand Warden of the United Grand Lodge of England Freemasons.  He was born in Kumasi and was educated at Osei Tutu Boarding school (Osei Tutu Senior High School) from 1951 to 1953, Prempeh College from 1954 to 1958, Lincoln's Inn, London (1959–61) and Exeter College, Oxford (1961–64). In the Second Republic's Parliamentary Register Kufuor lists as his hobbies and interests table tennis, reading, football, and film shows. He was once the Chairman of Kumasi Asante Kotoko Football Club.
John Kufuor Early political career
Kufuor served as the Member of Parliament for Atwima Nwabiagya in the Second (1969–72) and Third (1979–81) Republics.
As Deputy Minister of Foreign Affairs he represented Ghana on a number of occasions. From 1969 to December 1971 he led Ghana's delegation to the United Nations General Assembly in New York City, the Organization of African Unity (OAU) Ministerial Meetings in Addis Ababa, and the Summit Conference of the Non-Aligned Movement in Lusaka. In 1970 he led the Ghanaian delegation to Moscow in the Soviet Union, Prague (Czechoslovakia), and Belgrade (Yugoslavia) to discuss Ghana's indebtedness to these countries.
As the Spokesman on Foreign Affairs and Deputy Opposition Leader of the Popular Front Party (PFP) Parliamentary Group during the Third Republic, he was invited to accompany President Limann to the OAU Summit Conference in Freetown, Sierra Leone. He was also a member of the parliamentary delegation that visited the United States in 1981 to talk to the International Monetary Fund (IMF) and the World Bank on Ghana's economic problems.
In January 1982 the leadership of the All People's Party (APP), which was an alliance of all the opposition parties, advised some leading members, including the Deputy Leader of the Alliance, Alhaji Iddrisu Mahama, the general secretary, Dr Obed Asamoah and Kufuor, to accept an invitation from the Provisional National Defence Council (PNDC) to serve in what was purported to be a National Government. Kufuor was appointed the Secretary for Local Government in this new government.
As a Secretary for Local Government, he wrote the Local Government Policy Guidelines that were to be the foundation of the current decentralised District Assemblies.
Elections
On 20 April 1996 Kufuor was nominated by 1034 out of 2000 delegates of the New Patriotic Party (NPP) drawn from all the 200 Constituencies of the Country to run for the President of Ghana on 10 December 1996. After campaigning for less than nine months, Kufuor polled 39.62% of the popular votes to Rawlings' 57% in the 1996 election. On 23 October 1998 he was re-nominated by the New Patriotic Party not only to run again for President but also to officially assume the position of Leader of the Party.
Kufuor won the presidential election of December 2000; in the first round, held on 7 December, Kufuor came in first place with 48.4%, while John Atta-Mills, Jerry Rawlings' Vice-President, came in second with 44.8%, forcing the two into a run-off vote. In the second round, held on 28 December, Kufuor was victorious, taking 56.9% of the vote. When Kufuor was sworn in on 7 January 2001, it marked the first time in Ghana's history that an incumbent government had peacefully surrendered power to the opposition.
Kufuor was re-elected in presidential and parliamentary elections held on 7 December 2004, earning 52.45% of the popular vote in the first round and thus avoiding a run-off, while at the same time Kufuor's party, the New Patriotic Party, was able to secure more seats in the Parliament of Ghana
John Kufuor Presidency
His administration's domestic policy in the first term was marked by fiscal and monetary stringency on the economic front, aimed at stabilising a national economy that had stagnated and was in decline. His social vision was focused on unleashing the entrepreneurial, creative and innovative potential of Ghanaians as a means of creating wealth and hence dealing with the social challenges facing them. This socio-economic vision was encapsulated in the Five Priority Areas Programme, viz., the pursuit of good governance, modernisation of agriculture for rural development, private sector participation, enhanced social services and vigorous infrastructure development. His administration is said to have received the most financial assistance in the history of Ghana, due essentially to donors' distrust for the military governments before it, as well as those with some military connections.
Kufuor's foreign policy was underpinned by what he termed "economic diplomacy". It is within this context that in Africa in general and in West Africa in particular, a good neighbourliness policy has been pursued, which saw Ghana under Kufuor brokering peace in Liberia, Sierra Leone, Ivory Coast and Guinea-Bissau, among other African states. On the global stage, Kufuor actively sought the establishment of a just and equitable international social and economic order, while promoting and safeguarding the interests of Ghana through bilateral and multilateral agreements. His stature as statesman, democrat and credible spokesman for Africa found expression in his invitation to major international meetings and conferences including the founding summit of the AU, G8 Summits in Sea Island, Georgia and Glenneagles, Scotland, and the World Economic Forum.
He served as Chairman of the regional grouping ECOWAS for two consecutive terms – 2003 and 2004. In 2007, due to the policy successes his administration chalked up, Kufuor had his mandate renewed in 2004 and was sworn into office on 7 January 2005. Policy direction in Kufuor's second presidential term built on the foundations laid in the first four years. The administration pursued Ghana's socio-economic transformation in the second term, using the three-pronged approach of private-sector development, human resource development and good governance. At the international level, Kufuor consolidated Ghana's position as the voice of Africa, credible peace broker, beacon of democracy (Ghana was the first country to undergo Peer Review under NEPAD's Africa Peer Review Mechanism) and responsible member of the comity of nations.
On 29 January 2007, Kufuor was elected as Chairperson of the African Union for the 2007–08 AU session. He was succeeded by Jakaya Kikwete of Tanzania on 31 January 2008.  Kufuor was involved in a car accident during his presidency on 14 November 2007, in which another car collided with his, causing it to roll over several times. Kufuor was reported to be uninjured
Health
He started the National Health Insurance Scheme to replace the existent cash-and-carry system;  11 million Ghanaians were registered under this scheme. He set up the National Ambulance Service and built more than 205 hospitals and clinics.  He also built a state-of-the-art emergency centre at the Komfo Anokye Teaching Hospital.  Kufuor also introduced free maternal health care in public hospitals for all expectant mothers.
John Kufuor Education
Kufuor institutionalised the capitation grant for school children at the basic level, whereby each student was entitled to $2 for cultural sports and development. He also started the national school feeding programme. He changed the Senior Secondary School curriculum from three years to four years and renamed it Senior High School. He started the model school senior high school concept in which some deprived schools were upgraded to the level of some first-class senior high schools.
John Kufuor Personal life
Kufuor has five children with his wife, Theresa Kufuor. An Akan, Kufuor speaks the Akan language fluently. He was known for using his language whenever he was campaigning in his native Ashanti Region. Kufuor lives in Accra, Ghana's capital. He has openly professed his membership as a Freemason since being a young lawyer.
Post-presidency
In July 2009, Kufuor became a member of the SNV Netherlands Development Organisation International Advisory Board to contribute his expertise to the organisation's poverty reduction work. In September 2009, Kufuor spoke in the Netherlands at a Dutch government event to mark '60 years of development aid' at the invitation of Dutch Minister Bert Koenders, which was attended by nearly 2,000 people. During his visit to the Netherlands, he was interviewed by the newspaper NRC Handelsblad and the Internationale Samenwerking magazine. He argued for the importance of effective development assistance, pointing out that development aid helped Ghana enter the international capital market.
On 21 September 2009, he delivered the prestigious Legatum Pericles Lecture at the Legatum Center for Development and Entrepreneurship at the Massachusetts Institute of Technology.  Kufuor is the Governing Council Chairman of Interpeace, an international peacebuilding organisation based in Geneva since October 2009. Also in 2009, he served on the High Level Commission on the Modernization of World Bank Group Governance, which – under the leadership of Ernesto Zedillo – conducted an external review of the World Bank Group's governance.
Kufuor was chosen together with Luiz Inácio Lula da Silva to jointly receive the 2011 World Food Prize for their personal commitment and visionary leadership while serving as the presidents of Ghana and of Brazil, respectively, in creating and implementing government policies to alleviate hunger and poverty in their countries. The foundation said the significant achievements of these two Laureates illustrate that transformational leadership truly can effect positive change and greatly improve people's lives.
On 20 September 2011, Kufuor inaugurated the John Agyekum Kufuor (JAK) Foundation with a ground-breaking ceremony for the JAK Centre for Leadership, Governance and Development at the University of Ghana, Legon. The inaugural lecture, which attracted very high local and foreign dignitaries, had H.E. Horst Köhler, former president of Germany, as its guest speaker. Thabo Mbeki, former president of South Africa, and Ghana ex-president Jerry John Rawlings, Kufuor's fiercest critic, were among the dignitaries who attended the ceremony. The ex-presidents also unveiled a plaque on 22 September 2011 for the Kufuor Presidential Library and Museum at Kwame Nkrumah University of Science and Technology (KNUST), Kumasi, which formed part of the John A. Kufuor Foundation.
On 14 October 2011, President Kufuor received the 2011 World Food Prize, along with President Luiz Inácio Lula da Silva for his personal commitment and visionary leadership while serving as the president of Ghana, and in creating and implementing government policies to alleviate hunger and poverty in his country.
Since November 2011 Kufuor has been the first high-level Chair of the Sanitation and Water for All (SWA) partnership.
Numerous NPP supporters tried to barricade President Kufuor's house on 7 January 2013 to prevent him from attending John Dramani Mahama's inauguration, which the NPP as a party had decided to boycott as they felt going would undermine their challenge to Mahama's win in court. Kufuor explained that the party had allowed him to go because he was invited as an ex-President of Ghana and not as a Member of the NPP to the chagrin of the supporters. The Ghana Police Service (GPS) reinforcement had to be sent to his abode to allow him to be able to go for the programme.
At the 62nd regular meeting which was held on 15 September 2017, the Council of the George Grant University of Mines and Technology ( UMaT) appointed Former President Kufour as the first Chancellor of the University,  the appointment taking effect from 1 November 2017. The Investiture of former President Kufuor as Chancellor was held on 12 January 2018.
John Kufuor Awards and accolades
Chatham House Prize (2008)
Distinction of Grand Cordon in the Most Venerable Order of the Knighthood of the Pioneers of the Republic of Liberia (2008)
World Federation of Honorary Consuls' Order of the Gold Star (2008)
Honorary Fellow, Exeter College, Oxford University, and John Moore University, Liverpool, UK
Honorary Doctorate from the University of Cape Coast, Ghana
Knight Commander of the Order of the Bath, conferred by Her Majesty Queen Elizabeth II of Great Britain
Awarded highest award of the Order of the House of Orange, conferred by Her Majesty Queen Beatrix of the Netherlands
Awarded State Honors from various countries including Italy, Germany and Brazil
Leadership and Governance award, Ghana UK-Based Achievement Awards,Impact Africa Summit(2016)
Senior Grand Warden of the United Grand Lodge of England, appointed by His Royal Highness, Prince Edward, The Duke of Kent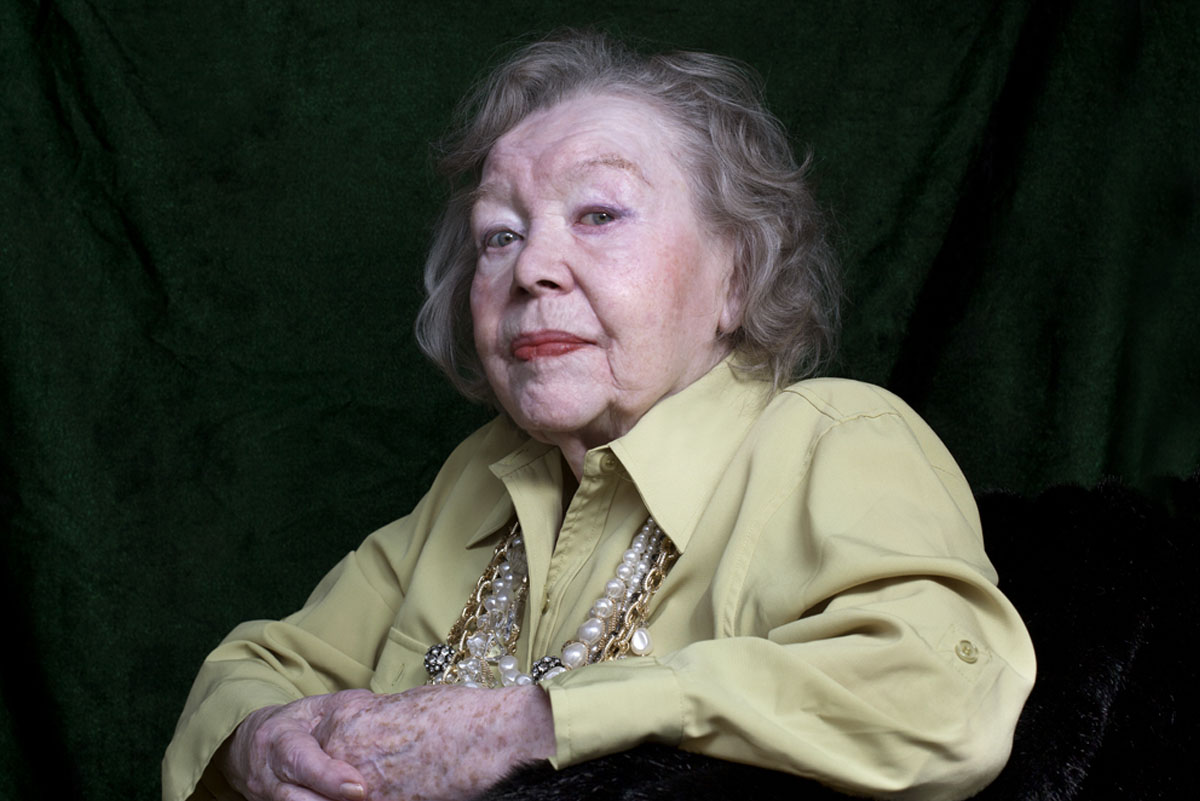 Glynis Johns biography
Glynis Johns was born on 5th October 1923 in Pretoria, South Africa, while her parents were on tour, she is best known for creating the role of Desiree Armfeldt in A Little Night Music on Broadway, for which she won a Tony Award, and for playing Winifred Banks in Walt Disney's musical motion picture Mary Poppins. In both roles she sang songs written specifically for her, including "Send In the Clowns", composed by Stephen Sondheim, and "Sister Suffragette", written by the Sherman Brothers.
She was nominated for the Academy Award for Best Supporting Actress for her work in the 1960 film The Sundowners and, upon the death of Olivia de Havilland in 2020, became the oldest living Academy Award nominee in an acting category. She is one of the last surviving stars from the Golden Age of Hollywood cinema. She is known for the breathy quality of her husky voice and her upbeat persona.
career
Johns made her first stage appearance in Buckie's Bears as a child ballerina at the Garrick Theatre in 1935. She later became a qualified ballet teacher. She was spotted dancing in a children's play during the Christmas holidays and cast in her first notable stage production, St Helena, at the Old Vic in 1936. That year she was also in productions of The Children's Hour and The Melody That Got Lost. She followed this with Judgement Day (1937) and A Kiss for Cinderella (1937)
She made her screen debut in 1938 in the film version of Winifred Holtby's novel South Riding. She had small roles in Murder in the Family (1938), Prison Without Bars (1939), On the Night of the Fire (1940), Under Your Hat (1940) and The Briggs Family (1940). On stage she was in Quiet Wedding (1938).
Johns' scene in The Prime Minister (1941) did not make the final cut, but she had a role in 49th Parallel (1941) as "Anna", replacing Elisabeth Bergner at the last minute. She was in Quiet Weekend (1941–43) on stage, which ran for two years.
Johns had roles in The Adventures of Tartu (1943) and The Halfway House (1944). On stage she appeared in Peter Pan (1943), I'll See You Again (1944) and Fools Rush In (1946).
Johns received good reviews for her performance as Deborah Kerr's best friend in Perfect Strangers (1945) (also titled Vacation from Marriage).
She continued in supporting roles: This Man Is Mine (1946), Frieda (1947) and An Ideal Husband (1947).
Stardom
Johns played the title role in Miranda (1948), a mermaid who causes havoc in a London household, directed by Ken Annakin.
She starred in Third Time Lucky (1949), Dear Mr. Prohack (1949) and State Secret (1950). On stage Johns was in Fools Rush In and The Way Things Go.
Johns supported Richard Todd in Flesh and Blood (1951) and also appeared in the Hollywood-financed No Highway in the Sky (1951). She co-starred with David Niven in Appointment with Venus (1951) for director Ralph Thomas and was one of several names in Encore (1951) and The Magic Box (1951).
Read Top 10 Richest Celebrities in South Africa
Johns was one of Alec Guinness' love interests in The Card (1952). On Broadway she played the title role in Gertie. She was voted by British exhibitors the tenth most popular local star at the box office in 1951 and 1952.
She was reunited with Richard Todd for two swashbucklers made for Walt Disney: The Sword and the Rose (1953) (directed by Annakin) and Rob Roy, the Highland Rogue (1953). In between she made Personal Affair (1953) supporting Gene Tierney.
Johns had the starring role in The Weak and the Wicked (1954) about women in prison, which was a big hit.
She did another for Annakin, The Seekers (1954) with Jack Hawkins, then co-starred with Robert Newton in The Beachcomber (1954). For both these films she was paid £12,500 a picture.
Mad About Men (1954) was a sequel to Miranda, directed by Thomas.
Johns starred in a comedy Josephine and Men (1955) and supported Danny Kaye in The Court Jester (1956). Annakin used her again in Loser Takes All (1956) and she was one of the many actors who made cameos in Around the World in 80 Days (1956).
She returned to Broadway to play the title role in a production of Major Barbara (1956). Johns stayed in America to make the melodrama All Mine to Give (1956).
Personal life
Johns has been married four times. Her first husband was Anthony Forwood (m. 1942–48), with whom she had her only child, actor Gareth Forwood (1945–2007).
Read Top 10 Richest Musicians in Africa
 She was married to David Foster, a Royal Navy officer and later president of Colgate-Palmolive. She married Cecil Henderson, a businessman, in 1960. She married Elliott Arnold, a writer, in 1964
Mark Krok Biography and Net Worth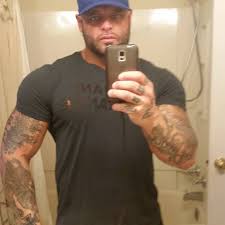 Glusea brings to you Mark Krok Biography and Net Worth
Krok was born in Johannesburg, South Africa. Mark Krok immigrated to Australia in 2002, then to the United Kingdom in 2008, and finally back to Cape Town, South Africa, where he currently resides.
Mark Krok is the son of the late cosmetics and gaming businessman Abraham Krok and his father's second wife Brenda Krok. He has one brother (Dovid Krok) and one sister (Simone Krok), as well as two half-sisters (Elana Pincus (nee Krok) and Shelly Crook (nee Krok) and one half-brother (Maxim Krok) from Abraham Krok's previous marriage. Mark Krok is married to South African Janine Krok.
After his return to South Africa, the South African Revenue Service (SARS) also charged Krok for tax evasion on two counts. The precedent was set by the 1999 agreement for avoidance of double taxation and fiscal evasion between Australia and South Africa.
Read Vusi Thembekwayo net worth
After being found guilty in the case filed against him in RSA on 31 January 2014, Krok appealed to the Supreme Court of South Africa that same year. Krok's appeal was ultimately rejected by the court, and his cases are now closed.
In its ruling against Krok on 20 August 2015, the Supreme Court cited the following:
"The saga began when he (Krok) immigrated to Australia in April 2002. Prior his departure, he had sought professional advice on the tax implications relating to his assets which eventually led to him setting up an elaborate scheme to avoid adverse exchange control implications.
The scheme involved him, inter alia, vesting the beneficial interests in both the assets and the income in a British Virgin Islands company through a series of agreements. In consequence to all his transactional activity, according to Mr Krok, he ceded all his South African income and assets to a company except for the bare ownership thereof, and he had no income or capital gains on which he could be taxed by the ATO under the agreements.
On 29 December 2008, Mr Krok again emigrated from Australia to the United Kingdom. He set up a similar tax avoidance scheme in respect of which he purported to transfer to the second appellant, Jucool Enterprises Inc. (Jucool), a company incorporated in the British Virgin Islands, his assets situated in South Africa.
In 2009, the ATO launched an audit of Mr Krok's taxation affairs as part of a government initiative investigating participation by Australians in internationally promoted tax arrangements to identify taxpayers involved in significant offshore transactions or large transfers of funds to or from Australia. Resultant, the ATO held Mr Krok liable for $25 361 875.79 plus interest."
 The ATO's investigation also revealed Krok's illegal use of funds while his assets were frozen, noting that Krok used South African credit cards from blocked assets for purchases ranging from the purchasing and renovation of multiple holiday homes, private payments to his mother and the purchasing of 2010 FIFA World Cup tickets.
Mark Krok Net Worth
Mark Krok net worth is still under review and will be made public soon
Sibu Mabena Biography and Net Worth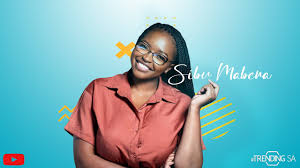 Sibu Mabena was born on 25 October 1991 in Johannesburg, South Africa. 
With a strong background in dance, having competed as part of the South African Hip Hop Dance Team internationally during the years 2005 and 2009 and then becoming one of the choreographers and coaches of the team, Sibu's network spans beyond South Africa's borders.
Going on to work behind the scenes at South Africa's largest urban dance events, namely, Masters of Rhythm and Strictly Hip Hop, and competing as the founder of Phly Nation, the first all-female crew to compete in the Red Bull Beat Battle, doing choreography for Glo CAF Awards in Nigeria, MTV Africa Awards, the South African Film and Television Awards and the South African Music Awards, working as a production assistant on Afropunk Brooklyn and shadowing the Creative Director of the MTV EMAs in Milan to name a few, Sibu's exposure to the urban entertainment scene runs 14 years deep.
She has done work for major global brands such as Miller Genuine Draft, Castle Lite, Brutal Fruit, Fish Eagle, and MTV to name a few. She has also worked with notable artists such as Patoranking, Anthony Anderson, D'banj, Bucie, Khuli Chana, DJ PH, Stogie T, Moozlie, Shimza, and many more… 
Dancing
Sibu Mabena spent her youth years as a student at Pro Arte Alphen Park where she majored in Dance and performed in the Top 10 Academically in 2005 and 2006. Sibu then moved to Midstream College, where she matriculated as Deputy Head Girl in 2009.
Sibu Mabena Net Worth
She founded Mbuduma Communications, now trading as Duma Collective, while doing her Bachelor's Degree in Political Science and International Relations at the University Of Pretoria where she graduated as the class of 2014.
Sibu spent 2 years 'hustling', devising, managing influencer campaigns, and working on events such as Pop Bottles and many other jobs under her company. In 2016, Sibu was hired by VIACOM as their Brand Coordinator (synonym for Brand Manager) for MTV and MTV Base.
She was soon headhunted to become the Operations Manager for a social media agency, growing it from a R1 million-grossing business to a R10 million-grossing business in just under six months, all whilst continuing to build her one-woman operation that grossed its first R1 million in income in 2017.