Jeff Bezos net worth 2020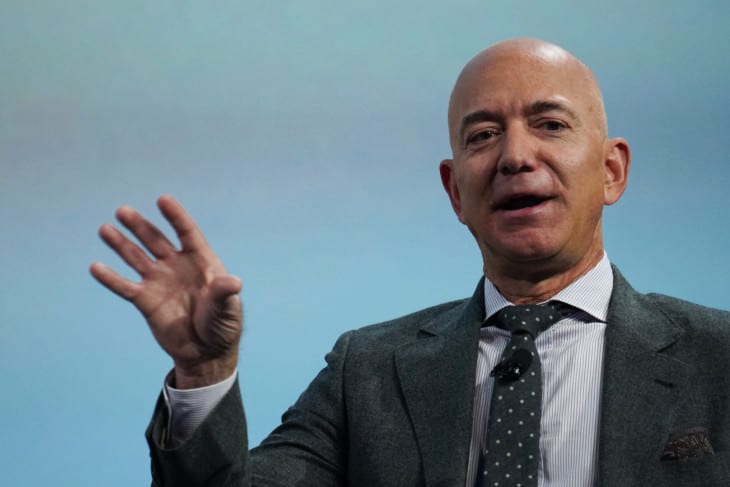 We bring to you Jeff Bezos net worth 2020
Jeffrey Preston Bezos is an American businessman, media proprietor, and investor. He is best known as the founder, CEO, and president of the online retail company Amazon. Jeff Bezos net worth 2020 is estimated  as $139 billion According to Forbes.
Jeff Bezos Profile
He was born on January 12, 1964  in Albuquerque, New Mexico. At the time of his birth, his mother was a 17-year-old high school student and his father was a bike shop owner.
Read Bill Gates net worth
Jeff's initial surname was Jorgensen at birth. However, His parents divorced when he was only Four years old. Jeff's mother got married to Miguel "Mike" Bezos in April 1968. Shortly after the wedding, Mike adopted four-year-old Jorgensen, whose surname was then changed to Bezos.
Bezos attended River Oaks Elementary School in Houston from fourth to sixth grade.
Bezos often displayed scientific interests and technological proficiency, and he once rigged an electric alarm to keep his younger siblings out of his room. The family moved to Miami, Florida, where Bezos attended Miami Palmetto High School in nearby Pinecrest, Florida. While Bezos was in high school, he worked at McDonald's as a short-order line cook during the breakfast shift.
He attended the Student Science Training Program at the University of Florida. He was high school valedictorian, a National Merit Scholar, and a Silver Knight Award winner in 1982.
In 1986, he graduated summa cum laude from Princeton University with a 4.2 GPA and a BSc in electrical engineering and computer science; he was also a member of Phi Beta Kappa.
In addition, he was elected to Tau Beta Pi and was the president of the Princeton chapter of the Students for the Exploration and Development of Space (SEDS).
Read Richest People in the world
Jeff Bezos Business Career
After Bezos graduated from Princeton University in 1986, he was offered jobs at Intel, Bell Labs, and Andersen Consulting, among others.
He first worked at Fitel, a fintech telecommunications start-up, where he was tasked with building a network for international trade. Bezos was promoted to head of development and director of customer service thereafter.
He transitioned into the banking industry when he became a product manager at Bankers Trust. He worked there from 1988 to 1990.
He then joined D. E. Shaw & Co, a newly-founded hedge fund with a strong emphasis on mathematical modelling in 1990 and worked there until 1994. Bezos became D. E. Shaw's fourth senior vice-president at the age of 30.
Conrinue Reading Jeff Bezos net worth 2020
Amazon Foundation
In late 1993, Bezos decided to establish an online bookstore. He left his job at D. E. Shaw and founded Amazon in his garage on July 5, 1994, after writing its business plan on a cross-country drive from New York City to Seattle.
 Bezos initially named his new company Cadabra but later changed the name to Amazon after the Amazon River in South America, in part because the name begins with the letter A, which is at the beginning of the alphabet. He accepted an estimated $300,000 from his parents and invested in Amazon.
In 1998, Bezos diversified into the online sale of music and video, and by the end of the year he had expanded the company's products to include a variety of other consumer goods.
Jeff Bezos net worth 2020
According to Forbes report, Jeff Bezos is added 24 billion dollars to his worth making his net worth $139 billion. He is the richest person on the planet earth and the first centi billionaire in the world.
Bezos first became a millionaire in 1997 after raising $54 million through Amazon's initial public offering (IPO).
He was first included on the Forbes World's Billionaires list in 1999 with a registered net worth of $10.1 billion.
Bezos Investments
Apart from Amazon, Jeff has also invested in a lot business. In September 2000, Bezos founded Blue Origin, a human spaceflight startup company.
He bought  The Washington Post for $250 million in cash in August 2013, Bezos makes personal investments through his venture capital vehicle, Bezos Expeditions. He was one of the first shareholders in Google.
He also invested in Unity Biotechnology, a life-extension research firm hoping to slow or stop the process of aging.
Bezos is involved in the healthcare sector, which includes investments in Unity Biotechnology, Grail, Juno Therapeutics, and ZocDoc
Bezos also supports philanthropic efforts through direct donations and non-profit projects funded by Bezos Expeditions
In 2013, Bezos Expeditions funded the recovery of two Saturn V first-stage Rocketdyne F-1 engines from the floor of the Atlantic Ocean.  They were positively identified as belonging to the Apollo 11 mission's S-1C stage from July 1969. The engine is currently on display at the Seattle Museum of Flight.
Hey, Alexa — show everyone our upcoming Super Bowl ad. Thanks @TheEllenShow and @PortiaDeRossi! pic.twitter.com/U8Qua3dhwg

— Jeff Bezos (@JeffBezos) January 29, 2020
Content on this website is protected by DMCA. reproducing any content on this site without explicit permission is strictly prohibited.