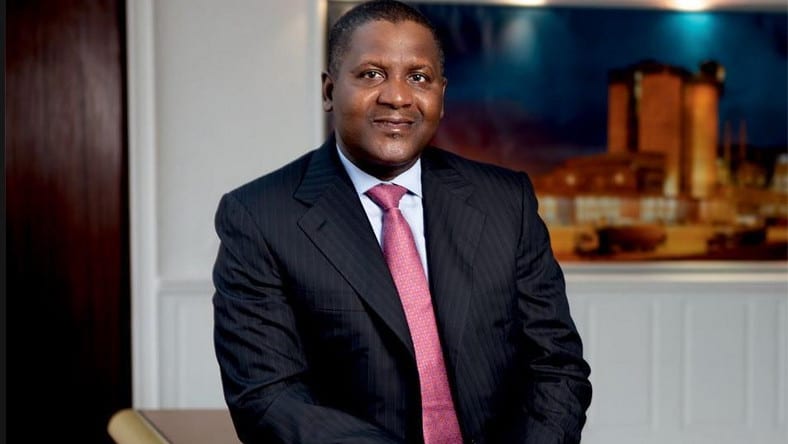 Read about inspirational Aliko Dangote quotes here!
Introduction
Aliko Dangote  is a Nigerian businessman, investor, and owner of the Dangote Group, which has interests in commodities in Nigeria and other African countries
In Nigeria today, Dangote Group with its dominance in the sugar market and refinery business is the main supplier (70 percent of the market) to the country's soft drinks companies, breweries and confectioners. It is the largest refinery in Africa and the third largest in the world, producing 800,000 tonnes of sugar annually. Dangote Group owns salt factories and flour mills and is a major importer of rice, fish, pasta, cement, and fertiliser. The company exports cotton, cashew nuts, cocoa, sesame seeds, and ginger to several countries. It also has major investments in real estate, banking, transport, textiles, oil, and gas. The company employs more than 11,000 people and is the largest industrial conglomerate in West Africa.
READ Top 10 Richest Men in Africa  Forbes
Aliko Dangote Quotes
"Motivation, backed by good planning and correct action leads to success." Aliko Dangote
"I believe in hard work and one of my business success secrets is hard work." Aliko Dangote
"To succeed in business, you must build a brand and never destroy it."Aliko Dangote
"Every morning when I wake up, I make up my mind to solve as many problems, before retiring home." Aliko Dangote
"Endeavor to work as hard as possible to attain a new aim with each day that comes by. Don't go to bed until you have achieved something productive." Aliko Dangote
"When you have made it in life, you must give back to those who made you." Aliko Dangote
"Manufacture, don't just trade." Aliko Dangote
My interest in supporting higher education comes from the realization that we can and we should provide the same quality of education in Nigeria as we have in any part of the World and with a little investment and hard work we can deliver world class education in Nigeria.

— Aliko Dangote (@AlikoDangote) March 3, 2018
Read More Aliko Dangote Quotes
"In whatever you do, strive to be the best at it." Aliko Dangote
"My grandfather once told me; the soul of business is not making money but making people happy." Aliko Dangote
READ Best Mark Zuckerberg Quotes For Entrepreneurs
"Invest now, before it's too late. The train is about to leave the station." Aliko Dangote
"Africa is the fastest-growing economic region in the world. This is the right place to invest." Aliko Dangote
which one of Aliko Dangote Quotes is your favourite?