How to Renew NHIS on Mobile Phone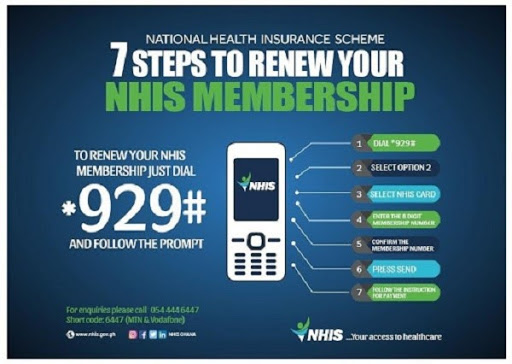 Learn how to check or renew your NHIS card on any phone using these simple steps;
The National Health Insurance Scheme membership has introduced the mobile renewal service that allows members to renew their membership without any much hassle. This is because the government has successfully deployed the NHIS Mobile Renewal Service in all districts across the country. You can access it and renew your NHIS membership just by dialing *929# from any phone network. The Mobile Renewal Service takes away the time-wasting periods and other inconveniences at NHIS District Offices when going for renewals.
Steps to renew your NHIS Membership
Dial *929#
Select Option 2
Select NHIS Card
Enter the 8 Digit Membership Number
Press Send
Follow the instruction for payment
Steps to check your NHIS Membership Validity
Dial *929# – All Networks
Choose Option 1
Select NHIS Card
Enter Your Membership Number
If you are uncertain of anything, kindly call the NHIS Call Centre on 054-444-6447 or 030-274-6447. You can also contact the office via the shortcode 6447 on the MTN and Vodafone networks.
Read How to Buy ECG Prepaid with Mtn momo