How to Place Everything you need in the Kitchen in a Studio Apartment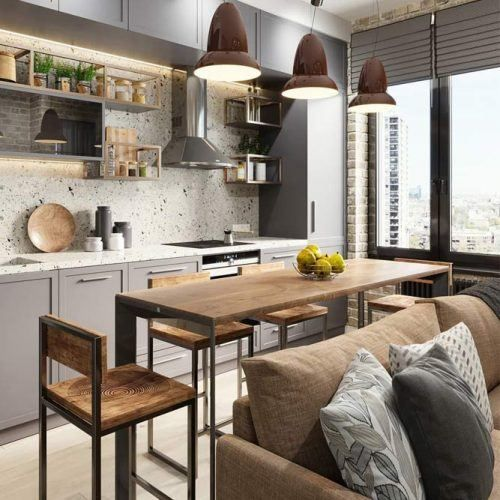 Microscopic studio apartments continue to be very popular due to the price, but their owners are faced with a problem: how to fit everything you need in them and still fit yourself? This is especially true for the kitchen area. Experts have revealed the secrets of arranging micro kitchens.
It is in the kitchen that the largest household appliances are based – a refrigerator, a stove, sometimes a dishwasher, and a washing machine. And for a small studio, this can be a problem. You can save space, firstly, by assessing how much a particular device is needed. It is clear that a sink and a stove are necessary, but the presence of a large refrigerator, oven, or dishwasher can be considered in account with the lifestyle of the owners and the number of residents. Some bachelors living in the center can do without even a stove.
Kitchen in a studio apartment
If you love to cook, order a large and highly functional kitchen set. If not, a small kitchen and a two-burner hob are enough. Be sure to leave a 60-80 cm free worktop. This is the minimum necessary to make cooking conveniently. It also saves space by setting up an island or a bar counter, which is a small apartment can replace a dining table and at the same time serve as a work surface. If it is not the best solution for you think about some square or round table that can be too quite useful and space economizing. 
The big problem of the studio kitchen is how to hide the clutter. A spacious set will help to avoid clutter: there should be a lot of lockers. Then everything in the kitchen will have its place.
However, the less the facades of the kitchen set are split, the more harmonious and holistic the interior of the studio apartment looks. Make two tall drawers instead of the standard four. 
A small kitchen set with tall cabinets up to the ceiling is more spacious, so it is ideal for a small studio kitchen. In the lockers of the second tier, you can store all the things that you rarely use. Functional, neat, dust does not accumulate from above, a beautiful joint with the ceiling cornice, the ceiling visually seems higher. It is better to hide the refrigerator, dishwasher, washing machine behind the facades of the kitchen set. It's not just a matter of interior design and beauty. Kitchen sets provide additional sound insulation, and built-in appliances are quieter.
Zoning or separating the kitchen space from the living area in a studio apartment can be done using furniture, a table-rack, sliding doors, and partitions, a multi-level ceiling, lighting, flooring. Whether or not to highlight a kitchen area depends on the chosen style and general idea. For example, if you are making an interior in a minimalist style and want to emphasize the integrity of the space, then, accordingly, continue decorating the walls of the rooms in the kitchen area, select floor tiles to match the flooring of the room, and even try to reduce its area.
Sometimes you can add a little accent with the contrasting material of the apron between the base of the kitchen and the wall cabinets. Another technique when you need to visually enlarge the space and visually diversify it is to highlight the kitchen area not only with the floor covering, but also with the color or material of the wall. Designers like to lower the ceiling in the kitchen area of ​​the studio: in addition to visually increasing the space, this allows you to solve issues with the placement of ventilation boxes and kitchen hoods. In small kitchens, designers advise focusing on light and pure colors – they will help to avoid the feeling of closed space in the room.
If you have a small studio, choose silent models of appliances and read the description carefully: the noise level of the refrigerator should not exceed 39-40 decibels, hoods should not exceed 50 decibels. Before buying, be sure to read the reviews for the selected model. Always turn on the hood while cooking. Do not buy cheap, it is of little use. Without a powerful hood, furniture upholstery and textiles in the living area will quickly become covered in grease and will
actively absorb kitchen odors. For a small apartment, it is better to buy a built-in hood – it is compact and not conspicuous.
4 Reasons You Need To Bet At Multiple Online Sportsbooks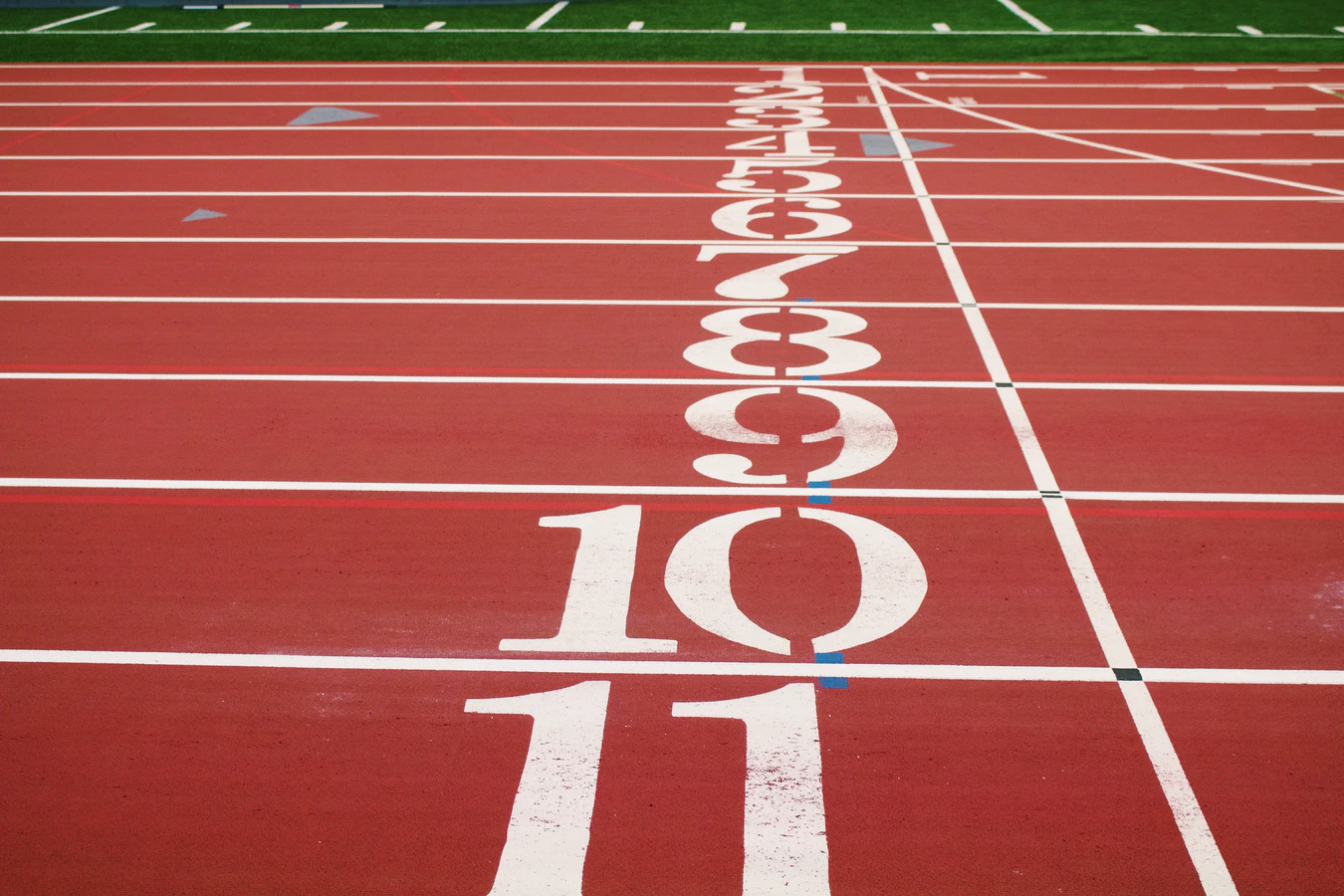 When you decide to finally stop simply watching your favorite sports and start to play and test your luck in sports betting, you might encounter these lines: "you should be online" and "you should bet at multiple online sportsbooks." And when you do your research, many expert bettors also suggest the same idea. And that makes you wonder why there is a need to bet on different sportsbooks when you can do it on one.
Well, you've come to the right place to answer the question that's been bugging you. Here, we will give you the most important and key takeaways that should help you figure out why many bettors, including experts, highly advise betting at multiple sportsbooks. We also included additional information that makes betting at multiple bookies a fun thing.
Reasons Why Betting At Multiple Sportsbook Is An Advantage
First thing you should know is that betting on multiple online sportsbooks is a great idea. If you did your research, you could find principles mentioned by many expert bettors that having multiple accounts on different online sportsbooks will gain you leverage. That means the more accounts you have, the better chances of improving your profit or your winnings.
So here's the first reason why…
Line Shopping
Any sports bettor who wants to become an expert or be professional should know how to do line shopping or "odds shopping." This is one of the basic principles in sports betting, and it's one of those fundamentals that must be mastered.
Line shopping or odds shopping is like buying your favorite pair of shoes. You visit one shop and another to find the best price for the item. Once you spot the best price, you grab it. That ends with the same quality and brand of the shoes but purchased it at a lower price. That's the concept of line shopping- getting the best value for your money.
However, there's a trick that you should know in the world of sports betting. A Sportsbook will set their odds differently from others, all because they're favoring the crowd's favorite or they want to balance their money roll while keeping their patrons happy. This is why you need to sign up for multiple online sportsbooks; to beat this trick.
Lots Of Offers
This one thing that many sports bettors enjoy so much: free money and tons of offers on promotions and bonuses!
Online bookies are businesses, and just like any other business, they want to make their clients happy as much as possible all the time. This is to ensure that the client will return and still play at their platform. And the things they do to make this possible? That's to keep them entertained and fascinated.
Newly signed-up users usually have free money that they can enjoy when trying their luck and taste betting without the need to use their real money. There are also free bets that require no real money from you, but it turns into real cash prizes when you win. There are also risk-free bets that entice sports bettors to keep on playing.
Timing
In sports betting, timing is very crucial, and this is one thing that you should learn. When you sign up for different bookies, you'll learn that they're rolling out their betting offerings at different times. Some bookies post their moneyline at night before the event takes place. With this type of timing, you can still see how the line shift gives you time to do some readjustments. This can be an advantage for you.
But some bookies post their moneyline on the day of the event; some post it an hour before the event. This might be a problem if you're using this kind of bookie. You don't have time to adjust your bets or make necessary changes as the line starts to shift.
If you're the type of bettor who wants to study line movement, this type of bookie is not for you, and you should start checking other bookies out there.
More Variety In Betting Options
Suppose you want to enjoy the lucrative world of sports betting, or you're just bored with the typical money line, over/under, and other betting types. In that case, many bookies offer a variety of betting options, and it might get you interested and hooked. Some of these other betting varieties are easy to play with, some offer hefty cash prizes, and some offer decent wins.
The more sportsbook accounts you have, the more options you have at your disposal. And it means you have more chances of winning or improving your profit. You play and win, and sometimes, if you lose, it's a manageable loss since some of these betting types require a low betting price.
To sum it all up
Betting at multiple online sportsbooks offers you many advantages that can make you improve your winnings. You can always play the traditional betting types or enjoy and indulge in some minor betting varieties that don't require too much research and analysis. There's one thing that you should remember all the time, always choose a credible bookie. There are tons of them already on the web, so make sure you study them or ask experts if they are trusted ones. You don't want to get robbed on the online web.
Melinda French Gates Now A Billionaire After Stock Transfer From Bill Gates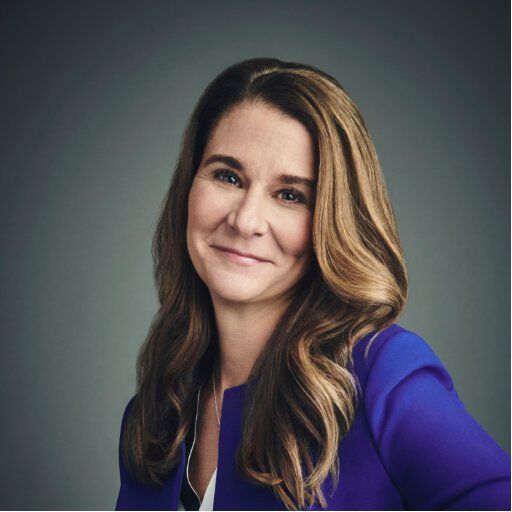 According to reports from Forbes, Melinda Gates is now officially a billionaire. After the two announced their decision to end their 27-year-old marriage.
Bill's investment vehicle, Cascade Investment, transferred $1.8 billion in securities to Melinda on Monday, May 3, the same day the pair announced their surprise divorce, according to SEC filings. That makes Melinda worth at least $1.8 billion, while the stock transfer puts a slight dent in Bill's net worth, which fell to an estimated $128.6 billion, from $130.4 billion. Even after the ten-figure transfer, the Microsoft cofounder remains the fourth-richest person in the world. 
Melinda received 2.94 million shares of AutoNation and 14.1 million shares of Canadian National Railway Co., which are worth $309 million and $1.5 billion, respectively. (Bloomberg News first reported the transfer.) Bill uses Cascade Investment, a holding company based in Kirkland, Washington, to manage his money, including the proceeds from selling Microsoft shares. Bill at one point owned a significant slice of Microsoft, but has given away (to the Gates Foundation) or sold most of his stake over the years and now holds less than 1%.
The stock transfer is almost certainly part of Bill and Melinda's divorce settlement. While it's unclear if they signed a prenup, according to their divorce filing Bill and Melinda asked a judge in Washington State to divide their assets based on the terms of a separation contract—a document that is typically signed when spouses are living apart but have not yet divorced. The terms of the contract weren't disclosed. Bill may have also transferred other assets to Melinda in nonpublic transactions. 
Mindfulness Activities to Find Calm at Any Age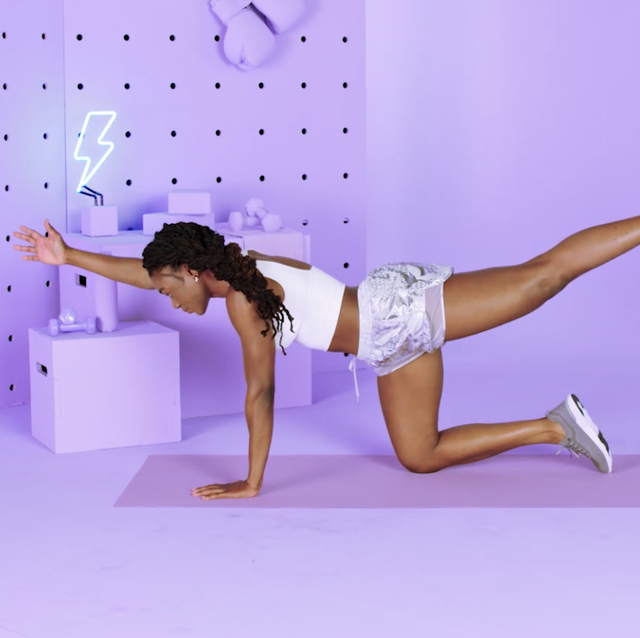 The practice of mindfulness is gaining popularity as a way to ease stress, soothe anxiety, and be more present and engaged in life.
Good news: Incorporating mindfulness activities into your routine can be incredibly simple, no matter what your age.
With a little forethought, almost everything you do can become an opportunity for mindfulness
The everyday mindfulness activities below offer plenty of opportunities to slow down, get present, and be more aware of yourself and your surroundings.
Mindfulness activities for adults
One of the most common and well-known mindfulness activities for adults is meditation. While it may seem esoteric or inaccessible, meditation can actually be very simple.
These exercises are meant to transform everyday experiences into mindful moments.
Walking meditation
Walking meditation is exactly what it sounds like: a form of meditation you practice while walking, often in a straight line or circle.
You can do it almost anywhere, whether you're walking to work, taking a stroll around the neighborhood, or hanging out with your kids at the park.
Mindful driving
If you're driving your car, you can engage with the process by focusing on the weight of the vehicle underneath you, the texture of the road you're driving on, the sound of the tires against the gravel, even the shape and feel of the seat against your rear.
Then, you can send your focus out to scan your environment and become aware not only of other vehicles, lights, and pedestrians, but also of the terrain, foliage, and skyline. With practice, you may even become a better driver.
Keep your phone on silent, turn off the music, and save the makeup application for the parking lot.
Single-tasking
You likely (correctly!) guessed that single-tasking is the opposite of multitasking. All it requires is showing up fully to whatever task you're working on.
If you're working on the computer, focus on one task at a time. As much as you may not want to, close all the browser tabs that aren't relevant to the project you're working on. This can help free up mental space and might even create laser-focus.
To deepen the practice, focus on:
how you're breathing
how your body feels in your seat, or how your feet feel against the floor if you're standing
the sensation of the air or your clothes against your skin
the structure and posture of your body
Mindful eating
Mindful eating is a way to turn something you do every day into a mindfulness practice.
You can make mealtimes more mindful with a few basic mindful eating practices, like listening to the sizzle of your pan and chewing slowly to savor every bite.
Other mindful eating tips you might want to try:
Try eating with your non-dominant hand.
Eat the first few minutes of your meal in silence and focus on the flavors, aromas, and texture of your food.
Turn off your TV and put your phone away while you eat.
Mindful gardening
Gardening is a great way to practice mindfulness and connect with nature at the same time. Set yourself up with a simple task, like planting some seeds or watering some flowers.
As you do so, place your hand in the soil and feel its texture. Is it rough or fine? Is it damp or dry? Is it warm or cool? Allow yourself to enjoy the process as if you were a child playing.
Notice the weather — not through your mind, but through your sensations. Do you have goosebumps from a chill in the air, or is there sweat on your brow from the hot sun?
Notice any other forms of life around you, like a chattering squirrel or chirping bird. You're likely to meet a worm or roly-poly in the soil, too.
Content on this website is protected by DMCA. reproducing any content on this site without explicit permission is strictly prohibited.