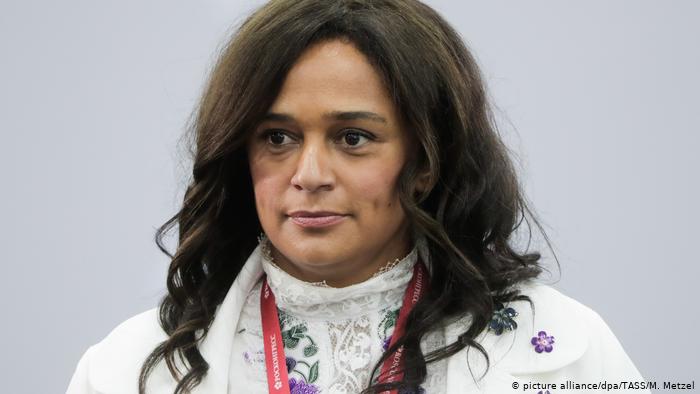 The daughter of Angola's longtime former president accumulated riches through embezzlement and money laundering, an Angolan court claims. To recover what was looted, the government froze her assets. Then Portuguese authorities followed suit.
Eight years ago, Forbes declared Isabel dos Santos the richest woman in Africa, worth an estimated $3.5 billion. The daughter of Angola's longtime former president grew immensely wealthy in a textbook case of how to loot a country. Now, with her father out of office, her empire is a shadow of what it once was, with corruption charges levied against her by her country, assets frozen by courts in three different nations and a lawsuit claiming hundreds of millions of dollars in unpaid debt in a fourth country. Forbes assumes she has no access and likely no chance to gain back control of the frozen assets—together worth about $1.6 billion if not frozen—so we give her no value for them and by our calculations she is no longer a billionaire. As a result, Forbes has dropped Dos Santos, who was worth an estimated $2.2 billion in January 2020, from our newly released 2021 list of Africa's richest people.
The onetime African "princess" is by no means a pauper. She's reported to have a home on a private island in Dubai, another residence in London and a $35 million yacht. She likely has bank accounts and assets that Forbes and legal authorities have yet to track. She is said to be splitting her time between Dubai—where her husband, Sindika Dokolo, died in a diving accident in October—and London, where Dokolo's funeral was held in November at Westminster Cathedral. Through a spokesperson Dos Santos declined to comment.
The Road To Riches
As Forbes spelled out in an August 2013 article (co-written and reported by Angolan journalist Rafael Marques de Morais), Isabel dos Santos is the eldest daughter of former Angolan President Jose Eduardo dos Santos, who ruled the country from 1979 to 2017. While he ran the poverty-stricken but oil-rich country, she garnered significant stakes in Angola's strategic industries—banking, cement, diamonds and telecom—making her the most influential businessperson in her homeland. More than half of her assets were stakes in Portuguese companies, adding international credibility. (Angola, a former Portuguese colony, achieved independence in 1975.) When Forbes outed her as a billionaire in January 2013, the government disseminated the news as a matter of national pride, living proof that the country had arrived. Read Top 10 Richest Black Women in the World
As best we could trace, every major Angolan investment held by Dos Santos stemmed either from taking a chunk of a company that wanted to do business in the country or from a stroke of the president's pen that cut her into the action. Her story was a rare window into the tragic kleptocratic narrative that grips resource-rich countries around the world.
In Portugal, the companies Dos Santos invested in—several banks, a cable TV company and an engineering firm—turned a blind eye to the questionable source of her investment funds, says Ana Gomes, a former member of the European Parliament and a member of Portugal's Socialist Party (and currently a candidate for president in Portugal). "When she bought stakes in banks in Portugal . . . I kept saying, 'What is the origin of the money? Why are you allowing her to launder money through our system?'" laments Gomes, who filed details of the alleged money laundering with Portuguese judicial authorities starting in 2016. No action was taken in response.
In early 2020 Dos Santos sued Gomes for defamation in a Portuguese court. She took issue with Gomes tweeting and going on TV saying that Dos Santos' bank was a money laundering machine for her. Dos Santos lost the case, but her lawyers have appealed the ruling.
Source : Forbes