How can I buy ECG prepaid with MTN mobile money?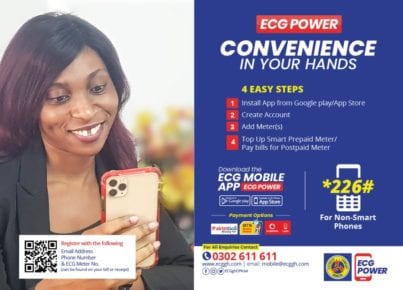 How can I buy ECG prepaid with MTN mobile money?
If you want to learn to use buy ECG prepaid with MTN mobile money, then this article is for you. You can buy ECG prepaid with mobile money either using and app or a short code. We have covered all in this article. Keep reading to fine out.
The ECG mobile app is the safest way to buy your prepaid credit to avoid unnecessary contact in the wake of the covid-19 partial lock down.
How can I buy ECG prepaid with MTN mobile money using the Mobile app
Install the mobile app from Google play store or apple app store
Register by entering your email address, phone number and choosing a password or transfer an existing account to the new phone.
3. Once you have successfully registered, you will be taken to the app homepage, add meters to your account
4. since your motive is to buy credit, choose make payment
5. Enter the meter number, and choose the payment method which is mobile money
6. Enter the mobile number and amount you want to buy.
7. A confirmation message will be sent for you to confirm your payment.
How can I buy ECG prepaid with MTN mobile money using the Mobile app
1. If you are not using a smart phone, you can still buy prepaid or pay bills using a short code.
2. Dial *226# on your phone
3. Choose the option you want to perform ie. Top up prepaid, pay bill or update customer information
4. Follow the options to complete your transaction.
ECG Contacts
You can contact ECG if you have any complaints
Electro-Volta House
P. O. Box 521
Accra, Ghana
Call Centre: +233 302 611 611
Tel: +233 (302) 676727-47
Email: [email protected]
MORE INFORMATION ABOUT ECG
The ECG is a limited liability company owned by Ghana's government. It was incorporated under Companies Code, 1963 (Act 1979) in February 1997.
It was established in 1947, with the responsibility of distributing power to all parts of the country. In 1962, the company became the electricity division.
Later on, in 1967 it was converted into the Electricity Corporation of Ghana by (NLCD 125). In 1987, the Northern Electricity Department (NED) took over the Northern region from ECG, the responsibility of electricity distribution.
NED was established under the Volta River Authority (VRA). Since then, the ECG has been left with the responsibility of power distribution in six operational regions of South Ghana.