What is George Weah net worth ?
George Manneh Oppong Weah is the 25th and current president of Liberia. He was also a professional football player between 1981 and 2003.
George Weah net worth is $ 30 million making him one of the richest people in Liberia
Widely regarded as one of the greatest African players of all time, in 1995, he was named FIFA World Player of the Year and won the Ballon d'Or, becoming the first and to date only African player to win these awards.
George Weah Profile
Weah was born on 1st October, 1966. He was raised in the Clara Town district of Monrovia.
His father, William T. Weah, Sr., was a mechanic while his mother, Anna Quayeweah was a seller.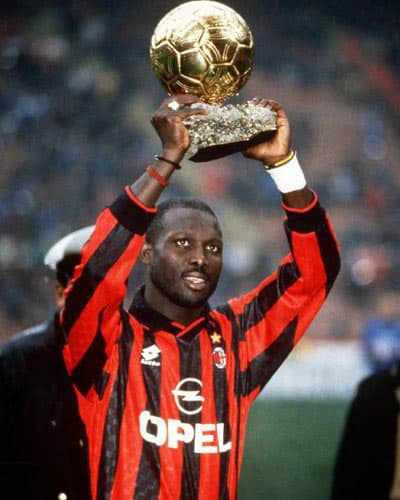 Goerge attended middle school at Muslim Congress and high school at Wells Hairston High School, and reportedly dropped out in his final year of studies.
Read Also The Richest Men in Africa
He began to play football for the Young Survivors youth club at the age of 15 and later moved to other local football clubs, assuming starring roles for Mighty Barrolle and Invicible Eleven. Before his football career allowed him to move abroad, Weah worked for the Liberia Telecommunications Corporation as a switchboard technician.
George Weah net worth
George Weah Career
After playing in the Liberian domestic league at the beginning of his successful career and winning several national honours Weah's abilities were discovered by the Cameroon national team coach, Claude Le Roy, who relayed the news to Arsène Wenger.
He Monaco in 1988. Weah moved to Paris Saint-Germain in 1992 where he won Ligue 1 in 1994 and became the top scorer of the 1994–95 UEFA Champions League. He signed for A.C. Milan in 1995 where he spent four successful seasons, winning Serie A twice.
Weah played for Chelsea and Manchester City in England before returning to Marseilles in France. He ended his career at Al-Jazira in 2003
Read More on Top 10 richest people in Liberia
George Weah Political Career
Weah became involved in politics in Liberia following his retirement from football. He formed the Congress for Democratic Change and ran unsuccessfully for President in the 2005 election, losing to Ellen Johnson Sirleaf in the second round of voting.
In the 2011 election, he ran unsuccessfully for Vice President alongside Winston Tubman. Weah was subsequently elected to the Liberian Senate for Montserrado County in the 2014 elections. Weah was elected President of Liberia in the 2017 election, defeating the incumbent Vice President Joseph Boakai and sworn in on 22 January 2018.
George Weah Net Worth
George Weah is one of the richest people in Liberia with a net worth of $ 30 million
He has been involved in several humanitarian for his country Liberia.
During his playing career he became a UN Goodwill Ambassador.
He has also been named a UNICEF Goodwill Ambassador