Formula 1's Highest-Paid Drivers: Clash Between Hamilton And Verstappen Extends To Their Bank Accounts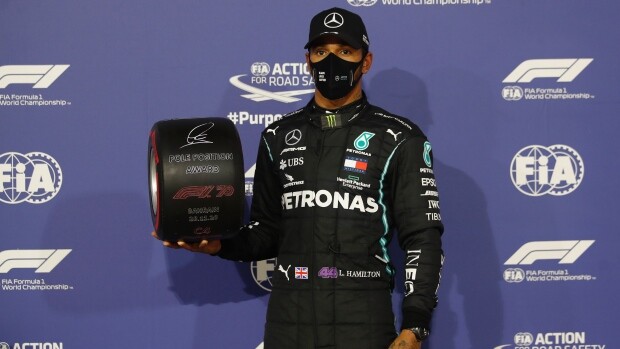 An era of uncontrolled spending in Formula 1 came to a screeching halt this year, but one group remains untouched by the series' first-ever budget cap: the sport's drivers. F1's ten highest-paid stars are projected to pull in a collective $211 million in salary and bonuses this season.
Leading the pack is Mercedes superstar Lewis Hamilton, who is on pace to earn $62 million on the track in 2021. That figure includes a $55 million base salary—more than double what his closest competitor is guaranteed—as well as a projected $7 million in bonuses for race wins. But with Hamilton currently stuck in second in the standings, and in danger of missing out on the drivers' title for only the second time in the past eight years, his projection does not include a championship bonus, leaving him a bit shy of his $66 million on-track total for 2020, when he won 11 races and the title.
Red Bull Racing's Max Verstappen is the driver in pole position to receive that championship bump this year, pushing him up to a projected $42 million in salary and bonuses, comfortably No. 2 on the earnings list. He is followed by Fernando Alonso, with $25 million in his debut season at Alpine.
Hamilton, who has four wins through ten races, still has time to overtake Verstappen, with the gap in the standings a mere eight points and 12 races remaining on the schedule (plus a 13th if F1 can find a replacement for the canceled Australian Grand Prix in November). Either way, though, Hamilton is guaranteed to lead the F1 earnings race, as he has each year since 2014, when he first knocked Alonso from the top spot among the series' drivers on the Forbes list of the world's highest-paid athletes with $29 million in salary and bonuses and $32 million with endorsements included.
The big-ticket salaries are key for F1 drivers, who collect far less from endorsements than superstars in other sports like tennis and the NBA. F1 drivers for the most part spend little energy off the track beyond appearances they're obligated to make for their teams and the associated carmakers. (The teams themselves are partly to blame, placing restrictions on the categories of sponsors their drivers can partner with.) While Hamilton rakes in an estimated $12 million from sponsors—most of whom also back his team—even Verstappen makes only $1 million in endorsements annually.
Still, the drivers' salaries should continue to make up for the marketing gap. F1's new budget cap, introduced this season, limits spending to $145 million per team in 2021 and $135 million by 2023—an earth-shattering change at top teams Mercedes, Ferrari and Red Bull Racing, whose budgets have soared past $300 million and even $400 million in recent years. The regulations have forced them to slash design and research expenditures and eliminate scores of staff positions, but driver salaries remain exempt from the cost-cap calculation and will be one of the few line items that deep-pocketed teams can continue to throw cash at to differentiate themselves.
Of course, an effort is now afoot to limit that spending as well, but at least in the near term, expect the rich drivers to get even richer.
Here are Formula 1's ten highest-paid drivers for 2021.
Lewis Hamilton, who replaced Michael Schumacher at Mercedes in 2012, has become an icon on the same level as his predecessor. Last year, Hamilton matched Schumacher's record with his seventh F1 drivers' championship, and he has dominated the competition with his earnings the way that Schumacher, the world's highest-paid athlete in 2000 and 2001, once did. The 36-year-old signed a two-year contract extension with Mercedes this summer, following up on a three-year, $140 million deal in 2015 and a two-year, $100 million extension in 2018. He is also the founder of X44, a team in the new off-road electric-SUV racing series Extreme E.
Coming off consecutive third-place finishes in 2019 and 2020, Max Verstappen has reached a new level in 2021, with five race wins and a lead on Lewis Hamilton—even after a controversial collision with Hamilton knocked him out of Sunday's race and narrowed his advantage to 8 points. Verstappen is only 23 but rates as an established star: In 2015, at age 17, he became the youngest driver in F1 history, and he became the youngest to win a race a year later. Verstappen—whose father, Jos, also raced in Formula 1—was named Personality of the Year in 2015, 2016 and 2017 by the Fédération Internationale de l'Automobile, the auto-racing governing body.
After two years away from the F1 track, Fernando Alonso is back with Alpine. The 39-year-old, once at the center of the series' Spygate and Crashgate scandals, has rebuilt himself into a tremendously popular driver, in part by broadening his auto-racing horizons. In recent years, he has competed in the ​​Indianapolis 500, entered the Dakar Rally and won the endurance races 24 Hours of Le Mans and 24 Hours of Daytona. The Spaniard won the drivers' championship in 2005 and 2006 with Renault—an earlier incarnation of his current team.
Recommended Reads
Top 50 Richest Musicians In Africa