Fenty Beauty Net Worth 2023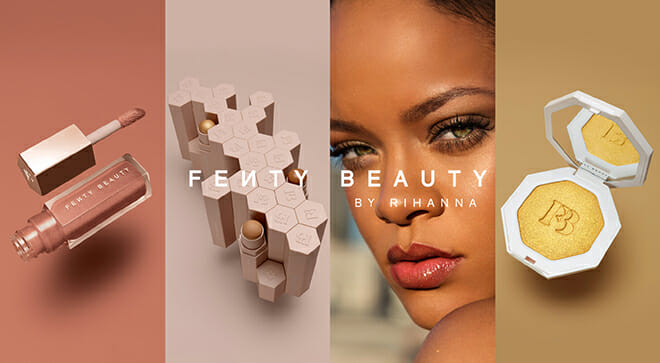 Fenty Beauty net worth 2023: Fenty Beauty is a cosmetics brand that was launched on September 8, 2017 by Rihanna. The brand is popular for its broad inclusivity across skin tones and gender, especially its Pro Filt'R foundation. The original foundation launch included 40 shades, since expanded to 50. In this article, we will be bringing to you Fenty Beauty net worth. read on to find out.
Fenty Foundation
Rihanna launched Fenty Beauty in 2017 when she was 29 years old. Previously she had collaborated with MAC Cosmetics, as well as released 10 fragrances via Parlux Ltd, but Fenty Beauty was her first solo cosmetics brand.
She developed the line with luxury conglomerate Louis Vuitton Moët Hennessey (LVMH), signing a deal in 2016 to produce Fenty Beauty through LVMH's Kendo division. Kendo Holdings, Inc, is an "incubator" company that manufactures cosmetics as white-label products for sale through cosmetics retailer Sephora, another LVMH subsidiary, as well as other outlets.
Women's Wear Daily reported that LVMH may have paid $10 million (USD) for the agreement, which followed on Kendo deals to produce Marc Jacobs Beauty and Kat Von D Beauty lines.
Rihanna, who is from Barbados, created Fenty Beauty to provide for the inclusion of all skin tones in cosmetics offerings, including extensive shade offerings for people with deeper skin tones.
History
Fenty Beauty's first products went on sale on September 8, 2017. The launch coincided with New York Fashion Week, where Rihanna also had a runway show for her collaboration with Puma.
The promotion was so extensive, The New York Times wrote, "one might be forgiven for thinking it's actually Rihanna New York Fashion Week."
In the US, the line launched in Sephora stores, on the Sephora website, and on Fenty Beauty's website. In the UK, Fenty Beauty was initially exclusive to Harvey Nichols department stores, until it was announced in May 2019 the line would also become available in the high street chemistBoots UK.
Fenty Beauty is available online or in-store in over 15 countries. Fenty Beauty arrived in Saudi Arabia, seen as a potentially lucrative market for the brand,with cosmetic sales in the country at an all-time high.
Read Richest Female Musicians in the world
On January 11, 2019, Fenty Beauty launched Pro Filt'r Instant Retouch Concealer in 50 shades.
In addition, Pro Filt'r Foundation add 10 new shades, bringing the total to 50, with the concealer shades number to correspond to the same number foundation. Each shade of Pro Filt'r concealer range is made to correspond with the same or any suitable Pro Filt'r Foundation number.
The company also announced a setting powder product, the Pro Filt'r Instant Retouch Setting Powder in eight translucent shades, as well as a number of beauty tools, including Powder Puff Setting Brush 170, Precision Concealer Brush 180, and Lil Precision Makeup Sponge Duo 105
Awards
Fenty Beauty was named to Time magazine's list of the 25 best inventions of 2017, alongside NASA's Martian spacecraft InSight, Apple's iPhone X, Nike's Pro Hijab, and the Tesla Model 3. Time cited Fenty Beauty's 40-shade range of foundations that quickly sold out.
Fenty Beauty also won the WWD Beauty Inc. award in 2017 for launch of the year in the prestige sector.
Fenty Beauty Net Worth
Fenty Beauty net worth is $17 billion according to Forbes. According to Bernard Arnault, chairman and chief executive officer (CEO) of LVMH, Fenty Beauty's sales reached almost 500 million euros ($573 million) by the end of 2018. Forbes reported that following 15 months of operation, in 2018, Fenty Beauty accumulated US$570 million in revenue. The entire operation is worth US$17 billion, of which 15% belongs to its CEO, Rihanna