Evan Spiegel Net Worth 2023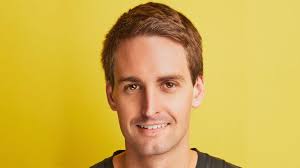 Evan Spiegel net worth 2023: Evan Spiegel is an American business tycoon who founded the Snap. Inc, an American Social media company which produced the Snapchat, a multimedia instant messaging app in America which is currently used by over 293 million people worldwide. Spiegel was a le to accomplish this with the help of colleagues and fellow students at Stanford University by name Bobby Murphy and Reggie Brown. Spiegel happens to be the youngest billionaire in the world back in 2015.
If you love using this amazing app called snap chat, I am sure you are interested in knowing about the net worth, background and how Evan Spiegel managed to become so popular with the app. Keep reading to find out.
Evan Spiegel Net Worth Summary
Net worth: $13.7 billion
Full Name: Evan Spiegel
Date of Birth: 4th of June, 1990
Nationality: American
Occupation: Business mogul, CEO of Snap Inc.
Marital Status: Married
Early Life
Evan Spiegel was born on the 4th of June, 1990 on Los Angeles, California, to John W. Spiegel and Melissa Ann Thomas who were both lawyers. He attended Crossroads School for Arts and Sciences after which proceeded to get enrolled in Stanford University.
Read Bill Gates net worth
Evan Spiegel began attended design classes at Otis College of Art and Design prior to his enrollment in Stanford University. He also worked as a career instructor in Cape Town, South Africa as an intern in a biomedical company.
Career
Who would have thought that the design and launching of Snapchat will become something that will fetch Evan Spiegel billions of dollars today? Before becoming a full time business Snapchat began as a product design class project which Evan Spiegel, together with two of his colleagues Bobby Murphy and Reggie Brown, were working on in 2011.
At first it was called "picaboo" while still in its prototype stage before it was later given the name Snapchat. To the surprise of Evan Spiegel, Bobby Murphy and Reggie Brown, Snapchat had already gained so much popularity recording an amazing 1 million users worldwide. This made Spiegel to leave school to focus on the development of Snapchat.
Evan Spiegel and Bobby Murphy pledged a whooping 13,000,000 shares of Class A common stock for the next 15-20 years education, arts and youth non-profit in 2017. To support the aforementioned areas, Snap Foundation was established to oversee the running of these areas. They also made a $3 million donation to Covid-19 victims.
What is Snapchat
Snapchat is an American multimedia instant messaging app that was launched by billionaire trio Evan Spiegel, Bobby Murphy and Reggie Brown on September 2011 , with Evan Spiegel being the CEO. One of the main features of Snapchat is that it contains pictures and messages that are mostly available for a brief period before becoming inaccessible to those at the receiving end.
Though it originally focused on the sharing of photos from one person to the other, Snapchat now features users' "stories" of 24 hours of chronological content, together with "Discover", which allows brands to show their ad-supported brief content. Since it was launched on 2011,snao chat has recorded immense growth in terms of the number of users, as at July 2021 the number of users worldwide had increased to an awe-inspiring 293 million.
Evan Spiegel Net Worth
Evan Spiegel net worth 2023 is $13.2 billion according to forces estimation. His primary source of income is through Snapchat. Spiegel has donated nearly $154 million in Snap stock. He and Murphy have pledged to donate 13 million shares to the Snap Foundation. He is one of the richest men in the world
Controversies
There have been some controversies surrounding Evan Spiegel while he was AT Stanford University with regards to some emails that were sent by him which were leaked to Gawker in 2014. The content of the emails was a misogynistic and homophobic comments encouraging getting women heavily with the aim of getting them to have sex and also supporting underage drinking.
Is Evan Spiegel Married?
Evan Spiegel got married to his amazing wife Miranda Kerr in 2015. Their marriage is blessed with two lovely children, Hart Kerr Spiegel and Myles Spiegel.
At what age did Evan Spiegel become a billionaire?
Evan Spiegel who is the youngest billionaire, first hit is billions at the age of 25 in 2015. By this time, the value in his Snapchat shares had hit a ground shaking $1 billion which made him the youngest self made billionaire.
Read
what do you think about Evan Spiegel net worth ? leave your reply in the comments section below.