Elon Musk is the richest man in the world. He was recently named the Time person of the year. Most people attach Elon Musk to the companies Tesla and Space X, However, Elon Musk has got his hands in a lot more of companies than you may have thought of. In This article, we will be bringing to you everything you need to know about Elon Musk including; his Companies, Children, Movies and every other information you need to know wo about the wealthiest man and and of the best inventors of our time Elon Musk.
Who is Elon Musk?
Elon Reeve Musk popularly called Elon Musk is an Engineer and a businessman. He was born on June 28, 1971 in Pretoria, Transvaal, South Africa to a Canadian Mother and a South African father.
Musk has a younger brother, Kimbal (born 1972), and a younger sister, Tosca (born 1974). He attended Waterkloof House Preparatory School and Bryanston High School before graduating from Pretoria Boys High School.
Around age 10, Musk developed an interest in computing and video games and acquired a Commodore VIC-20. He learned computer programming using a manual and, at age 12, sold the code of a BASIC-based video game he created called Blastar to PC and Office Technology magazine for approximately $500.
Aware that it would be easier to enter the United States from Canada, Musk applied for a Canadian passport through his Canadian-born mother. While awaiting the documentation, he attended the University of Pretoria for five months; this allowed him to avoid mandatory service in the South African military.
 Musk arrived in Canada in June 1989, and lived with a second-cousin in Saskatchewan for a year, working odd jobs at a farm and lumber-mill. In 1990, he entered Queen's University in Kingston, Ontario. Two years later, he transferred to the University of Pennsylvania, where he graduated in 1995 with a Bachelor of Science degree in economics and a Bachelor of Arts degree in physics.
Elon Musk Companies
Founder, CEO and Chief Engineer of SpaceX CEO and product architect of Tesla, Inc. Founder of The Boring Company and X.com (now part of PayPal) Co-founder of Neuralink, OpenAI, and Zip2 President of Musk Foundation.
Tesla
As the co-founder and CEO of Tesla, Elon leads all product design, engineering and global manufacturing of the company's electric vehicles, battery products and solar energy products.
Since the company's inception in 2003, Tesla's mission has been to accelerate the world's transition to sustainable energy. The first Tesla product, the Roadster sports car, debuted in 2008, followed by the Model S sedan, which was introduced in 2012, and the Model X SUV, which launched in 2015.
Model S received Consumer Reports' Best Overall Car and has been named the Ultimate Car of the Year by Motor Trend, while Model X was the first SUV ever to earn 5-star safety ratings in every category and sub-category in the National Highway Traffic Safety Administration's tests.
In 2017, Tesla began deliveries of Model 3, a mass-market electric vehicle with more than 320 miles of range, and unveiled Tesla Semi, which is designed to save owners at least $200,000 over a million miles based on fuel costs alone.
In 2019, Tesla unveiled Cybertruck, which will have better utility than a traditional truck and more performance than a sports car, as well as the Model Y compact SUV, which began customer deliveries in early 2020.
Tesla also produces three energy storage products, the Powerwall home battery, the Powerpack commercial-scale battery, and Megapack, which is designed for utility-scale installations. In 2016, Tesla became the world's first vertically-integrated sustainable energy company with the acquisition of SolarCity, the leading provider of solar power systems in the United States, and in 2017 released Solar Roof – a beautiful and affordable energy generation product.
Space X
As lead designer at SpaceX, Elon oversees the development of rockets and spacecraft for missions to Earth orbit and ultimately to other planets. In 2008, the SpaceX Falcon 1 was the first privately developed liquid fuel rocket to reach orbit, and SpaceX made further history in 2017 by re-flying both a Falcon 9 rocket and Dragon spacecraft for the first time.
Soon after, Falcon Heavy, the most powerful operational rocket in the world by a factor of two, completed its first flight in 2018. In 2019, SpaceX's crew-capable version of the Dragon spacecraft completed its first demonstration mission, and the company will fly NASA astronauts to the International Space Station for the first time in 2020.
Building on these achievements, SpaceX is developing Starship – a fully reusable transportation system that will carry crew and cargo to the Moon, Mars and beyond ­– and Starlink, which will deliver high speed broadband internet to locations where access has been unreliable, expensive, or completely unavailable.
By pioneering reusable rockets, SpaceX is pursuing the long-term goal of making humans a multi-planet species by creating a self-sustaining city on Mars.
Neurolink
Elon is also CEO of Neuralink, which is developing ultra-high bandwidth brain-machine interfaces to connect the human brain to computers.
The Boring Company
He also launched The Boring Company, which combines fast, affordable tunneling technology with an all-electric public transportation system in order to alleviate soul-crushing urban congestion and enable high-speed, long-distance travel. The Boring Company built a 1.15 mile R&D tunnel in Hawthorne, and is currently constructing Vegas Loop, a public transportation system at the Las Vegas Convention Center.
Previously, Elon co-founded and sold PayPal, the world's leading Internet payment system, and Zip2, one of the first internet maps and directions services.
Who are Elon Musk's six children?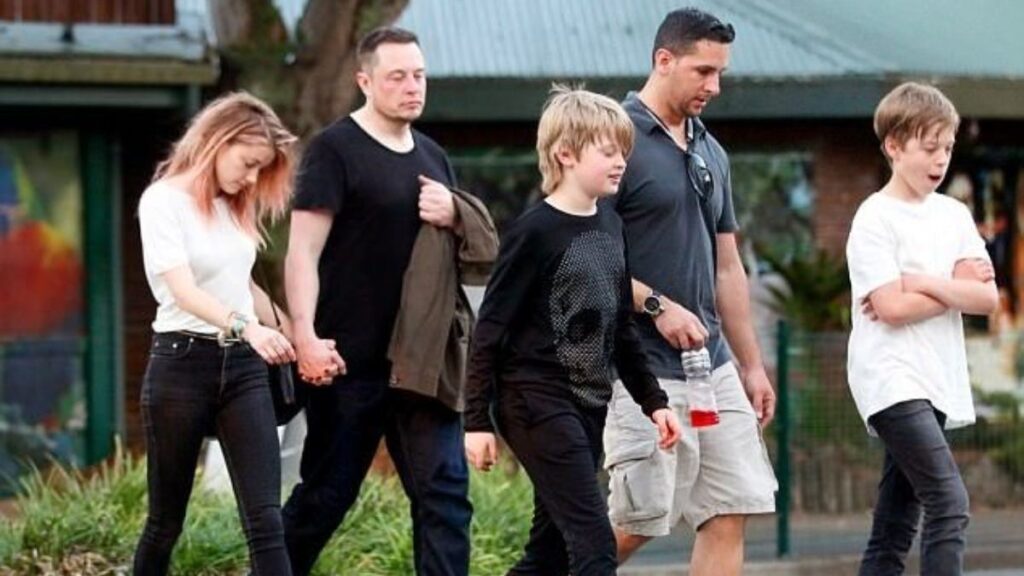 Nevada Alexander Musk
Musk's first child, Nevada Alexander Musk, was born in 2002, two years after he married Canadian author Justine Wilson in 2000.
Sadly, he died at just 10 weeks old of sudden infant death syndrome.
Twins – Griffin and Xavier Musk
In 2004, Musk and then-wife Justine welcomed twins Griffin and Xavier.
The twins, who are now 17, were conceived through IVF.
Very little is known about the boys.
Triplets – Kai, Saxon and Damian Musk
The former couple's triplets Kai, Saxon and Damian Musk were born in 2006.
They too were conceived through IVF and custody is shared between the two parents, after they divorced in 2008.
The triplets are now 15.
Musk has never spoken publicly about his life with his sons.
In a previous interview, Wilson said: "Almost all of my non-work waking hours are spent with my boys, and they are the love of my life."
X Æ A-Xii
On May 5, 2020, Elon Musk and his former partner Grimes announced the arrival of their little boy.
The pair initially named their newborn child X Æ A-12.
The name appeared to be partially inspired by one of the songs from 33-year-old Grimes' last album – 4ÆM.