Donald Trump Quotes That Make Sense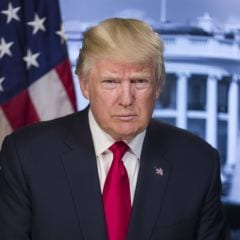 There's been a lot of talk about Donald Trump and his views on certain issues concerning what's wrong with America.
But the fact remains, Donald Trump is an incredibly successful businessman, and we can't forget some of the wise words he's said over the years. Even if the other half are completely ludicrous.
Check out these 25 inspirational Donald Trump quotes that actually make sense.
25 Donald Trump Quotes
1. "Sometimes by losing a battle you find a new way to win the war." – Donald Trump
2. "You have to think anyway, so why not think big?" – Donald Trump
3. "Without passion you don't have energy, without energy you have nothing." – Donald Trump
4. "You know the funny thing, I don't get along with rich people. I get along with the middle class and the poor people better than I get along with the rich people." – Donald Trump
5. "In the end, you're measured not by how much you undertake but by what you finally accomplish." – Donald Trump
6. "When somebody challenges you, fight back. Be brutal, be tough." – Donald Trump
7. "What separates the winners from the losers is how a person reacts to each new twist of fate." – Donald Trump
8. "Anyone who thinks my story is anywhere near over is sadly mistaken." – Donald Trump
9. "Experience taught me a few things. One is to listen to your gut, no matter how good something sounds on paper. The second is that you're generally better off sticking with what you know. And the third is that sometimes your best investments are the ones you don't make." – Donald Trump
10th of 25 Donald Trump Quotes
10. "Money was never a big motivation for me, except as a way to keep score. The real excitement is playing the game." – Donald Trump

11 "If you're interested in 'balancing' work and pleasure, stop trying to balance them. Instead make your work more pleasurable." – Donald Trump

12. "The point is that you can't be too greedy." – Donald Trump

13. "I try to learn from the past, but I plan for the future by focusing exclusively on the present. That's where the fun is." – Donald Trump

14. "I have an attention span that's as long as it has to be." – Donald Trump

15. "Sometimes your best investments are the ones you don't make." – Donald Trump

16. "I wasn't satisfied just to earn a good living. I was looking to make a statement." – Donald Trump

17. "A lot of people don't like to win. They actually don't know how to win, and they don't like to win because down deep inside they don't want to win." – Donald Trump

18. "I judge people based on their capability, honesty, and merit." – Donald Trump

19. "You learn their honesty, you learn their competitiveness. You learn a lot about a person. It's not that they have to sink the putt and there's a great deal of talent involved – but you do learn about how competitive a person is on the golf course, and frankly, how honest." – Donald Trump

20th of 25 Donald Trump Quotes

20. "I always want to think of myself as an underdog." – Donald Trump

READ The 20 Richest Politicians in the World

21. "I'm competitive, and I love to create challenges for myself. Maybe that's not always a good thing. It can make life complicated." – Donald Trump

22. "I've been making deals all my life." – Donald Trump

23. "The way I run my business seems to be easier than the way I run my life." – Donald Trump

24. "If you love what you do, if you love going to the office, if you really like it – not just say it, but really like it – it keeps you young and energized. I really love what I do." – Donald Trump

25. "In real life, if I were firing you, I'd tell you what a great job you did, how fantastic you are, and how you can do better someplace else. If somebody steals, that's different, but generally speaking, you want to let them down as lightly as possible. It's not a very pleasant thing. I don't like firing people." – Donald Trump