Cyril Ramaphosa Net Worth 2023
Cyril Ramaphosa net worth 2023: Cyril Ramaphosa is a South African politician who has a net worth of $450 million, He is the current President of South Africa. Read more here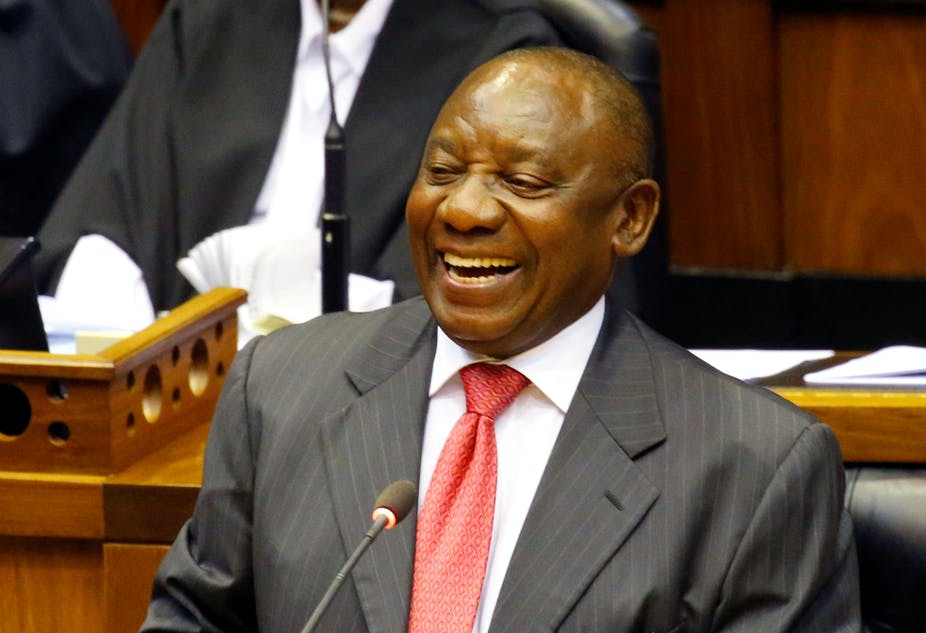 Cyril Ramaphosa Net Worth and biography
Cyril Ramaphosa net worth 2023:Cyril Ramaphosa is a South African politician and the fifth and current President of South Africa. He was  Previously an anti-apartheid activist, trade union leader, and businessman. Cyril Ramaphosa net worth is  R6.4 billion ($450 million) 
Early life
Ramaphosa was born in Soweto, Johannesburg, on 17 November 1952, to Venda parents.
He is the second of the three children to Erdmuth and retired policeman Samuel Ramaphosa.
Ramaphosa attended Tshilidzi Primary School and Sekano Ntoane High School in Soweto.
In 1971, he matriculated from Mphaphuli High School in Sibasa, Venda where he was elected head of the Student Christian Movement.
Cyril subsequently registered to study law at the University of the North (Turfloop) in Limpopo Province in 1972.
While in school, Cyril was detained in solitary confinement for eleven months in 1974 and 1976 for organizing pro-Frelimo rallies and unrest in Soweto respectively.
Read Richest Actors in South Africa
After his release, he became a law clerk for a Johannesburg firm of attorneys and continued with his legal studies through correspondence with the University of South Africa (UNISA), where he obtained his B. Proc. Degree in 1981
Ramaphosa Career
Ramaphosa joined the Council of Unions of South Africa (CUSA) as an advisor in the legal department. He also formed the union National Union of Mineworkers(NUM)
Ramaphosa served as chairman of the National Reception committee, which co-ordinated arrangements for the release of Nelson Mandela and subsequent welcome rallies within South Africa, and also became a member of the international Mandela Reception Committee. He was elected General-Secretary of the ANC in a conference held in Durban in July 1991.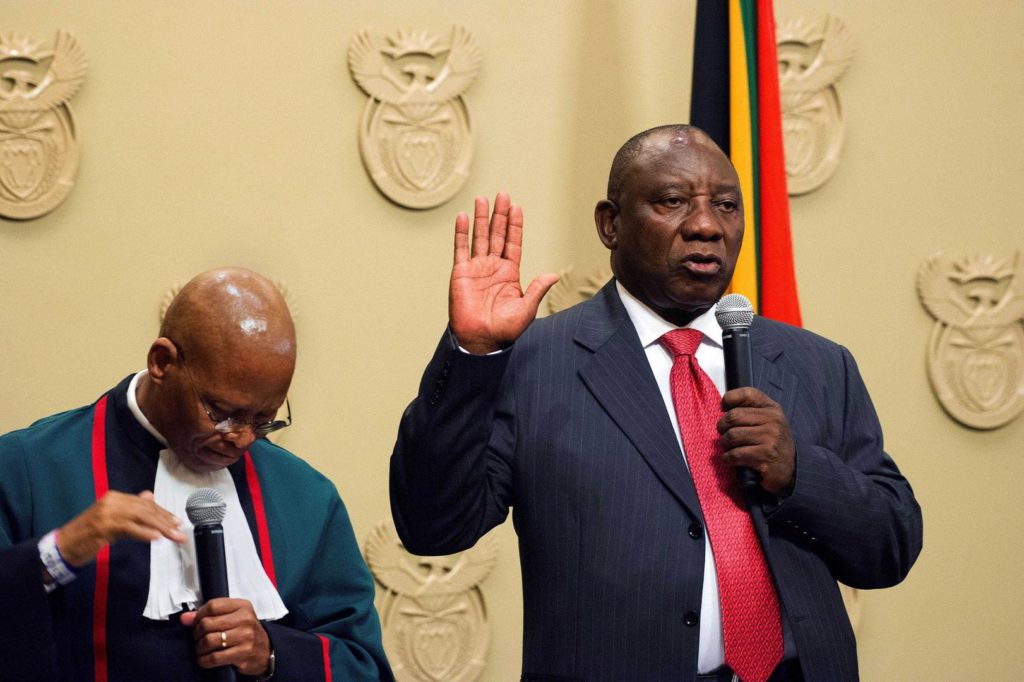 Ramaphosa became a member of parliament; he was elected the chairperson of its Constitutional Assembly on 24 May 1994 and played a central role in the government of national unity.
In 2000, he was appointed to the Independent International Commission on Decommissioning as an arms inspector, responsible for supervising decommissioning of Provisional IRA weapons.
Ramaphosa bid to become the President of Soth Africa in 197 but lost to Thabo Mbeki.
He was appointed Deputy President by Jacob Zuma on 25 May 2014.
Following President Jacob Zuma's resignation in February 2018, Ramaphosa was elected unopposed as President of South Africa by the National Assembly on 15 February 2018.
Cyril Ramaphosa Net Worth
Ramaphosa is well known as a businessman, and Cyril Ramaphosa net worth is estimated net worth is over R6.4 billion ($450 million), with 31 properties and previously-held notable ownership in companies such as McDonald's South Africa, chair of the board for MTN and member of the board for Lonmin.
Ramaphosa is one of South Africa's richest men
Achievements
He has been called a skillful negotiator and strategist who acted as the ANC's Chief Negotiator during South Africa's transition to democracy.
Ramaphosa built up the biggest and most powerful trade union in the country, the National Union of Mineworkers (NUM).
He played a crucial role, with Roelf Meyer of the National Party, during the negotiations to bring about a peaceful end to apartheid and steer the country towards its first fully democratic elections in April 1994.
Ramaphosa was Nelson Mandela's choice for future president. Ramaphosa is well known as a businessman, and his estimated net worth is over R6.4 billion ($450 million) as of 2018, with 31 properties and previously-held notable ownership in companies such as McDonald's South Africa, chair of the board for MTN and member of the board for Lonmin.
Ramaphosa publicly declared in South Africa on 24 May 2018 that he would be donating half of his salary (R3.6 million annually) to charity in honour of late former South African president Nelson Mandela.
He said the gesture was aimed at encouraging the wealthy to dedicate some of their pay to help build the nation. The donation was set to be managed by the Nelson Mandela Foundation (NMF).
Business career
Among other positions, he was an executive chairman of Shanduka Group, a company he founded. Shanduka Group has investments in the resources sector, energy sector, real estate, banking, insurance, and telecoms (SEACOM).
He was also a chairman of Bidvest, and MTN. His other non-executive directorships include Macsteel Holdings, Alexander Forbes and Standard Bank.
In March 2007, he was appointed Non-Executive joint Chairman of Mondi, a leading international paper and packaging group, when the company demerged from Anglo American plc. In July 2013, he retired from the board of SABMiller plc.
He is one of South Africa's richest men, with an estimated wealth of R6.4 billion ($450 million).
In 2011, Ramaphosa paid for a 20-year master franchise agreement to run 145 McDonald's restaurants in South Africa.
Shortly after the 2014 general election, Ramaphosa announced that he was going to disinvest from Shanduka to fulfil his new responsibilities as Deputy President without the possibility of conflict of interest.
McDonald's South Africa announced that there would be a process underway to replace Ramaphosa as the current development licensee of the fast-food chain operation in South Africa.
In 2014, after Ramaphosa became Deputy President of South Africa, the Register of Members' Interests, tabled in Parliament, revealed his wealth.
Over and above the more than R76 million he had accumulated in the company shares, the documents showed that he owned 30 properties in Johannesburg and two apartments in Cape Town.
The register also confirmed Ramaphosa's resignation from his directorship at Lonmin, for which he had been criticised over the Marikana massacre in 2012
What language does Cyril Ramaphosa speak?
Who is Ramaphosa's wife?
Ramaphosa has been married two times. He married Nomazizi Mtshotshisa from 1991-1993, He then married Tshepo Motsepe in 1996 who is the current first lady
How old is Ramaphosa?
Ranaphosa was born in 1952, He is currently 68 years
What is the salary of the president of South Africa?
According to Wikipedia, President Cyril Ramaphosa salary is R 3,900,000 ($ 265,020) annually
Cyril Ramaphosa Net Worth
Cyril Ramaphosa net worth estimated R6.4 million. He owns a luxury mansion at the foot of Lion's Head in Cape Town. Ramaphosa is known to be one of the richest people in South Africa, with an estimated net worth of more than $450 million and has appeared in financial magazines such as Forbes Africa and Bloomberg.