9th Edition Connected Banking Summit – West Africa to Convene in Accra, Ghana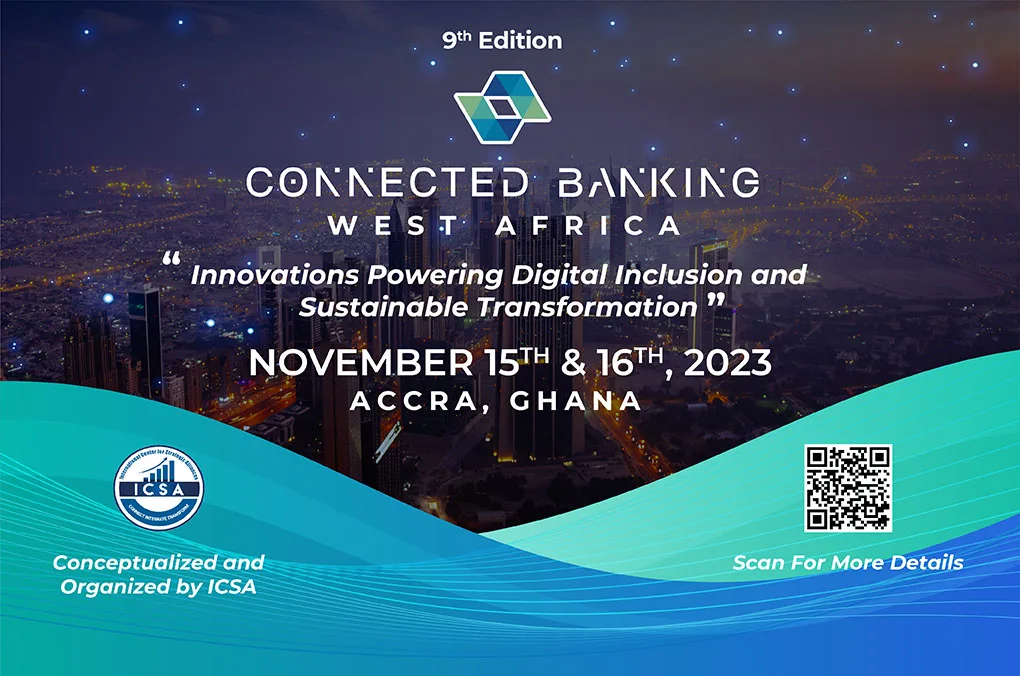 The 9th Edition Connected Banking Summit – West Africa is set to take place in Accra, Ghana, on November 15th and 16th, 2023, under the theme "Innovations Powering Digital Inclusion and Sustainable Transformation." This prestigious summit will bring together top-tier C-Suite Executives and decision makers from the financial industry, offering an exclusive platform for networking, collaboration, and knowledge sharing.
Connected Banking Summit – West Africa has earned its reputation as a premier summit in the region, providing attendees with a unique opportunity to connect and collaborate with industry experts who have demonstrated success through best practices and real-world case studies. As a solution provider, your participation in this summit will grant you direct access to potential buyers who possess the authority to procure your products or solutions or significantly influence the purchasing decision.
The summit, collocated with the Connected Banking Summit West Africa- Innovation and Excellence Awards, will feature leaders and experts from various sectors, including Banks, Insurance Companies, FinTechs and TechFins, Digital and NeoBanks, Non-Banking Financial Organizations, Cooperatives, Investments Funds, and Asset Management Companies. Together, they will engage in discussions and deliberations on how integrated solutions are shaping the future of banking.
Global thought leaders from renowned brands will join the summit to share their experiences and insights on the impact of cutting-edge technologies such as AI, ML, deep learning, cognitive computing, digital assets, and more on the financial services ecosystem.
Join us at the 9th Edition Connected Banking Summit – West Africa and be part of the discussions that are shaping the future of the financial services industry.
For more information about the summit, please visit the official website at https://connected-banking.com/summit/wa/ or connect with us on LinkedIn at https://www.linkedin.com/showcase/connectedbanking/
For media inquiries or further information, please contact: Mohammed Thoufiq Email: [email protected] Phone: +44 20 3808 8625