50 Joel Osteen Quotes So Encouraging & Motivating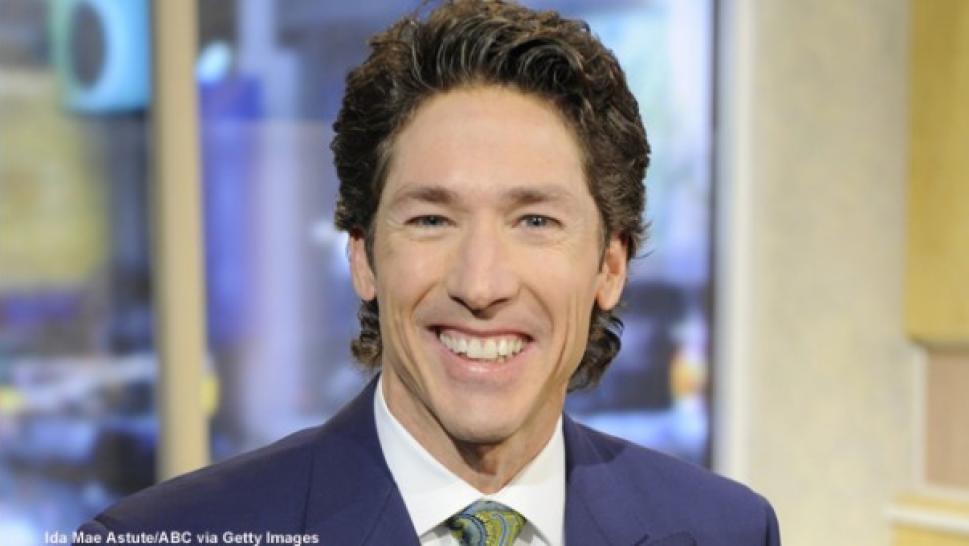 Joel Osteen quotes: Joel Scott Osteen is an American preacher and televangelist. He is the Senior Pastor of Lakewood Church, the largest Protestant church in the United States, in Houston, Texas. Joel Osteen Quotes are uplifting words that are able to encourage, inspire and motivate you in every situation.
Osteen's televised sermons are seen by over 7 million viewers weekly and over 20 million monthly in over 100 countries. He's been nicknamed as "The Smiling Preacher".
We've put together this awesome collection of encouraging and motivating Joel Osteen Quotes:
READ PASTOR CHRIS INSPIRING WORDS
50 Joel Osteen Quotes
1. "Don't live worried, frustrated or upset because of what somebody did or what didn't work out. Come back to a place of peace. It's not going to work against you; it's going to work for you." – Joel Osteen
2. "Encouragement to others is something everyone can give. Somebody needs what you have to give. It may not be your money; it may be your time. It may be your listening ear. It may be your arms to encourage. It may be your smile to uplift. Who knows?" – Joel Osteen
3. "God will always bring the right people into your life, but you have to let the wrong people walk away." – Joel Osteen
4. "If we're going to bring out the best in people, we, too, need to sow seeds of encouragement." – Joel Osteen
5. "It may look like the difficulty is going to defeat you. But you need to keep telling yourself, "This sickness can't take my life." "This cancer can't defeat me." "No bad break, no disappointment, no accident can shorten one second of my divine destiny." – Joel Osteen
6. "Make the decision and say, "I'm not letting that worry in. I'm done being upset when my plans don't work out. I'm not letting that stress in." Negative thoughts will still come to your mind, but you don't have to let them into your spirit." – Joel Osteen
7. "See, when you drive home today, you've got a big windshield on the front of your car. And you've got a little bitty rear-view mirror. And the reason the windshield is so large and the rear-view mirror is so small is because what's happened in your past is not near as important as what's in your future." – Joel Osteen
8. "You have to come to your closed doors before you get to your open doors… What if you knew you had to go through 32 closed doors before you got to your open door? Well, then you'd come to closed door number eight and you'd think, 'Great, I got another one out of the way'… Keep moving forward." – Joel Osteen
9. "The question is not, 'Do you have a problem?' The question is, 'Does the problem have you?'" – Joel Osteen
10. "When you go through enough dark places, you don't complain about little things. You don't lose your joy because you got stuck in traffic; you don't get offended because a coworker was rude to you. You've been through too much to let that sour you." – Joel Osteen
11th of 50 Joel Osteen Quotes
11. "You're going to go through tough times – that's life. But I say, 'Nothing happens to you, it happens for you.' See the positive in negative events." – Joel Osteen
12. "You will never change what you tolerate." – Joel Osteen
13. "Don't make excuses, don't blame the past. The rest of your life can be the best of your life!" – Joel Osteen
14. "Every day we have plenty of opportunities to get angry, stressed or offended. But what you're doing when you indulge these negative emotions is giving something outside yourself power over your happiness. You can choose to not let little things upset you." – Joel Osteen
15. "God would not have put a dream in your heart if He had not already given you everything you need to fulfill it." – Joel Osteen
16. "If one dream dies, dream another dream. If you get knocked down, get back up and go again." – Joel Osteen
17. "If you have your health, if you have people in your life to love, you are blessed. Slow down and enjoy the simple things in life." – Joel Osteen
18. "It's easy to get negative because you get beat down. You go through a few disappointments and it's easy to stay in that negative frame of mind. Choosing to be positive and having a grateful attitude is a whole cliche, but your attitude is going to determine how you're going to live your life." – Joel Osteen
19. "No matter how dark and gloomy it looks in your life right now, if you'll release the weight of those burdens, you will see the sun break forth." – Joel Osteen
21. "There is a winner in you. You were created to be successful, to accomplish your goals, to leave your mark on this generation. You have greatness in you. The key is to get it out." – Joel Osteen
22. "You can change your world by changing your words… Remember, death and life are in the power of the tongue." – Joel Osteen
23. "You're not really free until you're free from trying to please everybody." – Joel Osteen
24. "Do all you can to make your dreams come true." – Joel Osteen
25. "Don't settle in the land of barely enough. That is where you are, it is not who you are. That's your location, it's not your identity. No matter what it looks like, have an abundant mentality." – Joel Osteen
26. "Friend, there's no greater investment in life than in being a people builder. Relationships are more important than our accomplishments." – Joel Osteen
27. "Hard times may have held you down, but they will not last forever. When all is said and done, you will be better off than before." – Joel Osteen
28. "If you want success, if you want wisdom, if you want to be prosperous and healthy, you're going to have to do more than meditate and believe; you must boldly declare words of faith and victory over yourself and your family." – Joel Osteen
29. "Keep in mind, hurting people often hurt other people as a result of their own pain. If somebody is rude and inconsiderate, you can almost be certain that they have some unresolved issues inside. They have some major problems, anger, resentment, or some heartache they are trying to cope with or overcome. The last thing they need is for you to make matters worse by responding angrily." – Joel Osteen
30. "No matter what's happening, choose to be happy. Don't focus on what's wrong. Find something positive in your life. Thank God for the small things." – Joel Osteen
Things Men Who Have Success With Women Do Differently
Doing the same thing over and over again and expecting different results.
Unfortunately, most men live by this credo, at least when it comes to women, dating and relationships. They make the same mistakes over and over again and expect different results.
That's not only insane, but also completely unnecessary.
"Why?" you ask.
Well, because you just have to replace what you are doing now with the 15 things that I'm sharing with you in this article…
The 15 Things You Need to Do to Have Success with Women
Imagine…
You are walking along the street. It's a beautiful sunny day, the birds are singing and you are completely relaxed.
Suddenly, you see an incredibly beautiful woman.
You stop. You can't move. She is so beautiful that your whole body freezes. You just have to look at her and you feel how your knees and hands are shaking. You would give everything to go on a date with her and to make her your girlfriend.
You ask yourself:
"What is it that men who have the power to attract women like her do differently?"
1. They Believe in Themselves
Success starts in your mind.
No matter if you want to start a successful business or if you want to attract beautiful women, you have to believe in yourself. Unfortunately, most men don't believe in themselves.
"I'm too short!"
"I'm not rich enough!"
"I'm too INSERT EXCUSE HERE!"
It's crazy. I've met men who are extremely successful in every area of their life and they still thought that they don't deserve a beautiful and supportive woman.
The tricky thing is that you can only attract what you think you deserve. Unless you believe in yourself and your right to attract amazing women, it won't happen.
2. They Take Action Every Day
Let me ask you a simple question:
"What have you done today to improve your dating life?"
Nope, the one book that you've read three months ago doesn't count. I want to know what you did today.
Men who are successful with women take action every day. They might read a book on day one, approach three girls on day two and watch a YouTube video on day three. No matter what it is, they do something.
You are probably not going to find the woman of your dreams after one approach, but she might be the 48th woman you talk to.
3. They Are Willing to Fail
I get a lot of emails from guys who ask me for advice and one of the most common questions guys ask is how they can avoid getting rejected.
The answer: You can't, at least not when you want to become successful with women.
I mean, you can stop talking to women. Then you won't get rejected, but you also won't find a girlfriend.
Listen, every successful seducer has been rejected hundreds of times. I can't even count how many times I got rejected. Honestly, it doesn't matter.
All that matters is that your willingness to fail and to get rejected will lead to improvement and to growth.
4. They Want to Learn
Are you ready to learn what it takes?
Reading books and blogs is a start. Booking a coaching is awesome. But even after reading the tenth book and attending the second seminar, you education doesn't end.
A man who has the determination to become successful with women must be willing to learn from his mistakes and experiences.
The next time a woman rejects you, you ask her for feedback. The next time you have an awesome date, you analyze all the things that worked and write them down for the next time. That's how you improve continuously.
5. They Love Women
There's one thing I absolutely hate about the seduction community and many self-improvement sites for men:
The hate towards women!
I don't understand how it's possible that so many men don't realize that hating women is the fastest way to push them away and to lose them.
I mean, just think about it. You also don't want to spend time with a woman who hates men. How can you expect that an educated and life-affirming woman could be interested in dating a misogynist? It doesn't make any sense.
Love women and you will be loved by women.
What if you are one of these guys who hate women? Think about why you hate women, come to terms with the past and heal your attitude towards women.
6. They Listen to Women
Most men don't listen.
Sorry, but this is the truth. I've been one of these men. I had the incredible ability to talk with a woman for two hours without remembering a single word she said. I hope I don't have to tell you that I didn't get the second date.
Women all over the world complain about the fact that men don't listen. Do you want to set yourself apart from your competitors? It's simple. Just listen.
A man who listens to women gives them the feeling that he cares about them, their opinion and their feelings.
7. They Know How to Communicate With Women
Do you know how to talk to women?
In case your first dates result in unanswered calls, you don't. And I can't blame you. You are a man. You have learned to communicate logically and effectively. Nobody in school told you that this form of communication leads to lonely nights in front of your laptop.
The way women communicate is very different from the way men communicate. Men who are successful with women know that. They know that women communicate in emotions. They love stories. They love to talk about memories, passion and hobbies.
Make her feel something while you talk to her and she will be yours.
8. They Have a Vision
You don't need to have the vision to fly to Mars. Your vision can be much simpler than this. The only thing that matters is that you have a vision and that you follow it.
Women are attracted to visionaries, but the sad truth is that most men don't have any vision. They work in a job they hate, go home to watch football and then do it again the next day. Sorry, but that's not the way to attract high quality women.
Maybe you want to start a business. Maybe you want to run a marathon. Maybe you want to help homeless people by giving one dollar a week to a homeless man. No matter what it is, you need something to live for.
9. They Don't Hide Their Opinion
What do needy and insecure guys say when a woman tells them that all men should be castrated and locked up?
"Yeah, you are so right. They should be all locked up. I'm the first one who would give you my balls."
I know, this is an extreme example, but I wanted to make a point.
Men have this unhealthy habit to change their opinion as soon as a beautiful woman steps into the room. This is extremely dangerous.
If you don't have the courage to say your opinion, women won't respect you.
10. They Don't Settle for Less
I have a wonderful girlfriend. I love her with all my heart and I'm glad that I said no when countless other girls wanted to be my girlfriend before I met her. Why did I say no? Well, the others were not perfect for me.
I don't want to sound arrogant. I just want to make sure that you understand that settling down can be good or bad. It can be good if you find the right girl. It can be bad or even disastrous if you settle down with the wrong girl.
Some men settle down with women, just because they don't want to be lonely. They don't care whether or not she is girlfriend material. This is a huge mistake and one of the reasons why the divorce rate is so high.
11. They Have a Life
I have a good friend. Let's call him Rob.
Rob likes to go to the gym and we hang out at least once a month, but only when he's single. As soon as he gets a girlfriend, he spends 24 hours a day with her. He stops going to the gym and when I call him I always listen to his mailbox message.
Thanks to this behavior he has lost every single one of his girlfriends within less than two months. Once he's single, he answers the phone again.
Do yourself a favor and don't be like Rob. Have a life. Pursue your hobbies.
Women want men who can live without them.
12. They Take Women on Adventures
I've never met a woman who complained that her boyfriend was too adventurous, but I've met dozens of women who complained that their relationship is terribly boring.
Men who are successful with women take them on adventures.
They don't take them on boring dates. They go hiking, or swimming or anything else that's outside of Starbucks. Be adventurous and women want to go on adventures with you.
13. They Have Female Friends
I know, this advice sounds counter-intuitive. A lot of men falsely believe that it's bad to have female friends, because they equate friendship with friend zone.
The truth is that it's great to have female friends. Female friends can teach you a lot about women. And they can introduce you to dozens of their single friends. Your female friend can be your personal PR manager.
14. They Feel the Fear and Do it Anyway
Of course you are nervous when you approach a woman. Of course you are afraid to mess up your next date. Of course you feel a tickling in your belly right before you go for the kiss.
You are a human being and not a robot. It's completely normal to have these emotional reactions. The only difference between men who are successful with women and men who aren't is that the ones who are successful feel the fear and do it anyway.
Don't let fear stop you. It will always be there.
15. They Have a Never Giving Up Attitude
What would you do if you would go out today to talk to ten women and every single one of them rejected you?
Would you give up or keep on going?
I know you would keep on going if I told you that the next girl you approach will give you her number, go on a date with you and become your girlfriend.
This is actually possible. But it's only possible if you don't give up.
READ Romantic Messages for Your Loved One
Conclusion
In case you are not successful with women, you need to change your thoughts and your behavior in order to get the results that you truly want. Doing the same thing over and over again won't change anything about your situation.
Once you understand the differences between a man who has success with women and a man who doesn't, you have to follow your goals and don't give up until you've found the woman of your dreams.
Content on this website is protected by DMCA.  Dont waste your time copying because you would eventually remove it.