25 Home-Based Business/Startup Ideas to Help You Make Money From Home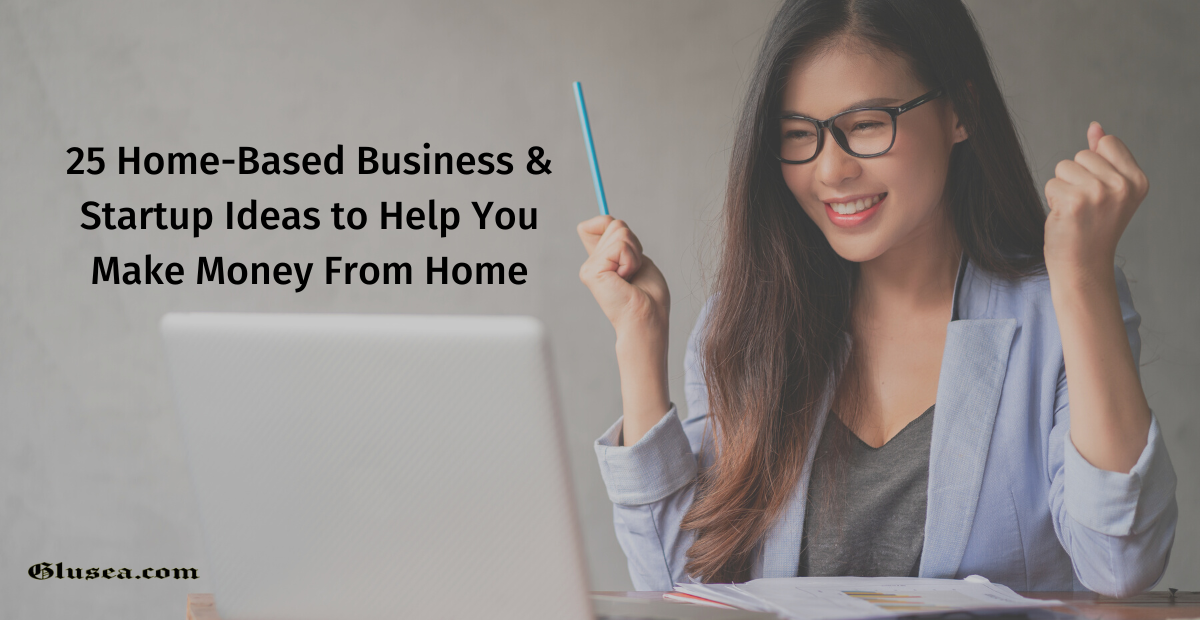 There are many reasons why individuals decide to work from home. For some, it's fulfilling an entrepreneurial dream, while others prefer the flexibility of not having to commute to an office every day. Whatever your reason, starting your own home-based business can be rewarding both personally and financially. This list of 25 home-based business ideas should give you plenty of ideas to choose from—and help you get started on your path to earning income from home.
Freelance Writing
If you have a writing talent, you could turn your passion into a profitable business by becoming a freelance writer. You can work from home as a freelance writer and write for publications, businesses, and individuals on various topics. To be successful, you'll need to be able to market your services and build a strong portfolio of writing samples. Plus, staying up-to-date on the latest trends in your field is important to offer your clients the best possible service.
Cake Decorating
Cake decorating is a great home-based business idea for those with a steady hand and an eye for detail. If you're creative and have a passion for sweets, then this could be the perfect business for you. The best feature is that you can begin small and scale your business as big as you want.
Teach Online Courses
There are many ideas of home based businesses, but one that is growing in popularity is teaching online courses. This can be a great way to make money from home, as you can set your own hours and prices. Plus, you can reach an international audience with your courses.
Also Read: Best Business Ideas in Ghana For Start Ups
Start a Blog
Starting a blog is one of the most popular home business ideas online. It's a great way to make money from home and share your passion with the world. Plus, it's relatively easy to get started. All you need is a good PC, an internet connection, and a willingness to work hard.
Virtual Assistant
One of the best home based business ideas 2022 is starting your own virtual assistant business. As a virtual assistant, you will provide organizational support to clients from the comfort of your home. It can include scheduling appointments, handling social media accounts, and more. To be thriving as a virtual assistant, you will need strong organizational skills and the ability to stay on top of deadlines. Plus, you should have excellent written and communication skills.
Freelance Graphic Designer
There are a lot of good ideas for home businesses, but one that always seems to be in demand is freelance graphic design. As a graphic designer, you can work with clients on various projects, from creating logos and marketing materials to designing website graphics and illustrations. The best part about being a freelance graphic designer is that you can work from home, set your hours, and choose your own clients.
Products Photography Services
Are you looking for a small home based business idea that can make you some extra money? Why not start a product photography service? You can advertise your services online or in local publications and charge customers for each photo session. You only need a good camera or good phone  and some basic photography skills to get started.
Also Read: 10 Businesses You Can Start Making Money From Without Any Capital
Audio or Video Editor
With technology evolving increasingly bland in our everyday lives, it's no surprise that home-based businesses are on the rise. And one of the most popular home based business ideas is audio or video editing. There are numerous online sites where you can buy royalty-free music, sound effects, songs and even entire scripts. All you need is a laptop with video editing software installed on it.
Clothing Designer
If you're interested in fashion and have an eye for design, starting a clothing line could be the perfect home based business idea 2022 for you. To get started, you'll need to create a strong brand identity and line of garments that appeal to your target market.
Want to know: How to Start a Bottled Water Business in South Africa?
Child Care Service
Starting a childcare service is the most popular home business idea with low startup costs. The great thing about this type of business is that it has low startup costs and can be run from your home. Plus, you can set your hours and choose to care for as many or as few children as you want.
Massage Therapist
One home-based business idea that is always in demand is massage therapy. It is a great option if you have previous experience or training, and it can be a relatively low-cost way to start your own business. Keep in mind that you will need to be insured and licensed, and you will need to find a location to work from (either in your home or renting space from another business).
Social Media Manager
With nearly two-thirds of Americans using social media, it's no surprise that many businesses are looking for ways to capitalize on this trend. As a social media manager, you would create and manage a company's social media presence. This would include developing strategies, creating content, and monitoring engagement. If you have experience with social media and a passion for marketing, this could be the perfect home-based business idea for you.
Dog Groomer
Are you a dog lover? f so, then you may want to consider becoming a dog groomer! It is a great small home based business idea for animal lovers. To get started, all you need is some basic grooming supplies and a quiet place to work.
Gift Basket Arranger
Are you looking for low startup cost home business ideas? With Valentine's Day just near the corner, now is the excellent time to start a gift basket business. Arranging gift baskets is a fun and creative way to make money from home, and with a little planning, it can be quite profitable.
Must Check: Which Cryptocurrency Will Be the Highest Profitable in 2022? [Updated List]
Travel Planner
If you love to travel and help others plan their dream vacations, becoming a travel planner may be the perfect home-based business idea. As a travel planner, you'll help clients choose the best destinations, make reservations, and handle all the details of their trips. Plus, you can work from anywhere worldwide as long as you have an internet connection.
Print-on-Demand Business
One idea of home based business is to start a print-on-demand business. This type of business allows you to create and sell custom products without investing in inventory or manufacturing costs. Plus, you can run your business entirely from home, making it a great option if you want to make some extra money on the side.
Sell NFTs
If you're looking for a good idea for a home business to make money from home, selling NFTs could be the perfect option for you. NFTs are digital assets or investments that can be sold and traded online, becoming increasingly popular. Plus, there are no limits to what you can sell as an NFT – from digital art and videos to music and even tweets.
Become an Affiliate Marketer
Becoming an affiliate marketer is a great way to make money from home. You can promote products and services online as an affiliate marketer and earn a commission on every sale. Plus, there are plenty of home business ideas online that you can pursue.
YouTubing and Podcasting
Have you ever considered turning your passion for YouTube or podcasting into a money-making venture? With a short hard work and devotion, it is possible!
To get started, you'll need to create quality content that your audience will enjoy. Once you have built up a following, you can monetize your channel or podcast through advertising, sponsorships, or affiliate marketing. YouTubing and podcasting can be profitable if you put in the time and effort.
Start a Food Business
One splendid way to make cash from home is to start a food business. This can be anything from a catering business to a food truck or even a home-based bakery. If you have a passion for food and cooking, then starting a food business may be the perfect way to make money from home. To get started, research the necessary permits and licenses required in your area.
Accounting
Many companies these days are trying to save money by outsourcing accounting services to qualified individuals, so those with certified public accountant licenses are guaranteed a reliable salary.
Related Posts: 4 Ways to Attract More Business Opportunities
You will not require high startup costs when you start a CPA business from home, but it may take time to land clients, and you will likely want to establish a part-time work schedule to keep expenses low while the business develops. Networking is the key, but in the beginning, you may want to limit your hours and focus on part-time work to establish yourself.
Concierge Service
Starting a concierge service can be a great way to make money from home. You'll need to be organized and efficient, and you'll need to be able to provide great customer service. Having a good network of local businesses you can recommend to your clients is also significant.
Craft Business
The shopping public is drawn to handmade, unique items in a world of mass-produced junk. Sell jewelry, ceramics, unique décor, purses, metalwork – or any other item that reflects your creativity and talents. Sell your crafts online, at craft fairs and local events or on sites like Etsy.
Computer or Laptop Repairing
If you have a great knowledge of computer hardware and are passionate about helping people fix their tech problems, then starting a computer or laptop repair business could be a great fit. You can wfh and set your hours, making this a perfect side hustle or full-time job. Plus, you can get started with little to no upfront investment.
Collect Debt for a Living
Collecting debt may not sound like the most glamorous job in the world, but it can be a very lucrative career. Getting into this line of work will make you thicker-skinned and smarter, so it's an awesome business for anyone to start from home or work for during hard economic times.
Conclusion
So there you have 25 home-based business ideas that will help you make money from home. But what is the best home based business for you? That's for you to decide. But whichever one you choose, make sure it's something you're passionate about and will enjoy doing day in and day out. Because if you don't love what you do, it won't be long before you start looking for a way out.