10 Animals That Don't Sleep
Some animals appear to barely sleep
For most animals, sleep is an important process that serves several functions. In the case of non-human animals, sleep can be defined as a state where the animal exhibits altered consciousness, homeostatic regulation, or a reduction in the responses to changes in external stimuli. Going by the definition, sleep has been observed for several animals including mammals, some fish, some insects, amphibians, reptiles, and birds. An internal bodily clock known as the circadian clock determines the time that an animal goes to sleep or knows when it is time to sleep. This clock is synchronized to the movement of the sun and triggers sleep for both diurnal and nocturnal creatures.
10. Giraffes
Giraffes usually sleep, although not for long periods. In captivity, giraffes have been known to sleep for between four and five hours, which is mostly at night. During sleep, the animal may lie down or stay standing. Standing sleep is particularly common among older giraffes. The animal also has irregular sleep phases where the giraffe can enter into deep sleep. This form of sleep is usually characterized by the animal bending its neck and bringing its head to a rest on the thigh or the hip. Experts sometimes describe this position as paradoxical sleep, that is, a state where the animal is resting but there is rapid eye movement as well as reduced muscle activity.
9. Dolphins
Generally, dolphins go to sleep with only one side of their brain so that they use the other side of their brain for swimming and to watch out for predators. For some dolphins, they do not go to sleep in the first month of their lives. Instead, they rest by pressing their bodies against their mothers so that they do not drown. Therefore, it falls to the mothers to ensure that they do not go to sleep, which is why adults are able to go for at least a month without sleeping. In captivity, dolphins can enter a state of complete sleep while a tail reflex action keeps their blowhole above water.
8. Bullfrogs
Bullfrogs, which are scientifically known as Lithobates catesbeianus, do not go into a state that fits the definition of sleep. However, they do go into states of rest throughout the day. A study conducted in 1967 concluded that they do not go to sleep. In the study, the scientists delivered shocks to the frogs during the day and during the night when they appeared to be sleeping. The researchers expected that the response to stimuli should be slower during sleep. However, the responses were similar during the day and the night.
7. Elephants
Elephants usually go to sleep at night and do so by lying down. In a day, the animal will go to rest for a period of between two and four hours. One of the reasons why they spend so little time sleeping is that they are vegetarians. Vegetation does not provide as much energy as other forms of food. Consequently, the animal has to spend around 18 hours a day feeding on around 600 pounds of vegetation daily in order to sustain its substantial size. Sometimes, they can sleep while standing against a mound or tree.
6. Alpine Swifts
The Alpine swift is a bird that lives in habitats ranging from southern Europe all the way to the Himalayas. These birds spend large amounts of their time migrating all the way to the southern regions of Africa. The birds may spend up to 200 days in flight during their migration. Just like some marine animals, the Alpine swift has the ability to sleep with one side of their brain while the other side focuses on flight and detecting predators.
5. Deer
Deer do not sleep that much during the day or the night. In fact, the night is a dangerous time for the animal to sleep due to the presence of several predators that hunt under the cover of darkness. However, deer manage to sleep for a few hours, which is usually between three and four hours. Even during these sleep periods, they have to be careful so that they do not fall prey to predators. The primary concern of the deer is survival, which forces them to sleep efficiently.
4. Ostriches
Ostriches sleep in a manner that resembles that of the platypus. The bird usually sleeps while standing upright with both eyes open. This state allows the bird to rest its brain and body while at the same time staying alert for any predators and invaders. Sometimes, the bird goes into a deeper state of rest, which is characterized by putting the head down for a period of around 15 minutes. These two types of rest add up to between six and seven hours sleep daily.
3. Horses
Horses have the ability to sleep for only two hours in a day. Just like giraffes, they are capable of sleeping for short bursts that last for around 15 minutes. Similarly, they can also sleep while standing or lying down. The young ones tend to sleep more than adults do. The animals sleep best in groups for additional protection, which is why a lone horse cannot go to sleep since its primary instinct is survival. Domesticated ones sleep for close to three hours in a day.
COUNTRIES IN THE WORLD WITH THE MOST BEAUTIFUL WOMEN
2. Seals
Some seals go to sleep with one side of their brain while others go to sleep completely. Others can go to sleep while completely submerged and come to the water surface to get a few breaths of air before going back down. Other species have been known to sleep while holding their nostril above the surface of the water during deep sleep. While on land, it is impossible for them to enter a state of deep sleep.
1. Whales
Due to their massive sizes, not all whales can afford to sleep for long as they can easily drown. Sperm whales sleep bobbing at the surface of the water in an upright position for about 5 to 10 minute periods. In fact, scientists suspect that they require the least sleep among mammals accounting for less than 10% of their daily activities.
Amazon Net Worth 2021 and Assets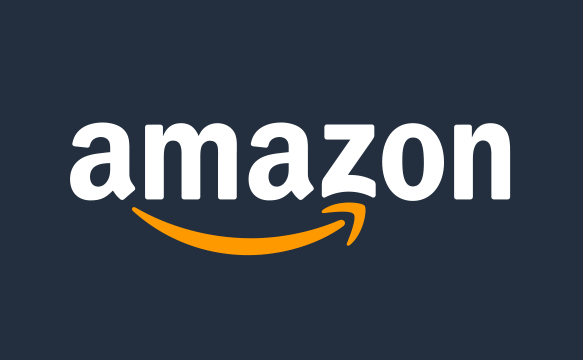 | | |
| --- | --- |
| Revenue | US$386.064 billion (2020) |
| Operating income | US$22.9 billion (2020) |
| Net income | US$21.331 billion (2020) |
| Total assets | US$321.2 billion (2020) |
| Total equity | US$93.404 billion (2020) |
| Number of employees | 1,298,000 (Dec. 2020) |
Glusea brings to you Amazon net worth 2021. Amazon.com, Inc is an American multinational technology company based in Seattle, Washington, which focuses on e-commerce, cloud computing, digital streaming, and artificial intelligence. Amazon Net Worth, the company currently has a market cap up to $1.7 trillion.
 It is one of the Big Five companies in the U.S. information technology industry, along with Google, Apple, Microsoft, and Facebook.
Founder
Jeff Bezos founded Amazon from his garage in Bellevue, Washington, on July 5, 1994. It started as an online marketplace for books but expanded to sell electronics, software, video games, apparel, furniture, food, toys, and jewelry. In 2015, Amazon surpassed Walmart as the most valuable retailer in the United States by market capitalization.
 In 2017, Amazon acquired Whole Foods Market for US$13.4 billion, which substantially increased its footprint as a physical retailer. In 2018, its two-day delivery service, Amazon Prime, surpassed 100 million subscribers worldwide.
Success Story
Amazon is known for its disruption of well-established industries through technological innovation and mass scale. It is the world's largest online marketplace, AI assistant provider, live-streaming platform and cloud computing platform as measured by revenue and market capitalization.
 Amazon is the largest Internet company by revenue in the world. It is the second largest private employer in the United States and one of the world's most valuable companies. As of 2020, Amazon has the highest global brand valuation.
Richest Countries in the world
Amazon distributes downloads and streaming of video, music, and audiobooks through its Prime Video, Amazon Music, Twitch, and Audible subsidiaries. Amazon also has a publishing arm, Amazon Publishing, a film and television studio, Amazon Studios, and a cloud computing subsidiary, Amazon Web Services.
It produces consumer electronics including Kindle e-readers, Fire tablets, Fire TV, and Echo devices. Its acquisitions over the years include Ring, Twitch, Whole Foods Market, and IMDb.
Amazon has been criticized for practices including technological surveillance overreach, a hyper-competitive and demanding work culture, tax avoidance, and anti-competitive behavior.
Supply chain
Amazon first launched its distribution network in 1997 with two fulfillment centers in Seattle and New Castle, Delaware. Amazon has several types of distribution facilities consisting of crossdock centers, fulfillment centers, sortation centers, delivery stations, Prime now hubs, and Prime air hubs. There are 75 fulfillment centers and 25 sortation centers with over 125,000 employees.
 Employees are responsible for five basic tasks: unpacking and inspecting incoming goods; placing goods in storage and recording their location; picking goods from their computer recorded locations to make up an individual shipment; sorting and packing orders; and shipping.
A computer that records the location of goods and maps out routes for pickers plays a key role: employees carry hand-held computers which communicate with the central computer and monitor their rate of progress. Some warehouses are partially automated with systems built by Amazon Robotics.
Amazon Net Worth
Amazon Net Worth, the company currently has a market cap up to $1.7 trillion.
Amazon.com is primarily a retail site with a sales revenue model; Amazon takes a small percentage of the sale price of each item that is sold through its website while also allowing companies to advertise their products by paying to be listed as featured products.
As of 2018, Amazon.com was ranked 8th on the Fortune 500 rankings of the largest United States corporations by total revenue.
For the fiscal year 2018, Amazon reported earnings of US$10.07 billion, with an annual revenue of US$232.887 billion, an increase of 30.9% over the previous fiscal cycle. Since 2007 sales increased from 14.835 billion to 232.887 billion, thanks to continued business expansion.
Amazon's market capitalization went over US$1 trillion again in early February 2020 after the announcement of the fourth quarter 2019 results. Amazon's total employees now number over 1,298,000
Who is the Founder of Google?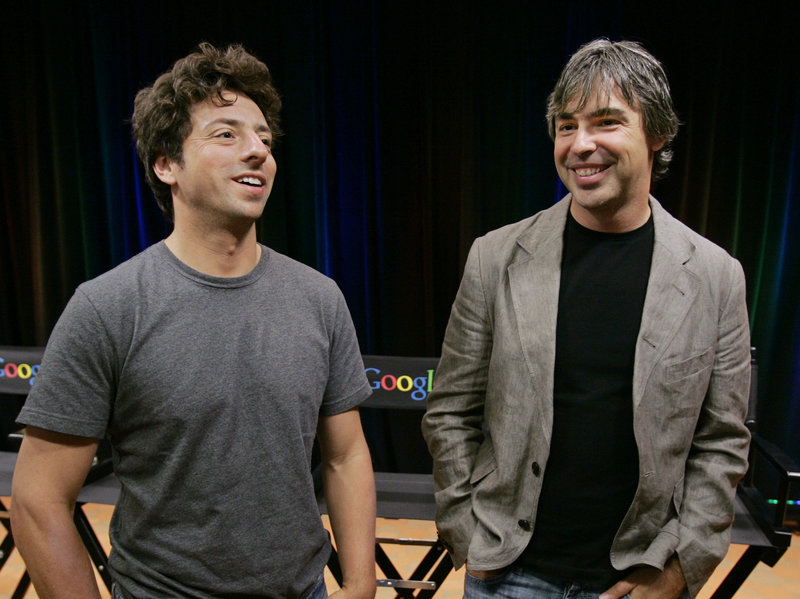 Who is the Founder of Google?
No day goes by without people searching for information on the internet. Research shows that Google processes over 3.5 billion searches per day. This shows how helpful Google has been useful to the world. In this article, we will be bringing to you the people behind this giant tech company.
Who is the Founder of Google?
Google was founded in September 1998 by Larry Page and Sergey Brin while they were Ph.D. students at Stanford University in California. Together they own about 14 percent of its shares and control 56 percent of the stockholder voting power through supervoting stock.
Read Who is the Founder of Wikipedia
They incorporated Google as a California privately held company on September 4, 1998. Google was then reincorporated in Delaware on October 22, 2002. An initial public offering (IPO) took place on August 19, 2004, and Google moved to its headquarters in Mountain View, California, nicknamed the Googleplex.
In August 2015, Google announced plans to reorganize its various interests as a conglomerate called Alphabet Inc. Google is Alphabet's leading subsidiary and will continue to be the umbrella company for Alphabet's Internet interests.
 Sundar Pichai was appointed CEO of Google, replacing Larry Page, who became the CEO of Alphabet. In 2021, the Alphabet Workers Union was founded, mainly composed of Google employees.
Growth of Google
The company's rapid growth since incorporation has triggered a chain of products, acquisitions, and partnerships beyond Google's core search engine (Google Search). It offers services designed for work and productivity (Google Docs, Google Sheets, and Google Slides), email (Gmail), scheduling and time management (Google Calendar), cloud storage (Google Drive), instant messaging and video chat (Duo, Hangouts, Chat, and Meet), language translation (Google Translate), mapping and navigation (Google Maps, Waze, Google Earth, and Street View), podcast hosting (Google Podcasts), video sharing (YouTube), blog publishing (Blogger), note-taking (Google Keep and Google Jamboard), and photo organizing and editing (Google Photos).
The company leads the development of the Android mobile operating system, the Google Chrome web browser, and Chrome OS, a lightweight operating system based on the Chrome browser.
Google has moved increasingly into hardware; from 2010 to 2015, it partnered with major electronics manufacturers in the production of its Nexus devices, and it released multiple hardware products in October 2016, including the Google Pixel line of smartphones, Google Home smart speaker, Google Wifi mesh wireless router, and Google Daydream virtual reality headset. Google has also experimented with becoming an Internet carrier (Google Fiber, Google Fi, and Google Station).
Google Success
Google.com is the most visited website worldwide. Several other Google-owned websites also are on the list of most popular websites, including YouTube and Blogger.
Google Criticisms
Google was the most valuable brand in the world in 2017 (surpassed by Amazon), but has received significant criticism involving issues such as privacy concerns, tax avoidance, antitrust, censorship, and search neutrality.
Where is Google Located
The Googleplex is the corporate headquarters complex of Google and its parent company Alphabet Inc. It is located at 1600 Amphitheatre Parkway in Mountain View, California, United States.Address: 1600 Amphitheatre Parkway; Mountain …Location: Mountain View, California, United States
What is Google Net Worth ?
According to Marketwatch, Google has net worth of $1 trillion market value. The company has Total assets, $ 319,616,000,000 
How Does Google make money ?
The main way Google generates its revenue is through a pair of advertising services called Ads and AdSense. With Ads, advertisers submit ads to Google that include a list of keywords relating to a product, service or business. When a Google user searches the Web using one or more of those keywords, the ad appears on the SERP in a sidebar. The advertiser pays Google every time a user clicks on the ad and is directed toward the advertiser's site.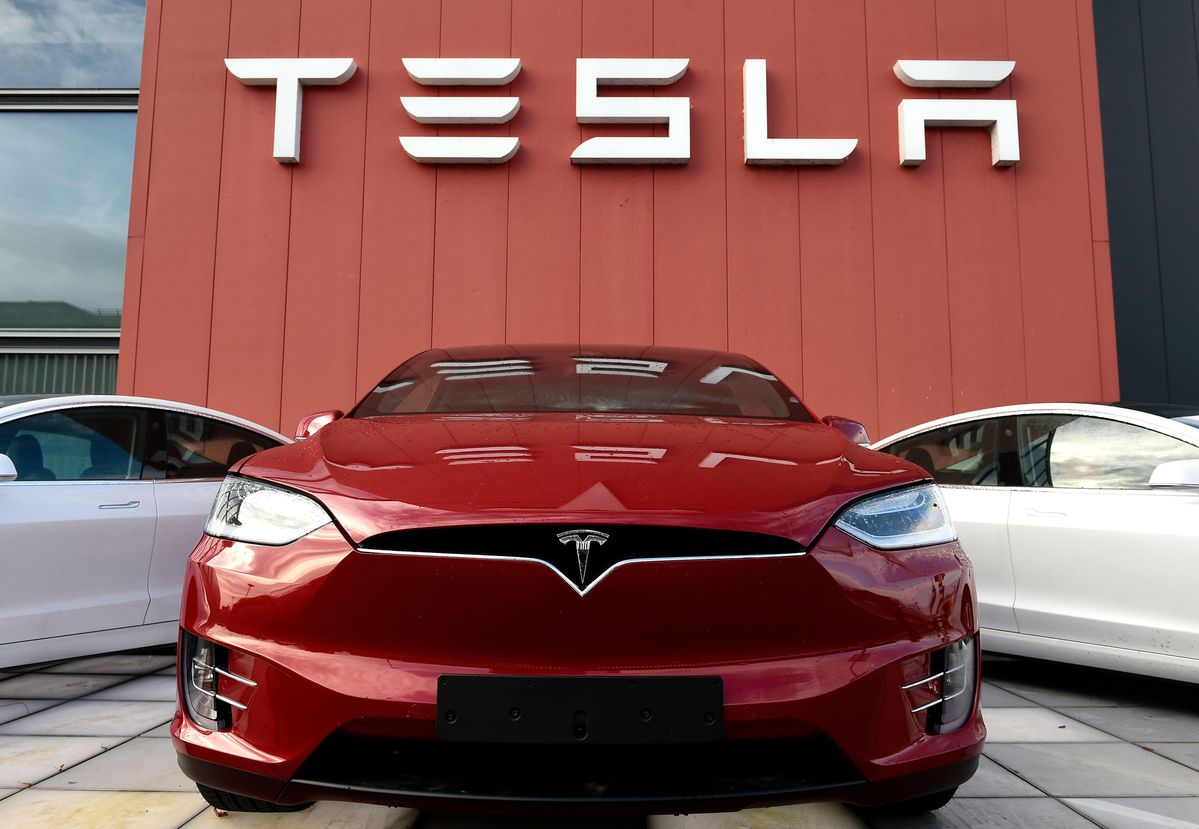 Tesla's mission is to accelerate the world's transition to sustainable energy.
Tesla was founded in 2003 by a group of engineers who wanted to prove that people didn't need to compromise to drive electric – that electric vehicles can be better, quicker and more fun to drive than gasoline cars. Today, Tesla builds not only all-electric vehicles but also infinitely scalable clean energy generation and storage products. Tesla believes the faster the world stops relying on fossil fuels and moves towards a zero-emission future, the better.
Launched in 2008, the Roadster unveiled Tesla's cutting-edge battery technology and electric powertrain. From there, Tesla designed the world's first ever premium all-electric sedan from the ground up – Model S – which has become the best car in its class in every category.
Check out How to Buy Stocks
Combining safety, performance, and efficiency, Model S has reset the world's expectations for the car of the 21st century with the longest range of any electric vehicle, over-the-air software updates that make it better over time, and a record 0-60 mph acceleration time of 2.28 seconds as measured by Motor Trend. In 2015, Tesla expanded its product line with Model X, the safest, quickest and most capable sport utility vehicle in history that holds 5-star safety ratings across every category from the National Highway Traffic Safety Administration.
Completing CEO Elon Musk's "Secret Master Plan," in 2016, Tesla introduced Model 3, a low-priced, high-volume electric vehicle that began production in 2017. Soon after, Tesla unveiled the safest, most comfortable truck ever – Tesla Semi – which is designed to save owners at least $200,000 over a million miles based on fuel costs alone. In 2019, Tesla unveiled Model Y, a mid-size SUV, with seating for up to seven, and Cybertruck, which will have better utility than a traditional truck and more performance than a sports car.
Tesla vehicles are produced at its factory in Fremont, California, and Gigafactory Shanghai. To achieve our goal of having the safest factories in the world, Tesla is taking a proactive approach to safety, requiring production employees to participate in a multi-day training program before ever setting foot on the factory floor. From there, Tesla continues to provide on-the-job training and track performance daily so that improvements can be made quickly. The result is that Tesla's safety rate continues to improve while production ramps.
To create an entire sustainable energy ecosystem, Tesla also manufactures a unique set of energy solutions, Powerwall, Powerpack and Solar Roof, enabling homeowners, businesses, and utilities to manage renewable energy generation, storage, and consumption. Supporting Tesla's automotive and energy products is Gigafactory 1 – a facility designed to significantly reduce battery cell costs. By bringing cell production in-house, Tesla manufactures batteries at the volumes required to meet production goals, while creating thousands of jobs.
And this is just the beginning. With Tesla building its most affordable car yet, Tesla continues to make products accessible and affordable to more and more people, ultimately accelerating the advent of clean transport and clean energy production. Electric cars, batteries, and renewable energy generation and storage already exist independently, but when combined, they become even more powerful – that's the future we want.
Content on this website is protected by DMCA. reproducing any content on this site without explicit permission is strictly prohibited.